Raiders Rumors: Oakland Would Be Wise to Restructure Kamerion Wimbley's Deal
March 10, 2012

Thearon W. Henderson/Getty Images
After the Oakland Raiders already restructured linebacker Aaron Curry's deal, as well as quarterback Carson Palmer's, it would now be in the team's best interest to do the same with linebacker Kamerion Wimbley's.
According to Scout.com's Aaron Wilson, the two sides have yet to fully discuss the future between them, which could result in the team ultimately deciding to release the linebacker.
Meanwhile, the Raiders haven't spoken to outside linebacker Kamerion Wimbley for several days. All signs point toward his pending release with no movement toward adjusting his contract at this time. So, the Raiders will likely cut Wimbley by Tuesday when teams have to be in compliance with the salary cap. 
While one could understand the team's desire to cut salary-cap space, they don't want to lose out on a strong piece of their defense going into the 2012 season.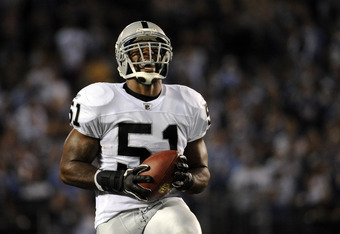 Harry How/Getty Images
This past year, Wimbley recorded 63 tackles and an interception through 16 games. Those tackles were five more than he had produced in the previous season, but his sacks were down at just seven from nine in 2010.
Currently, Wimbley is guaranteed $4.5 million for this upcoming season, but the price skyrockets to $11 million in 2013. According to the source, his cap space hits at $11.85 million for the next two seasons, and another $10.85 for 2014.
If the team can restructure his deal, they could likely keep him around to find some space under the cap.
Of course, that will be his choice as to what he wants to do. If he wants to stay a Raider, like his other teammates have done, he would be wise to opt to restructure his deal and stick around.
Otherwise, he runs the risk of entering free agency, possibly making less.
Then again, he could always end up making more if a team finds him to be in their interest.
For the Raiders, they need to do what they can to try and restructure this deal.
The only other linebacker on the team is Quintin Groves—assuming he returns for 2012—who has yet to prove that he could really help carry things the way that the combination of Curry, Wimbley and Rolando McClain did in 2011.
There is always a chance that they could go after a rookie in the draft, but that would be running a pretty big risk with a team that has a chance to contend for the AFC West in 2012.
The Raiders and their players have already worked out a couple deals, so hopefully they will be able to find a way to make things work with Wimbley in the coming days.