Peyton Manning Visits Arizona Cardinals, Spends More Than 6 Hours with Team
March 12, 2012

Joey Foley/Getty Images
Peyton Manning has come to Arizona, according to reports.
Okay, Cardinals fans. Stop. Calm down. Okay, are you breathing again? Good.
No, I didn't say he was signing with the Cardinals, not yet anyway, but he visited the desert and met with the owners, coaches and management, according to ESPN.
The Cardinals and Denver Broncos are now considered front-runners to sign the veteran passer. Manning has already met with the Broncos, and is also reported to be considering whether to meet with the Dolphins as well before his self-imposed signing deadline this coming Tuesday—the start of free agency.
Many considered the Dolphins to be the favorites to land the future Hall-of-Famer. Their management, ownership and new head coach Joe Philbin have made their intent to sign him crystal clear, the team has the money and Manning even owns a condo close by to the Dolphins facility.
However, there is reason to believe that Manning's feelings about the team may not be reciprocal. Though Manning was in the Miami area within hours of being released by the Indianapolis Colts, there were no indications that he met with, or even made any attempt to contact the team during his visit.
Manning returned to southern Florida after his meeting with the Cardinals, but again, not a whisper of any formal meetings with the Dolphins has emerged. Reports suggest that around a dozen teams have contacted Manning's people to enquire about his interest, and Manning has reportedly been putting out feelers of his own, though none to Miami.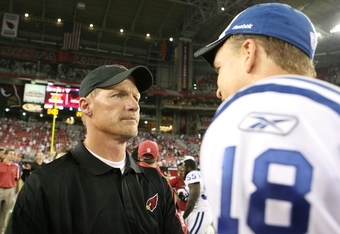 Christian Petersen/Getty Images
One team he did reportedly contact ahead of time, however, was the Cardinals. According to Adam Schein, Manning is very interested in playing with Larry Fitzgerald, and took the time to contact the Cardinals organisation—through the usual back channels—to enquire about their level of interest.
Manning is reportedly interested in bringing longtime friend and perennial favorite receiver Reggie Wayne with him wherever he goes, and the Cardinals have already been independently linked with the veteran wideout.
Clearly, the feelers put out by Manning returned with a resounding yes, and Manning spent nearly seven hours at the Cardinals facility on Sunday. He arrived with head coach Ken Whisenhunt and met with GM Rod Graves, team president Michael Bidwell, most of the Cardinals coaching staff and star receiver Fitzgerald, amongst others, during the meeting.
The Cardinals clearly went all out to win over the veteran QB, and if facial expressions are anything to go by, made a really good impression.
Cardinals considered to be best landing spot for Manning
It makes sense. The Cardinals are still considered to be just an elite QB away from another deep playoff run, and have been down this road before with Kurt Warner, with great success. With Warner, the team showed its willingness to build around an experienced player and give him the tools with which to succeed, and this will undoubtedly be a factor when Manning decides where to sign.
In addition to this, Manning has close personal links to the team—Whisenhunt and Manning are long-time golf buddies, and newly-appointed WR coach Frank Reich coached Manning during his time in Indianapolis—and there are plenty of reasons Manning will seriously want to consider joining the team.
The Cardinals' coaching staff is experienced, level-headed, flexible and offensively minded—sounds a lot like Manning himself. They have one of the top receivers in the league in Larry Fitzgerald, great young running backs in Beanie Wells and Ryan Williams and a solid young backup QB in need of some moulding and mentoring in John Skelton.
Their defense is young and talented, arguably a better unit overall than that which won the NFC West back-to-back in 2008 and 2009.
Their O-line is still sub-par, a concern for Manning, but their pass protection was greatly improved in the latter half of 2011, and with an early first-round pick, the Cardinals will certainly have committed to improving it further.
While the Broncos can offer Manning many of these things—he is reportedly also close to team front office staff there, the Broncos have a strong young receiving group and rushing attack—and some distinct positives—they play in the AFC, where Manning has expressed a preference to remain—they are still lacking in a number of areas.
The Broncos play outside, in a cold and often snowy Denver, a distinct drawback for the team. The Cardinals, on the other hand, play on natural grass, in a domed stadium in one of the warmest cities in the country during the NFL season.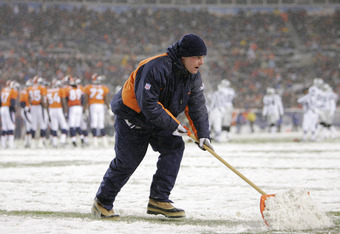 Brian Bahr/Getty Images
The Cardinals also have recent playoff success in a similar situation. Though the Broncos made the playoffs in 2011, their appearance was considered a fluke by many, and they got there in a very different style to that which Manning is used to. The Cardinals, on the other hand, reached the playoffs in 2008 and 2009 on the strength of their passing game, and by utilizing the skills of a veteran QB.
Indications clearly point to the fact that all else being equal, the Cardinals have more in their favour than the Broncos do; however, to assume that all else is equal would always be a mistake.
The Cardinals organisation has traditionally been hesitant to spend money, on numerous occasions allowing valuable players to walk rather than offering them a fair deal.
And while they have done a lot to shed that reputation in recent years, making Larry Fitzgerald one of the highest paid players in the NFL and making a huge splash to sign Kevin Kolb last season, there is still more than enough opportunities for the Cardinals brass to screw up the deal.
However, the owners simply cannot afford to let this happen. They must sign Manning; they have gone to far down the road not to make it happen.
Cardinals in too deep to back out now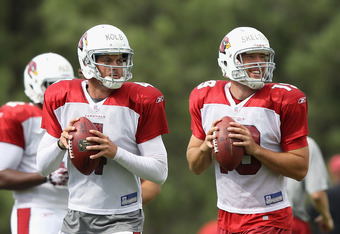 Christian Petersen/Getty Images
Prior to Manning's release, the Cardinals had played their cards close to their chest when it came to discussing their possibilities. While many teams were making their intentions clear, the Cardinals, true to form, kept their options open, while also refusing to speculate on specifics. They praised their current QBs, while also acknowledging that it continued to be a position they could improve at, if the right player came along.
They continually, however, made it clear that they were happy to run with Kevin Kolb and Skelton in 2012.
But all of that goes out of the window when you spend nearly seven hours trotting out your prized possessions in front of a suitor. In spending that much time with Manning, the Cardinals brass and those players invited to the party—including Larry Fitzgerald—made it abundantly clear that they were not happy with Skelton and Kolb in 2011, and would prefer to replace them before the start of this season. 
Tom Condon, Manning's agent, did not visit either Denver or Arizona. Reports suggest that the visits were more about allowing Manning to get a feel for the environment and culture of the teams, without the cloud of money hanging over them.
After a messy divorce in Indy, Manning, it appears, wants to be sure that wherever he ends up will be a family, not merely a paycheck. While this is a good thing—the Cardinals are known for a really positive locker room environment, and do not have the most cap room available right now, should it come down to a bidding war amongst any and all interested parties—the team will not have made a firm offer to Manning either.
While the team could make more than enough cap room to sign Manning and Wayne by cutting Kolb and restructuring the contract of Levi Brown, it will leave precious little space for anyone else.
Some would argue that they have too many other holes to commit all available resources to landing Manning, but low-balling him is an even worse prospect.
Interviewing Manning at such great length is a vote of no-confidence in the eyes of most fans and Kolb, and it would be an uphill climb to sell the team, and fans, on the fact that Kolb is the best man for the job in 2012 should they miss out on Manning. Many fans already consider Manning to be a Cardinal, and failing to sign him would be considered akin to letting him walk.
Clearly, if the Cardinals are unable to sign Manning, Kolb is enough of a professional to knuckle down and get the job done, but to say it won't create friction in the locker room and disappointment in the bleachers is a huge understatement.
Whatever happens within the next few days, however, expect the hyperbole, speculation and rumors all to be dialled up to 11.