Peyton Manning Is Not a Good Fit for the Denver Broncos...or Tim Tebow
March 10, 2012

Andy Lyons/Getty Images
Peyton Manning is most likely the greatest regular-season QB of all time.  His stats, wins, longevity, consistency and overall durability all support this.  His 2004 season is among the top five greatest single seasons by a quarterback of all time:
| | | | | | | | | |
| --- | --- | --- | --- | --- | --- | --- | --- | --- |
|   CMP   |   ATT   |   YDS    |   CMP%   |   AVG   |   LNG   |   TD   |   INT  |   RAT |
|   336 |   497 |   4,557 |   67.6 |   9.17 |   80 |   49 |   10 |   121.1 |
I have, over the course of his career, come to begrudgingly admit that Peyton Manning is among the few that I would concede have the chance to surpass John Elway as The Greatest QB of All Time. 
As of now,  I don't consider Peyton to be the greatest ever because he has neither the rings nor the playoff wins to surpass the guys ahead of him (Elway, Brady, Montana, Favre… and maybe even Eli Manning).  
With one more title though, it would be hard to keep anybody but Montana above Manning.
However, I don't think that Peyton Manning should be a Denver Bronco.  Here are the reasons why.
1: Age is nothing but a number…18.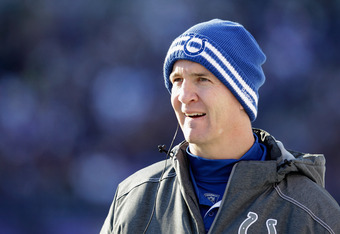 Rob Carr/Getty Images
We would not be getting a young Peyton Manning.  People, in their excitement about getting an NFL icon, seem to be forgetting that Manning turns 36 years old this year.  In the NFL, 35 is the age when the tires fall off for QBs.
In this excellent article from January of last year (2011, math whiz), we get this brief run-down of aging QBs:
- At age 36, Dan Marino saw his decline. His quarterback rating dropped to 80.7, his touchdowns plummeted to 17, and only in his rookie year did he produce fewer passing yards in a full season. He lasted two more seasons before retirement.
- Joe Montana's career may as well have ended at 35. His numbers plummeted in 1990—just a year removed from one of the finest seasons ever put together by a QB (26 TDs and 8 INT in just 13 games with a 112.4 QB rating in 1989).
He played in one final game in San Francisco at age 36 before ending his career in mediocre fashion in Kansas City (two seasons, 29 combined touchdown passes).
- Troy Aikman's demise occurred so abruptly at age 34 that he retired after tossing just 7 touchdowns against 14 interceptions in 2000. 
- Terry Bradshaw threw in the towel at 35, after two injury-plagued seasons.
- Johnny Unitas, whose longevity in the league is well-documented—he played 17 seasons from 1956 to 1973—began to break down at 35. He only played in five games that year and didn't start a single one. His play never recovered as he sludged through four more mediocre seasons with Baltimore before doing the unthinkable: leaving to sputter out in San Diego.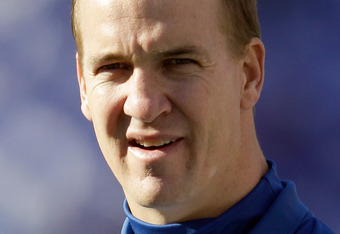 Rob Carr/Getty Images
- Fran Tarkenton's decline came at 37—in 1977, he only played in nine games. He ended things the next season.
- Even Steve Young, who in essence got a late start after waiting for Montana to break down, had his last hurrah at age 37 before the concussions got to him.
The examples are endless: Joe Namath (34), Bart Starr (36), Roger Staubach (37), Jim Kelly (36), Otto Graham (34), Dan Fouts (36, dropped off at 35), Sammy Baugh (dropped off at 36 and fizzled until the end at 38), Len Dawson (dropped off at 34), Bob Griese (35)—it goes on and on.
At 34, George Blanda threw 36 touchdowns. At age 35, he threw 42 interceptions, the most ever in a season.
Only a handful of aging QBs have played well beyond this age.  ONLY John Elway and Jim Plunkett won a Super Bowl past the age 35 (coincidentally, both are Stanford grads—maybe Denver should sign Peyton Manning and see if we can trade him back to Indy for the right to draft Stanford's Andrew Luck!). 
Others like Kurt Warner and Brett Favre got close, but also suffered through some very mediocre years along the way.
2. Peyton's Hairline Isn't the Only Thing Eroding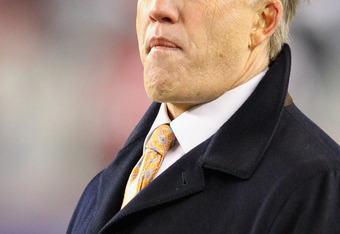 Jim Rogash/Getty Images
2004, statistically, marks the high point in Peyton Manning's career (clearly, winning the Super Bowl in 2007 surpasses that).  If you look at his stats since then, you will notice that in every season, they have gotten worse (okay, so there is a small uptick in 2009.  But he DID throw 16 picks!).
| | | | | | | | | | |
| --- | --- | --- | --- | --- | --- | --- | --- | --- | --- |
|   | CMP | ATT | YDS | CMP% | AVG | LNG | TD | INT | RAT |
| 2005 | 305 | 453 | 3,747 | 67.3 | 8.27 | 80 | 28 | 10 | 104.1 |
| 2006 | 362 | 557 | 4,397 | 65.0 | 7.89 | 68 | 31 | 9 | 101.0 |
| 2007 | 337 | 515 | 4,040 | 65.4 | 7.85 | 73 | 31 | 14 | 98.0 |
| 2008 | 371 | 555 | 4,002 | 66.8 | 7.21 | 75 | 27 | 12 | 95.0 |
| 2009 | 393 | 571 | 4,500 | 68.8 | 7.88 | 80 | 33 | 16 | 99.9 |
| 2010 | 450 | 679 | 4,700 | 66.3 | 6.92 | 73 | 33 | 17 | 91.9 |
| 2011 | These | Stats | Really | Suck | Because | Peyton | Was | NOT | Playing |
This would seem to support my first point.  Age is contributing to the gradual, eventual, inevitable and irreversible decline in Manning's skill set.  Nobody—not Ali, Gretzky, Jordan, or Mark McGwire's steroid technician could avoid this age-related decline.
I wouldn't bet on ANYONE, much less Tim Tebow, ever reaching Manning's statistical highs (though I'm not saying either that it couldn't be done).  What I am saying is that Manning is trending AWAY from this greatness, while a young QB like Tim Tebow is trending towards it. 
As with stocks, buy low and sell high.  The Denver Broncos would be buying Manning high and selling Tebow low. 
In three-five-seven years, guess who has a chance of playing in the Super Bowl?  And if Tebow is playing in JAX (or LA) then, won't we all be sad that Denver sold their soul to the devil? 
Especially since Tebow could smite said devil, but probably wouldn't, since he would be busy WINNING in JAX (or LA).
Denver: Beware the Curse of the Timbino.
3. Taking a Year off of Work Probably Won't Help
So, let's see: Manning is at the far end of ANY quarterback's career.  His skills are declining.  Oh, and he hasn't played for a year.
Yeah, THAT should help right the ship. 
Does anybody think that an (aging) T.O., Randy Moss, and Allen Iverson will be better off because of their time away from the game?  Absolutely not. 
Whether healthy or not, missing an entire season is a pretty big matzo ball.  One season in athlete years is like four in dog years, which is like, uh, 30 (?), 70 (?), 117 (?) in human years.  It's, um, like, a lot.  Let's put it that way.
4. What a pain in the a...neck
The reason Peyton took off a year from work wasn't a sabbatical, mid-life crisis, attempt to play baseball, or a even a steroid suspension.  It was because he was hurt.  That's who the Broncos want to replace Tim Tebow, a guy who was hurt for ONE year.
And this wasn't just any kind of hurt.  This is an injury.  A neck injury.  This should set off alarms in both Broncos fans' and Manning fans' heads. 
Al Wilson, the Broncos linebacker, had an excellent career cut short by a neck injury.  Peyton's older brother, Cooper (the one you've never heard of), never had a football career because of a neck injury.  These are not trifling matters.
So, let's recap again: Old, eroding skills, unemployed, and one bad sneeze away from a neck that looks like a day-old dead swan. 
Don't forget, the Indianapolis Colts, who know Peyton Manning (and his health) better than anyone, are choosing not to keep him around.  They are choosing, willingly, to part ways with an NFL all-timer, the face of the franchise, the face of the league, and one of the all-around good guys the league has ever seen.
So does it make sense for the Broncos to replace a playoff-winning QB - and the most popular athlete in the USA - when the Colts are willing to let an unproven rookie replace him?
I just can't get my head around that.  Can you?
5. I got $40 Million Problems But a QB Ain't One
Tim Tebow will count less than $1 million against the salary cap this year.  The Broncos have almost $40 million in cap room to spend.  The team has holes everywhere and needs some serious beef to fill them (that felt oddly pornographic to write).
So here is a good idea: let's blow $20 million-$25 million of it on one (aging, eroding, unemployed) player! 
Instead, why not attract about 15 guys in free agency who are "6s" and "7s" guys.  Guys who are better than average, on the cusp of the Pro Bowl, work hard because they aren't "stars," and therefore don't don't cost much.  Imagine if the Broncos went out and found eight guys who had seasons like Willis McGahee? 
Or, we can have one (aging, eroding, unemployed) player.
6.  What about "Timmy"?
All athletes have fragile psyches.  Although the humble-yet-tough, grounded-and-worldly Tim Tebow doesn't get too upset about anything, you have to think that this non-stop knee-chopping by Elway and the Broncos brain-trust HAS to start eating away at Tebow's confidence. 
How many times can one person hear "You can't throw… you can't play QB… we don't trust you… you aren't sustainable" before they believe it?
Every other NFL team bends over backwards to build up the confidence of their QB.  The Broncos do everything to damage it.
Yet, Tebow won IN SPITE of that.  Imagine what he could do with a REAL vote of confidence (not those fake platitudes that Elway tosses out like dog bones to rabid fans)?
Has any QB ever had less support from his own team than John Elway?  The Broncos showed more faith, trust, and support in Kyle Orton through a three-season losing streak than they did after the Broncos made the playoffs with Tebow. 
There are some who say that Denver only played Tebow so that he would fall on his face and the fans would shut up.  I'm inclined to agree.
Yet he didn't.  It's like a Disney movie around here.
So what would happen if the Broncos surrounded Tebow with more talent?  What would happen if they opened up the offense for him?  While some people say they put training wheels on Tebow, I say they put shackles on him.  What would happen if the Broncos truly believed in Tebow?  Great things. Transcendent things.  Unbelievable things.
And these aren't just great things on the field.  Tim Tebow has the chance to be the first NFLer to truly transcend the sport beyond our borders.  Muhammad Ali and Michael Jordan were both bigger than their sport and bigger than our borders.  They were famous on a global scale.  David Beckham was world famous, but came to America to be truly famous—American famous. 
No athlete has ever meant more to a town than John Elway meant to Denver (oddly, Peyton is the next closest), but he wasn't "grandma on the street in New Hampshire knows his name" famous like Tiger Woods. 
Peyton Manning is probably the most famous, most marketable, and most recognizable NFL player of all time (Brett Favre is probably a close second), but how many people in France, Brazil, Ghana, Mongolia, India, Russia or Thailand know or care who he is?
But Tebow could be more than the face of a city.  More than the face of a league.  Tebow could be the face of a sport, the face of a country, and the face of the biggest religion in the world. 
It may be blasphemy to say, but you could argue that Tim Tebow is the fifth most famous Christian in the world right now (God, Jesus, Mary, the Pope, Tim Tebow).  THAT is value.  THAT is marketable.  THAT is big.  THAT is famous.
And like Peyton Manning before him, Tebow has handled sudden fame with an amazing aw-schucks charm, grounding and perspective that almost nobody—of any age or status—has had.
7.  More Stats
Here is a fun game.  It is called "Whose stats are Whose?"
Test No. 1:  Whose stat lines are whose, Peyton Manning or Tim Tebow, from their second career start?
Player A:
| | | | | | | | | | |
| --- | --- | --- | --- | --- | --- | --- | --- | --- | --- |
| CMP | ATT | YDS | CMP% | AVG | LNG | TD | INT | RAT | W/L? |
| 21 | 33 | 188 | 63.6 | 5.70 | 22 | 1 | 3 | 51.1 | L |
Player B:
| | | | | | | | | | |
| --- | --- | --- | --- | --- | --- | --- | --- | --- | --- |
| CMP | ATT | YDS | CMP% | AVG | LNG | TD | INT | RAT | W/L? |
| 16 | 29 | 308 | 55.2 | 10.62 | 50 | 1 | 1 | 89.4 | W |
Of course Tim Tebow is B!  Do you think I would take the time to put these stats here otherwise?  Isn't it weird that everyone says Tim Tebow can't throw, yet, in a DIRECT, apples-to-apples comparison to one of the top three throwers of all time, Tim Tebow looks better?
How did this happen?  One, the Broncos allowed to Tebow to throw the ball over 20 times.  Two, he was throwing to an All-Pro (yet, journeyman) wide receiver, Brandon Lloyd.  Check out some of the highlights here.  It looks like a real offense and a real QB *gasp.*
Test No. 2: Whose stat lines are whose, Eli Manning or Tim Tebow, from their first season as a starter?
Player A:
| | | | | | | | | | |
| --- | --- | --- | --- | --- | --- | --- | --- | --- | --- |
| CMP | ATT | YDS | CMP% | AVG | LNG | TD | INT | RAT | W/L? |
| 95 | 197 | 1,043 | 48.2 | 5.29 | 52 | 6 | 9 | 55.4 | 1-6 |
Player B:
| | | | | | | | | | |
| --- | --- | --- | --- | --- | --- | --- | --- | --- | --- |
| CMP | ATT | YDS | CMP% | AVG | LNG | TD | INT | RAT | W/L? |
| 126 | 271 | 1,729 | 46.5 | 6.38 | 56 | 12 | 6 | 72.9 | 7-4 |
Ok, wild guess?  Once again, Tim Tebow is "B," and once again has the better stats.  So let me get this straight:  Tim Tebow, in an age/experience appropriate, apples-to-apples comparison, has better stats (and wins) than BOTH of the immortal Manning brothers?
Could it be that most QBs struggle early on (Cam Newton will get his in Year 2! Just ask Sam Bradford)?  Could it be that the problem isn't Tebow's arm, Tebow's throwing motion or Tebow's ability to read a defense…the problem is simply that Tebow is a YOUNG QB.  That is easy to solve (and, unfortunately for Peyton, something that CAN'T be solved for him).
By the way…those stats don't include Tebow's 660 yards and 6 TDs rushing (at that pace, he would've finished over 1,000 yards for the year).  They don't include the fact that in Manning's SECOND year as a starter, he STILL only completed 52 percent of his passes for a 75 rating (yet has now won two Super Bowls). 
They don't include Kurt Warner saying that Eli's first year as a QB was "some of the worst QBing I'd ever seen," (yet has now won two Super Bowls).  And they don't include this:
It took Peyton Manning SIX years to win his first playoff game.
It took Eli Manning FOUR years to win his first playoff game.
It took Tim Tebow ONE year (as a starter, TWO total) to win his first playoff game.
Hmmmm….
By the way, you can do this with just about ANY young quarterback. 
1. Go to ESPN.com
2. Search the QB's name
3. Click on "Game Log"
4. Use the "year" drop down menu to select his first year as a QB
5. Compare it to Tebow's
6. You will see that, when you compare Tebow's first-year-as-a-starter stats, wins, and playoff success to any other QB in history, he compares very well, if not among the best (right there with Tom Brady and Ben Roethlisberger…who both had wins and rings, but horrible stats). 
You can do this with individual games too.  Look at Tebow's worst.  Then scroll through ANY QB in history, and you will find FAR worse (in fact, look at Big Ben's first Super Bowl win.  Look at most of John Elway's Super Bowls.  Look at Peyton Manning in his Super Bowl winning season.  Peep Tom Brady's first year—and again in 2009.  Check out early Drew Brees.  And on and on and on and on…
8.  From MVP…to MVP.com
I love John Elway.  I would leave my wife for him.  That is, John Elway the football player.  So far, John Elway the executive has done very little to earn my faith (or lusty affair). 
He completely botched the Kyle Orton situation.  If Carson Palmer was worth two first-round picks, Kyle Orton (off a great stats year in 2010) should've been traded for at least two early- to mid-round picks.  Instead, we got nothing.
Elway totally underestimated the Tim Tebow circus too.  At every step, Elway has misfired on this.  Even Tebow haters would have to agree that Elway has done a poor job handling Tebow Time.
Don't tell me to trust Elway just because he was an all-time great player.  Michael Jordan is probably the greatest athlete of all time…but also the WORST executive in all of sports. 
And John Elway?  Don't forget, he once teamed with Michael Jordan to bring the world MVP.com.  Look it up…it is pretty much the embodiment of the dot.com implosion.
To close…
Do I think Peyton Manning is great? Yes.  Well, was great. 
Do I think Tim Tebow will have Peyton Manning's career?  No.
But I wouldn't think that Matt Ryan, Matthew Stafford, Sam Bradford, Cam Newton, or Andrew Luck will either.  99.9% of the QBs who ever (have or will) play in the NFL won't have his career.
But with Peyton, the greatness is in the rear-view.  With Tebow, the best is yet to come.  Will it be greatness?  Nobody can guarantee that.  But nobody can guarantee that it can't. 
History would suggest that Peyton has little chance at his age and condition to be great.  At the same time, history suggests that all QBs struggle at times, especially early, and the best, hardest-working ones will overcome that, learn from it, and go on to do great things.
I would be really sorry, as a Broncos fan, to see Tim Tebow do that somewhere else.