Chicago Bears: List of Free Agents Linked to the Team Full of Big-Name Guys
March 10, 2012

Bob Levey/Getty Images
This week, Phil Emery will get his first chance to make waves as an NFL general manager.
Free agency kicks off Tuesday, and it's no secret Emery has a willing financier ready to break the bank big.
While still unofficial, reports estimate the Bears will have roughly $21 million at Emery's disposal after factoring in Matt Forte's $8 million or so franchise tag number for 2012.
So what will the long-time scout, first-time GM do? Outside of Halas Hall, no one knows for certain.
Emery hasn't been shy about his draft-centered, team-building philosophy, but with a hefty cap number available, crucial roster holes and a team that can contend for a Super Bowl title with a few key free-agent additions, the Bears are sure to be prime-time players over the next few weeks.
Here's a rundown, by position, of potential Bears targets—players who NFL reporters, beat writers and insiders say have a shot at being a Bear in 2012 and beyond.

Quarterback
David Garrard: Multiple reports linking Garrard to the Bears point to the 34-year-old's time with Mike Tice in Jacksonville. Garrard is also reportedly willing to be a backup. 
GUT FEELING: Lands with QB-needy team in training camp; maybe the Bears or the Houston Texans at a minimum contract.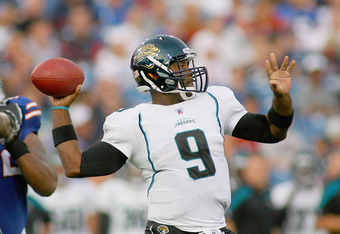 Rick Stewart/Getty Images
Kyle Orton: He was pining to land with the Bears via the waiver wire last season reportedly. Too bad, he didn't. Instead, he landed with Emery's Chiefs. Will likely command $4 million to $5 million a year somewhere. Will Bears be willing to shell that out for the second-stringer?
GUT FEELING: Tampa Bucs at $3.5 million/year; Dan Pompei doesn't see him with the Bears either.
Josh Johnson: The Bears liked him a few years back under Jerry Angelo, so it's unclear if there's any interest these days. 
GUT FEELING: Ends up in San Francisco as a backup under Jim Harbaugh who coached him at San Diego State for a reasonable $2 million/year.
WHAT WILL THE BEARS DO AT QB? Orton's a real option, but the Bears will likely count on a healthy Jay Cutler this season as opposed to shelling out nearly $4 million for a backup. Look for them to add a potential No. 2 in training camp—maybe Garrard.
Wide receiver
Vincent Jackson: The hottest name when talking Bears and free agents. Because it makes too much sense—Bears need big-time, go-up-and-get-it No. 1 wideout. Still, VJax's list of suitors will be long, and there hasn't been much indication where he wants to play outside of his Chargers.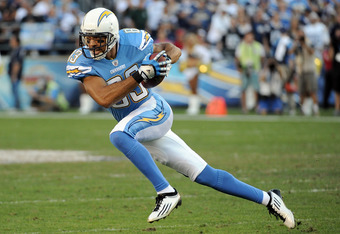 Harry How/Getty Images
GUT FEELING: Lands with WR-desperate Bears via $11.5 million/year contract. Bears really want to be more explosive on offense, so they will shell it out here.
Marques Colston: Another case of a sensical pick-up—a big, proven wideout. More risks than Jackson, though, say some. Surgeries on both knees and success came with Drew Brees in dome.
GUT FEELING: Redskins get a reasonable deal done with Colston around $7 million/year to pair with Robert Griffin III. SIGNED 5-YEAR DEAL TUESDAY BEFORE START OF FREE AGENCY
Eddie Royal: Royal will be looking for second life in his NFL career after a nearly forgotten 900-yard rookie year. His QB that year? Jay Cutler.
GUT FEELING: Sure, the Bears have enough sub-six-foot receivers, but the Bears need depth no matter how tall he is. Emery reportedly talked with Royal's agent at the NFL Combine. Bears on a two-year, $3 million contract.
Robert Meachem: An intriguing wideout with good size at 6'2" and a history as a deep threat. May have more upside than his counterpart Colston.
GUT FEELING: Into the Jacksonville abyss for a hefty $5 million/year. Don't you think the Jags will have to overpay a wide receiver to play with Blaine Gabbert?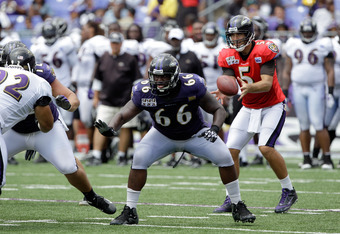 Rob Carr/Getty Images
Mario Manningham: It took an amazing catch in the Super Bowl for M&M to garner nationwide attention, but he's been a star-in-the-waiting. Still, it will be interesting to see how he handles being a No. 1 wide receiver. The guys over at Rotoworld are pairing the Bears with Manningham.
GUT FEELING: Tampa Bucs at $7 million a year
WHAT WILL THE BEARS DO AT WR? They'll push really hard to sign Jackson. If that fails, perhaps, they will try to send some 2013 draft picks to Miami for Brandon Marshall depending on how the Manning sweepstakes play out. If that fails, it could equate to a disastrous offseason.
Tight end
John Carlson: Carlson was drafted by the Seahawks in the second round and had nice rookie and sophomore seasons—catching 12 touchdowns. Still, Seattle didn't see him as their feature tight end and went out and signed Zach Miller last offseason. Then, Carlson missed last season with injury.
GUT FEELING: Tampa Bucs at about $3 million/year
Martellus Bennett: There were rumors a few years back that teams wanted to pry Bennett from the 'Boys with some offering a first-round pick. Times change. Bennett, whom Dallas wouldn't let go despite the presence of Jason Witten, never really made much of an impact for America's Team. But he's still only 26, and teams will covet his combination of blocking skills and speed. ESPNChicago thinks the Bears could have some interest.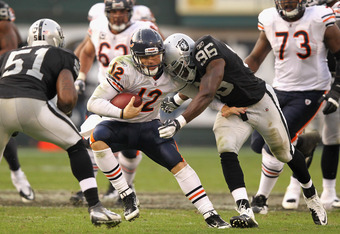 Ezra Shaw/Getty Images
GUT FEELING: Buffalo Bills for a surprising $4 million/year
WHAT WILL THE BEARS DO AT TE? Probably stay away from the higher-priced guys and re-sign Kellen Davis who wasn't given much of a chance under Mike Martz. Depth options could be Leonard Pope or Donald Lee.
Offensive tackle
Demetrius Bell: A seventh-rounder who emerged in his fourth season. He's seen as an above-average left tackle which is saying a lot.
GUT FEELING: Stays with the cash-heavy Bills at $6.5 million/year
Jared Gaither: A massive tackle who has underachieved after being drafted by the Ravens but resurrected his career in San Diego. Mike Tice will like his size, but not his inconsistency. 
GUT FEELING: San Diego is reportedly working hard to re-sign him before free agency. He stays there at $6 million/year.
Marcus McNeill: A Pro Bowler as a rookie and a sophomore, but hasn't been the same since. He's struggled with injuries, but is still only 28.
GUT FEELING: Falcons at $4 million/year
WHAT WILL THE BEARS DO AT OT? For the starting spots, they'll count on J'Marcus Webb to turn things around and Gabe Carimi to get healthy. The Bears will need to sign a reliable backup, however, with both players' question marks. Think Max Starks or Barry Richardson.
Offensive guard
Ben Grubbs: Some say Grubbs is a top-10 guard in the NFL; others aren't as high. It is saying something that Baltimore doesn't want to let the 28-year-old go.
GUT FEELING: A Ravens' beat writer reported he heard the Bears would be hot after Grubbs if he hit the market. Just don't think the Bears will shell out a big contract for a guard. Guess is he lands with the Falcons for around $7 million annually.
Carl Nicks: While some doubt surrounds Grubbs, it's a consensus that Nicks is one of the best guards in the NFL. He's headed out of New Orleans for what's likely to be a blockbuster deal.
GUT FEELING: The Cowboys have needed to improve their offensive line for some time now and are rumored to covet Nicks. That's where he'll land at $9 million/year.
WHAT WILL THE BEARS DO AT OG? They'll stay away from dishing out a big contract and sign a cheap veteran to compete with Lance Louis, Chris Williams and Chris Spencer.
Defensive end
Mario Williams: He'll be the top paid defensive player in the league by season's start. And for good reason, he's been a model of consistency in Houston who couldn't afford to tag him.
GUT FEELING: Matt Bowen of National Football Post makes the pitch for a Peppers/Williams tandem. John Mullin of CSNChicago says the Bears may be the front-runners for Williams. Still, the gut feeling is the Bears fall just short, with the Patriots stepping up and shocking the NFL with $14 million/year for Williams. Houston could re-sign him, too, considering the release of right tackle Eric Winston in a cap relief move Monday.
Kamerion Wimbley: Here's the Bears' guy. He was said to be their top target last year before free agency kicked off until he re-signed with the Raiders. While he's still a member of the Raiders, all signs point to the new regime over there shedding his $17.5 million price tag for 2012.
GUT FEELING: Bears jump on him upon his release inking the 28-year-old for roughly $8 million/year.
Jeremy Mincey: A bit of an unknown, probably because he played in Jacksonville, but he broke out in 2011 with eight sacks and is just 28.
GUT FEELING: Jacksonville, desperate to add pass-rushers and not let them go, re-signs Mincey at a $6.5 million annual price tag.
WHAT WILL THE BEARS DO AT DE? If Wimbley hits the market, I don't see anyone beating the Bears to him with San Diego as the biggest threat. The Bears see the need for a legit pass-rusher across from Peppers perhaps with the thinking that it will only add to their investment into both he and Peppers.
Linebacker
David Hawthorne: Talk reveals the Bears were a fan of him before he signed as an undrafted free agent with the Seattle Seahawks in 2008. ESPNChicago's Michael C. Wright says the Bears will look to re-kindle that interest this week.
GUT FEELING: Hawthorne heads to Detroit to replace Stephen Tulloch, at about $4 million/season.
Cornerback
Cortland Finnegan: Rumors were exaggerated this week that Finnegan would have to be a package deal with Vincent Jackson. Would be a great fit in Chicago with his physical style.
GUT FEELING: Cowboys for $7 million/year
Brandon Carr: More of a man-to-man cover but was drafted in Kansas City, so there are ties to Emery. The Chiefs reportedly want him back, but after signing Stanford Routt and with Brandon Flowers and Javier Arenas already in the fold, expect him to go.
GUT FEELING: Tampa Bucs for a robust $7.5 million/year
WHAT WILL THE BEARS DO AT CB? It's definitely the most intriguing position when it comes to the Bears and their offseason plans. With Aaron Rodgers and Matt Stafford in the division, cornerbacks are at a premium. Still, they could get scared away from the price tags of the top guys and sign a middle-tier guy like Terrell Thomas or William Gay.
Safety
LaRon Landry: An ESPN blogger says the Bears will be players for the No. 6 overall pick in 2007.
GUT FEELING: Landry could be a consolation prize for the Bears, who seem to be eying big prizes Vincent Jackson or Mario Williams. I'll go with the New York Jets, who need a splash on defense, for $6 million year.