Reggie Wayne and San Francisco 49ers: Ex-Indianapolis Colt WR Would Be Good Fit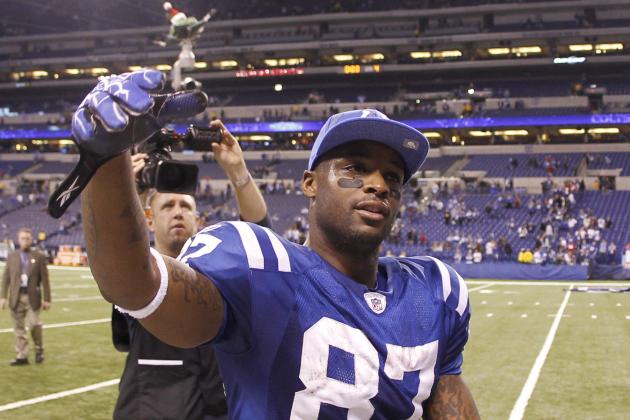 Joe Robbins/Getty Images
Reggie Wayne is a hot commodity in the free-agent market and possible addition in San Francisco.
Reggie Wayne is a veritable library of knowledge concerning the wide receiver position.
He'll endow San Francisco 49ers' neophyte wideouts, and even quarterback Alex Smith for that matter, with invaluable wisdom of everything-NFL offense.
He's fairly proficient at NFL longevity and accruing gaudy stats as well.
The 49ers are desperate for receivers to get them over the hump.
Wayne is one of a few pieces that will complete the puzzle of a Super Bowl-worthy—and not just NFC Championship Game-worthy—49er franchise.
Come on board as I examine four reasons why Wayne would look darn good sporting the red and gold.
Begin Slideshow

»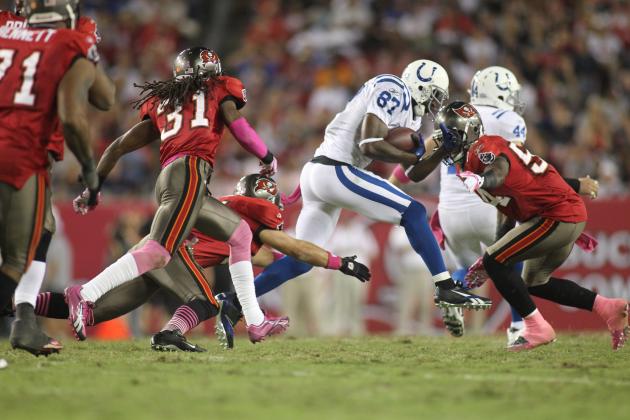 Marc Serota/Getty Images
Wayne charging through a group of Tampa Bay defenders.
Reggie Wayne is by no means finished playing in the NFL. The 49er front office should take notice.
Briefly, it is true that he has played for 11 grueling NFL seasons and will be four years past the 30-threshold come November.
But as we delve just a little deeper into his career, we quickly realize his incredible durability, and how it aligns so smoothly with the 49ers own Justin Smith.
During his rookie and sophomore campaigns, Wayne played in 29 games and started in 16. Out of a possible 144 games during the next nine years, he played and started in all of them.
That's correct—145 regular season consecutive starts in the NFL (including the final game in 2002). That's legendary. It's also good for sixth-most among active players.
Justin Smith has started in 171 consecutive games. This monster number happens to rank fifth, just one place ahead of Wayne. I think these guys will be handsome features on this Niner team, projecting their NFL invincibility and all.
In any case, it's abundantly clear that Wayne's downright inexhaustible…and ready to play for the 49ers.
Aside from jinxing him and any other such superstitions, Wayne will remain a dependable NFL player for at least three more years. He's simply in too phenomenal a shape not to be.
Furthermore, there is ample room under for Niners salary cap for a Reggie Wayne signing.
Three years, $15 million, $6 guaranteed? Trent Baalke and company can surely afford that.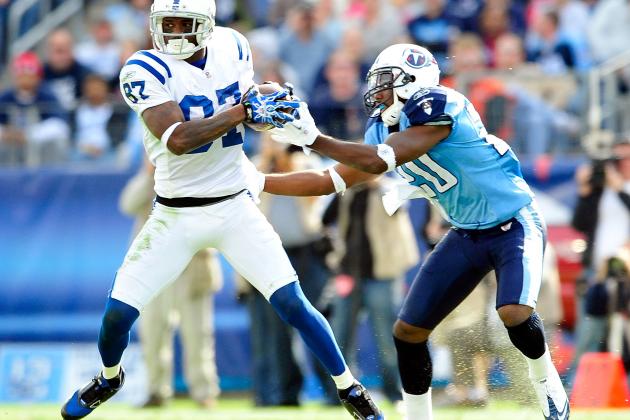 Grant Halverson/Getty Images
No. 87 routinely shakes off would-be tacklers.
Jim Harbaugh is anti-diva; as is the rest of the coaching staff; as are the players; as is the 49ers organization from top to bottom.
Reggie Wayne is anti-diva.
Stated as simply as the preceding statements, Wayne fits the current 49er mold.
He is a blue-collar, no-nonsense player who thrived under the tutelage of consummate professionals while playing for the Indianapolis Colts. He shared an intimate bond with Peyton Manning, the hardest-working player in the NFL, as his go-to guy for four years (2007-2010) and his No. 2 target for the previous five (2002-2006).
Wayne also played alongside All-Pro receiver, Marvin Harrison. This man was a classy, all-time great mentor to Wayne and any other teammate with whom he made contact.
Wayne will bring that professionalism to San Francisco and fit in seamlessly with the rest of his 49er teammates. He will work extremely hard to learn the system and utilize his talents within it in an unselfish, team-first manner.
And I already mentioned that he's tough as nails, just like the rest of this group.
49er fans will accept him as one of their own in quick fashion—perhaps even forget that he played for another NFL franchise for the past 11 years.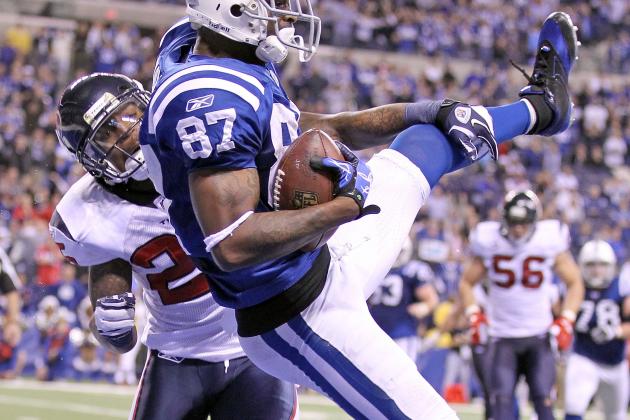 Andy Lyons/Getty Images
These leaping TD catches would really improve the 49ers' red-zone efficiency.
In which categories were the 49ers so terribly deficient in 2011?
Let's go with third-down conversion rate, having a viable deep-threat wideout and red-zone efficiency.
These statistics will experience substantial improvement with Wayne inserted into the offensive fold.
Omitting his first two years in the league (even though he averaged three catches per game in his second season), Wayne has compiled 75 receptions per season in his remarkable consecutive-start streak. He has never totaled fewer than 68 and has eclipsed 100 three times, with two coming in consecutive seasons.
Wayne has also averaged 1,183 yards and 13.6 yards per reception during this time. Add to those numbers a low of 12.2, high of 15.7 and seven consecutive 1,000-yard campaigns.
Equally pertinent are his 564 first-down catches and average of 62 per season since 2003. Four seasons with 70-plus aren't too shabby either.
I qualify those statistics as a product of undeniable consistency.
Clearly, Wayne is an extremely valuable possession receiver that accrues impressive yardage year in and year out. He runs pristine routes and moves the chains at a commanding pace as well.
Oh, did I mention that he hauled in 75 passes for 960 yards and four touchdowns with the likes of Kerry Collins, Curtis Painter and Dan Orlovsky pitching him the football? Out-of-retirement 39-year-old, career record of 0-8, and a QB who helped lead a Detroit team to an 0-16 season?
Rough.
Not bad being ranked 19th out of all NFL wideouts with those bums throwing to him. Believe me when I say that Wayne's prolific success continued without Manning in the mix.
As for touchdowns—an accomplishment that often eluded the 49ers in 2011—Wayne has reached the end zone 73 times during his career, with nine or more coming during four seasons, and at least six grabs in another three.
The leading Niners receiver Vernon Davis caught six TDs, while the No. 2 man Michael Crabtree brought in four.
Wayne can attain those numbers in his sleep.
He brings instant credibility to the 49ers as a possession receiver, deep-threat (14 career TDs of 40-plus yards, 21 of 30-plus), and red-zone target (40 TDs of 20 or fewer yards).
Alex Smith needs to start lobbying for his services.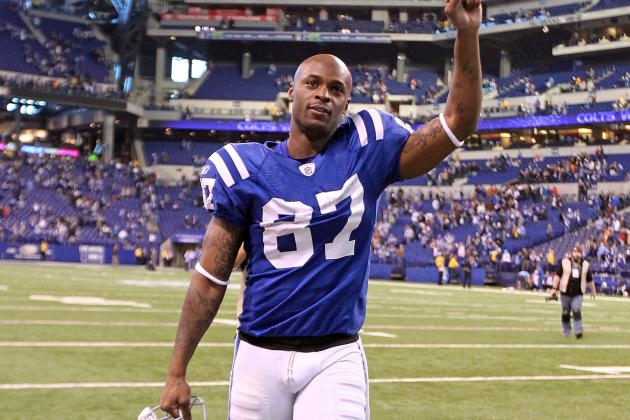 Andy Lyons/Getty Images
Will there be a Reggie Wayne sighting in a 49er uniform in 2012?
This contribution extends way beyond the trite moniker of "wily ol' vet."
Wayne does not belong in the category of, veteran-leader-to-an-impressionable-cast-of-players-without complementary-on-field-production, kind of guy.
To the point, Reggie Wayne brings toughness, durability, hard work ethic and league-leading production.
More so, he offers intelligence for the game of football gleaned from one of the most preeminent of football brains in Peyton Manning, the ultimate player-coach.
Most importantly, he is a player that will make his teammates better—receivers and quarterback. They will strive to emulate him in his work ethic and playmaking abilities, as well as absorb his vast knowledge of the game.
This is not to say that he's some otherworldly sage capable of engendering never-before-seen success in the NFL single-handedly, or any other such hyperbole.
What's pertinent is making those around you better.
While not to the extent of a franchise quarterback, Wayne will teach the 49er receivers precision route-running, tactics for gaining separation without purely elite speed (you can thank him for this one, Crabtree), and improve their aptitude for diagnosing defensive coverages and finding open areas.
He'll show Alex Smith the productive dynamics and pure connection between a trustworthy receiver and his quarterback.
He will lead through verbal instruction and by example.
Watch out for increased production out of the 49ers wide receivers when Reggie Wayne is around to influence all of those already on the team and those signed through free agency and the draft.
He is quite simply the puzzle piece every team should have on their squad.
Niner nation should hope that squad rocks the red and gold—and not a Dolphin sporting the teal, orange and white.