Peyton Manning: A True Measure of His Worth to the Indianapolis Colts
March 7, 2012

Andy Lyons/Getty Images
With the breaking news via ESPN that Peyton Manning and the Indianapolis Colts are destined to part ways, it's only natural to want to speculate on the future of both him and his soon-to-be former franchise.
But that's not happening here. 
There's plenty of time to ponder Manning's next move. There'll be several days to decide if Manning will be wearing aqua blue, cardinal red or some other new color. And there's over a month before we see how the Colts' luck will change in the post-Manning era. (Yeah, I know, the joke's been done before)
However, as someone that's followed Colts football for more than two decades, it's apropos to think about Manning's value to the Colts because, frankly, he's been so much more than their starting quarterback. 
The memory of the proud Colts franchise of the 1950s and 60s was long gone by the time they rolled into Indianapolis for the 1984 season. Their exciting new football city soon became a desolate wasteland of incompetence.
Sure, there were brief signs of life. The Eric Dickerson trade brought a division championship in 1987. Captain Comeback, Jim Harbaugh, led the Colts one Hail Mary short of a Super Bowl in 1995. Still, in the 14 years of football in Indianapolis, the Colts produced twice as many seasons with five or fewer wins (six) than they did produced playoff appearances (three). 
Titletown, U.S.A. it wasn't. 
Then in 1998, that all changed.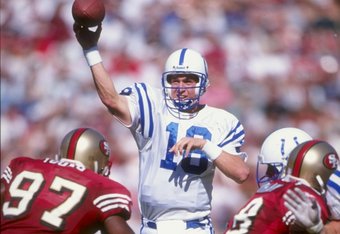 Jed Jacobsohn/Getty Images
It wasn't just Peyton Manning's ability that endeared him to the Colt faithful. It was just as much his aw-shucks mentality and slightly backward demeanor as it was his laser-rocket arm. Hoosiers tend to relish the stereotypes thrust upon them. Think the Hick from French Lick or Hicks versus Knicks. Sure, Manning was a bit goofy, but that just let Hoosier know he was one of them. 
Not long after he arrived, the wins started coming. By Manning's second year, the Colts had posted their best record since moving to Indianapolis. When playoff success didn't immediately follow, national media wondered if the NFL had its next Dan Marino. Colts fans rallied around their hero. For once, the Colts had a player worth defending, something they never did for Eric Dickerson or Marshal Faulk. 
Their resilience paid off. The Colts beat their nemesis, the Patriots, in the 2006 playoffs and then earned the city's first Super Bowl title, and second for the franchise. That Super Bowl was the pinnacle of a transformation that began back in 1998. Indianapolis had become a football town. National media started to talk about the Colts as one of the league's most respected, and consistent, franchises. A new stadium followed two years later. 
None of this happens had then-Colts general manager Bill Polian decided to go with Ryan Leaf over Peyton Manning. Without Manning, there's no Super Bowl title. No second appearance. No great new stadium. And, most importantly, no respect. Manning just put butts in the seats and accomplishments in the record books. He put Indianapolis on the map. The once proud Colts had become proud once again. 
It seems inevitable that tomorrow will be the end of Peyton Manning's career in Indianapolis. Speculation will abound about Manning's future. The Colts' bandwagon can be traded in for a mid-sized sedan. But, hopefully, Colts fans will appreciate what Manning was worth to the Colts. Looking back, maybe it would have been worth $28 million to appreciate just one more season.