Peyton Manning Rumors: Recent Workouts Prove QB Will Be Ready for Season
March 6, 2012

Andy Lyons/Getty Images
March 8th, also known as the deadline for the Indianapolis Colts to keep Peyton Manning on their roster, is quickly approaching. However, it looks like after recent workouts, Manning will be ready to play this season. 
According to a tweet from Will Carroll, who has a source that saw Manning workout recently, the source saw "Massive improvements" and said Manning will be ready for minicamp whenever it opens.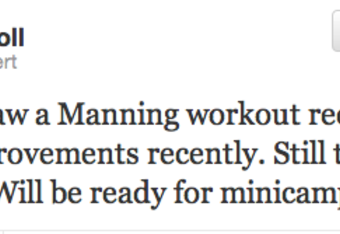 Now, the question is, who's minicamp will he be ready for? 
The Colts have the first decision to keep the quarterback on their roster after the March 8th deadline when he's due a $28 million option bonus. However, if the Colts do not think that Manning is going to be 100 percent after his multiple neck surgeries, then they can cut him loose to the highest bidder in free agency. 
Recently, a video has surfaced of what has been said to be Manning throwing at Duke University. From NFL.com, they have a source that told NFL Network's Albert Breer:
One source told Breer that Manning is throwing the ball "really well," while another said the quarterback "feels good" about where he is in the process.

Now there's visual proof to confirm Manning's returning arm strength, as a 27-second video of the quarterback going through an aggressive throwing session while wearing his Colts helmet, shoulder pads and jersey at Duke University appeared on YouTube late Friday.

A source confirmed to Breer on Saturday that the player in the video is Manning.
With the video surfacing just days before the Colts deadline and this latest tweet coming out, it looks like Manning is giving Indianapolis all of the information they need to pay him the $28 million option. 
Potential No. 1 draft pick in the upcoming NFL daft Andrew Luck has said that he would be willing to sit behind Manning on the Colts roster saying: 
"Yeah, absolutely," Luck told reporters at the Scouting Combine regarding the possibility of serving as Peyton's understudy.  "If I had the opportunity to learn from a guy like that, of course you're going to take advantage of it.  Absolutely."
From everything that is coming out, it looks as if when the 2012 season opens in September, we will be seeing a healthy No. 18 playing quarterback.
However, the million-dollar question is, which team will he be playing for?