Cincinnati Bengals: Filling out the Team's Depth Chart Behind AJ Green
March 5, 2012

Doug Pensinger/Getty Images
With Jerome Simpson and Andre Caldwell hitting free agency this off-season, the Cincinnati Bengals are looking to replace, and hopefully improve upon, the two receivers in free agency or the draft.
With AJ Green entrenched atop the depth chart and Andrew Hawkins competing with the returning Jordan Shipley for one spot, the Bengals could add multiple receivers this offseason.
Building a receiving corps isn't as simple as bringing in the best receivers available and lining them up across from each other.
Bengals fans don't need to be reminded that it was only a few years ago when Terrell Owens and Chad Ochocinco brought a lot of hype to Cincinnati before faltering together because neither receiver complemented each other.
Many teams cannot get the receiving corps right; many struggle to look at the overall picture instead of focusing on the individual talent each player possesses. The Bengals must avoid that pothole but already have a good head-start with AJ Green.
Green is an elite receiver in the making without any glaring flaws to his game. If you ask him to take the top off the defense, then he will do it. If you ask him to catch the underneath passes consistently and convert them for first downs, he will do it.
Green's abilities as a first-choice receiver make the job of building around him easier. His flexibility will expand the Bengals' catchment area of the market.
Outside of Green, the Bengals have little promised to them. Andrew Hawkins had a good rookie season, but cannot yet be relied upon as a proven starter or even as a slot receiver.
Jordan Shipley is returning from a serious injury which makes his chances at being the team's possession receiver less clear. While Brandon Tate is almost exclusively limited to a role as a special teams player these days.
First and foremost, the Bengals need to bring in a starter to play on the outside across from Green.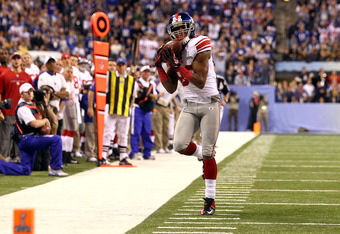 Al Bello/Getty Images
After the franchise tag deadline came and went, four of the top wide receivers were taken off the market in the form of DeSean Jackson, Wes Welker, Dwayne Bowe and Steve Johnson (signed long-term deal).
In spite of that, the Bengals' primary target, at least the player who should be their primary target, remains available.
Mario Manningham may be receiving a lot of attention for his big reception in the Super Bowl, but even without that performance against the New England Patriots, Manningham possesses everything the Bengals should want in a No. 2 receiver.
Much like Jerome Simpson, Manningham is very athletic, which makes him a tough matchup in single coverage for most defenders. Unlike Simpson, Manningham has no off-field issues and plays to a greater level of consistency.
Even though Victor Cruz received a huge amount of praise last year, and rightfully so, Manningham's role offensively was a huge part of that when he was on the field. His presence outside, along with Hakeem Nicks, prevented defenses from zoning in on any of the Giants' receivers.
Bill Belichick could be heard on the sideline telling his defense to force the ball towards Manningham, but that was no reflection on him as a player. That was a reflection on a perfectly built receiving corps in which each complemented each other.
Because of his big-play potential, opposing defenses won't be able to leave him in single coverage and focus on AJ Green.
Green is good enough to command double teams on a consistent basis and still make plays; having a receiver across from him who affords him more opportunities in single coverage only improves the offense as a whole.
Manningham is not the only option for the team this offseason to be a starting receiver next year.
It is unlikely that they go after Mike Wallace, Vincent Jackson or Marques Colston, simply because the presence of Green means they don't need to invest in a leading receiver. Outside of Manningham, the most logical move is to bring in Brandon Lloyd.
Lloyd is a speedy receiver with plenty of starting experience. He previously led the NFL in receiving as a Denver Broncos player.
At 31, Lloyd also brings a veteran presence which Manningham, 25, didn't offer. The Bengals, despite all of their positives last year, should be an even younger group next year with Cedric Benson likely leaving.
Arguably, Lloyd is still a No. 1 receiver. He showed last season in St. Louis, despite their overall struggles, that he has the capabilities to get free from opposing teams' best cover corners. Going against the second-best corner on a weekly basis could only flatter Lloyd.
The Bengals would need to convince the veteran receiver, as most expect him to sign with Josh McDaniels in New England.
Once the second starting receiver is in place, the Bengals have a slew of options for their third choice.
With Jermaine Gresham playing tight end, they are not locked in to playing with a true possession receiver in the slot. Gresham is more than capable of playing a big role in the offense over the coming years.
Should the team still look for a possession receiver, there are plenty of options available to them.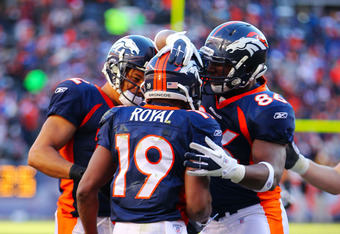 Doug Pensinger/Getty Images
Eddie Royal may have been forgotten by many after a combination of injuries and Tim Tebow's inability to throw the football made him irrelevant in Denver; however, he still has enough talent to excel in better surroundings.
Deion Branch has been a starter for the New England Patriots over the past two years or so but his skill set better suits him to moving inside the numbers to make plays. Branch is very agile with sure hands who could kill secondaries with Green and Manningham/Lloyd drawing coverage deep.
Steve Smith and Jerricho Cotchery may have had contrasting seasons last year, after leaving New York, but both are very talented and proven players as possession receivers.
Outside of signing those veterans, the Bengals have the option of adding a receiver with one of their first round picks in this year's draft. The most likely situation for the team is that they draft Kendall Wright from Baylor with their second selection.
Wright is a quick receiver who could instantly become a slot receiver with the potential to be a full-time starter in the future.
Depending on what style of offense Jay Gruden plans on running in Cincinnati next season with Andy Dalton no longer being a rookie, the Bengals could make a play for a third starting receiver.
In this situation, Gresham would essentially become the team's possession receiver, and each of the starting receivers would be asked to spread the passes between them more evenly.
A veteran like Reggie Wayne can play in any system at this point in his career. Wayne is still a fantastic receiver and would provide the Bengals with a proven winner and proven receiver who could challenge Green as the best receiver on the team.
Splashing out on Vincent Jackson doesn't make a huge amount of sense, but if the Bengals would prefer to run a vertical passing offense with three tall and rangy receivers, much like the Chargers did at one point, then bringing in Jackson and Manningham would be the perfect combination to do so.
Marques Colston could be a similar addition, but he appears better fit in a timing offense that wouldn't be exposed to the harsh conditions the AFC North teams tend to endure.
Tweeting @Cianaf