Liverpool vs Arsenal: Gunners Get Shocking Victory Thanks to Szczesny's Heroics
March 3, 2012

Clive Mason/Getty Images
Say hello to Bizarro Arsenal: Same as the old guys, if a bit weirder.
With this Arsenal, up is down and down is up, they say hello when they mean goodbye and, most importantly, they win when they absolutely shouldn't.
Crazy, I know, but it sure beats the old model of dominating and losing behind badly placed rushes of blood to the head, no?
And, besides, it might just be the incarnation of the Gunners that brings Arsene Wenger and company back to their birthright in the top four.
Even in an Arsenal season that's been chock full of scripts so silly the silver screen would deem them outlandish, Saturday's senseless 2-1 win over Liverpool set a new standard. Try this one on for size, Gooners: The Arse got played off the pitch at Anfield—and won.
No more bossing possession only to lose anyway. No more huffing and puffing at the gates only to find a counterattacking sucker-punch waiting inside. No, only a deeply satisfying victory over a team that, earlier this season at the Emirates, took advantage of the old Arsenal better than most have managed so far.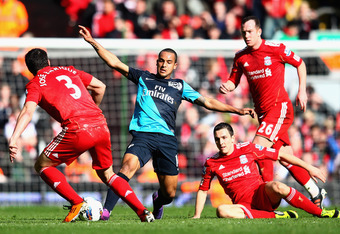 Clive Mason/Getty Images
Granted, those guys aren't definitely gone now—other than Samir Nasri and Andrei Arshavin, that is—and Arsenal are far from guaranteed to finish fourth. Mikel Arteta turned in a shocker before his injury, Yossi Benayoun was worse than anonymous and Theo Walcott regressed again after last week's promising second half.
But considering the events of past two weekends, it's time to at least ask whether the tide has begun to turn.
Last week the provocateurs were Tottenham, and the red herring their scarcely deserved 2-0 first-half lead. We all know what happened next, but it hardly could have prepared us for what came after.
The short version? A game that made zero sense and that, by their own account, Arsenal really shouldn't have won.
And the aftermath? Arsenal now lead Chelsea by three points—and Liverpool by 10—in the race for fourth place, and they now trail Tottenham by just four, pending Spurs' Sunday match with Manchester United.
Most of the time in football, several factors—from tactics to positioning to substitutions—decide a game. On Saturday, only one mattered, as Zonal Marking pointed out:
In the end, the game was decided by nothing more than efficiency in the box. Liverpool had more possession (54%-46%), more shots (12-10), played more passes in the attacking third (134-79), played more crosses (38-8) and won more corners (12-0). Yet Arsenal managed to get more shots on target (7-4).
And still, as stoppage time approached, the mood among the Arsenal faithful must have been that a draw and a point would pass for a win. Anfield has traditionally been a house of horrors for Arsenal, and after Saturday's first half the visitors deserved to be two, three or more goals behind.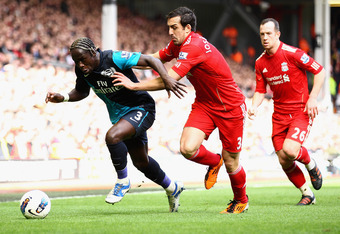 Clive Mason/Getty Images
Both managers confirmed it afterwards, if in wildly different ways—Kenny Dalglish fidgety and flustered, and Arsene Wenger coy and professorial. But then Alex Song awoke from his 91-minute slumber, spied van Persie making a lateral run at the Liverpool defense and picked out Arsenal's talisman with an inch-perfect lob you'd expect more from the likes of Rafael Nadal.
Anyone who's seen any of Arsenal's matches this season knew, as soon as van Persie took that sweet first touch, that it was over. And based on his haphazard attempt to save van Persie's shot, apparently so did Pepe Reina.
The shot was well placed, but it was also stoppable. Not that it mattered. At that point, the match was over, because the best player on the pitch—in the league, too?—had said so. And yet, the magical RvP wasn't even Arsenal's man of the match.
In his post-match interview, Wenger claimed his team's comeback performance had produced two candidates for that honor. But he was wrong. Polish keeper Wojciech Szczesny stood alone as Arsenal's top performer.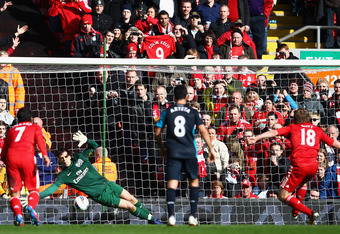 Clive Mason/Getty Images
Szczesny, who we often forget is still just 21, proved his value with a mature, assured performance. The highlight was an unlikely double-save in the 19th minute that came as the hosts had started to press their advantage. It might go down as the save(s) of the season.
First Szczesny dove to his right and stopped Dirk Kuyt's penalty—which felt like justice done, considering how minimal Szczesny's contact on Luis Suarez had been. Then he flung himself back to the left and pawed away Kuyt's bang-bang rebound.
Six minutes later, the Chezz was at it again, pushing aside Kuyt's latest effort—a low dart toward the back post—before Suarez hit the post of an open net. Szczesny saved again from Suarez five minutes before the break, and as Laurent Koscielny's own-goal showed, the only player who was able to beat the Pole all day was one of his teammates.
If it all felt familiar, that's because it should have. None of what we saw from Arsenal on Saturday—from own-goals to indifferent individuals to Robin van Persie's one-man rambling revue—was new. The novelty was how the pieces fit together, and what the completed puzzle meant.
Not for the first time this season, the wrong team won a game that involved Arsenal. But for the first time this season—maybe several seasons—the grateful beneficiaries were the Gunners.
Keep up all this unfamiliar behavior and Arsenal will find themselves in a familiar spot they've kept warm for a decade and a half: A place in the Premier League's top four.
More Bizarro things have happened.