Liverpool vs. Arsenal: Rating the Reds' Players in 2-1 Anfield Defeat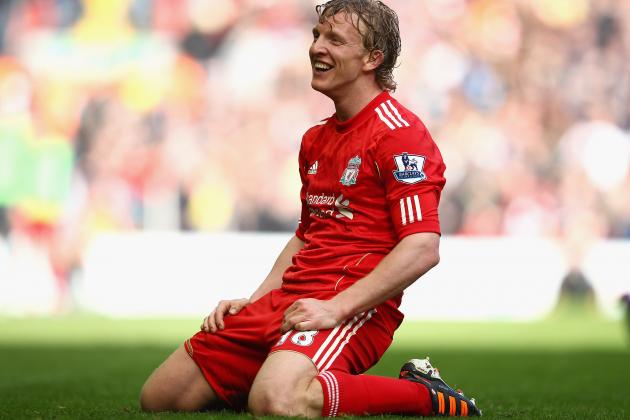 Clive Mason/Getty Images

Liverpool faced the same old demons again at Anfield in the Premier League fixture against Arsenal—and came up wanting, as they succumbed to a 2-1 home defeat after leading early on.
Here we take a look at the home players' performances and rate them out of 10.
The Reds were missing captain Steven Gerrard, who paraded the League Cup trophy prior to kick off, and injured defensive duo Glen Johnson and Daniel Agger, which meant recalls for Dirk Kuyt, Jamie Carragher, Jay Spearing and Martin Kelly.
Andy Carroll was left on the bench.
Liverpool missed a great chance to take the lead when Dirk Kuyt spurned a penalty, as well as scuffing the rebound.
Kuyt and fellow forward Luis Suarez both hit the woodwork while their teammates passed up a succession of opportunities to score again, with Martin Kelly and Jordan Henderson being two of the main culprits.
Despite a plethora of chances to find the net, the Liverpool players actually didn't manage to score a single goal, with Arsenal's Laurent Koscielny scoring an own goal before Robin van Persie scored once in each half to hand the three points to his side, so ending Liverpool's unbeaten home record this season.
Here are the ratings for the Liverpool players against the Gunners.
Begin Slideshow

»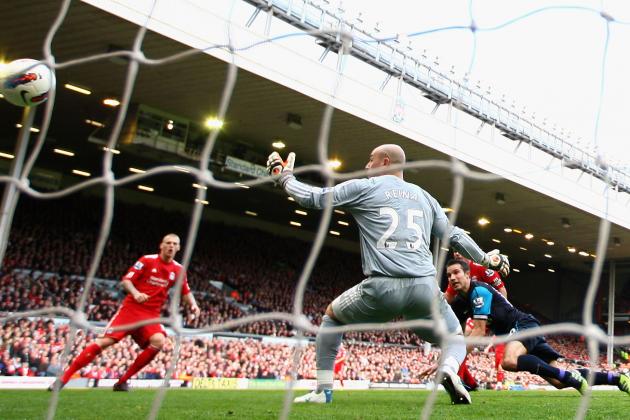 Clive Mason/Getty Images

All in all, this was not one of Pepe Reina's more glorious Anfield afternoons.
He didn't do much wrong; actually he didn't do much at all, as Liverpool fairly well dominated the whole match from start to finish.
Unfortunately, from Arsenal's few shots on goal, only four of them carried any serious threat—and half of those ended up in the back of Reina's net.
Not much could be done by the 'keeper about Robin van Persie's first goal, a header from close range which the defence should have done better to protect. And by that time Reina had already denied Theo Walcott with a fine low stop from a volleyed chance.
In the second period, Reina also reacted smartly to stop a deflected effort from the same player, in what was a terrific reflex stop.
For most of the rest of the game it was routine catching and distribution for the No. 25.
However, in injury time Reina was beaten by van Persie again, at his near post again, and that goal Reina should have done better with, and he knew it.
The volley was well hit and accurate, but from a fairly difficult angle. With the ball having traveled a long way, Reina will be disappointed to not have been in a better position to cover his near post more fully, or been able to react enough to stop the shot.
Pepe Reina: 6 / 10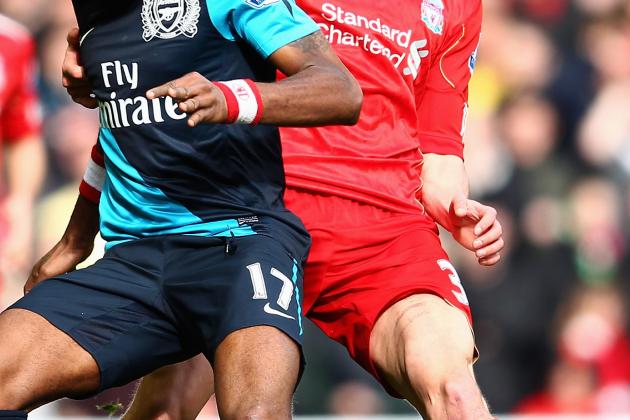 Clive Mason/Getty Images

With Glen Johnson sidelined, Martin Kelly returned to the Liverpool side at right-back and put in another assured defensive display.
Neither Yossi Benayoun nor Gervinho later on gave Kelly any real problems, and in general he got forward well to support the attack from wide areas and send over a few dangerous crosses.
However, he did have three moments where the match could have swung one way or the other but for his mistakes.
Twice Liverpool were attacking and the ball dropped very invitingly for Kelly to finish from close range.
Firstly, he neglected to shoot at all with his left and allowed Wojciech Szczesny to parry away before his right foot could connect. And secondly, at the far post he got himself in a terrible muddle as the ball flew between his two legs when only a slight touch would have put Liverpool 2-1 ahead.
At the back, Keiron Gibbs escaped into space behind Kelly with a ball between him and his central defender, which caused a shooting opportunity for Theo Walcott that Pepe Reina saved.
Jose Enrique, on the left, had a fine game.
He kept Walcott quiet almost all game long and beat him for pace in a straight foot race over 30 yards, no mean feat.
In attack he perhaps didn't overlap as much as he usually does, maybe mindful of Arsenal's counterattacking threat, but was still an outlet when needed.
A solid return to form for the Spanish defender.
Martin Kelly: 6 / 10
Jose Enrique: 7 / 10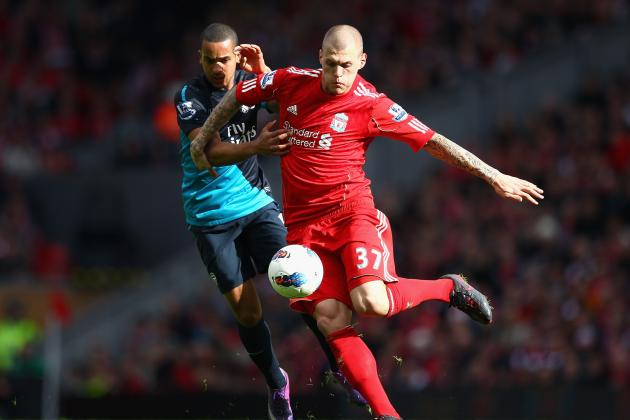 Clive Mason/Getty Images

Martin Skrtel continued his recent excellent form with another sound showing against Arsenal, though for long spells neither he nor his partner Jamie Carragher had too much to do as Liverpool dominated proceedings.
Skrtel used the ball well and passed it on simply and quickly, though he also looked to run into Arsenal's half when he could to open up the play.
A few thudding challenges on the ground never go amiss, and Skrtel obliged to send the likes of Walcott to the turf, after winning the ball of course, and was a strong presence in the air from the Gunners' set pieces.
On Carragher's return to the side with Daniel Agger out injured, the scouser captained the Liverpool team.
However, he was perhaps guilty of a lack of match sharpness as Robin van Persie stole far too easily in front of him for the equalising goal, with too little anticipation and strength shown by Carragher in the vital moment.
A few minutes later he certainly made amends to be stronger and more alert, shepherding a deep cross out for a goal kick, but the damage had already been done.
Carragher defended very well for the majority of the game, though as is his habit there were a few too many long passes played, especially in the first half when the pitch was wet and bouncing balls would go skidding out of play.
A clearing header in the second half from almost under his own crossbar was vintage Carragher, but neither he nor Skrtel were able to mark van Persie out at the second crucial moment, as the Dutchman won the game with an injury-time volley.
Martin Skrtel: 7 / 10
Jamie Carragher: 6 / 10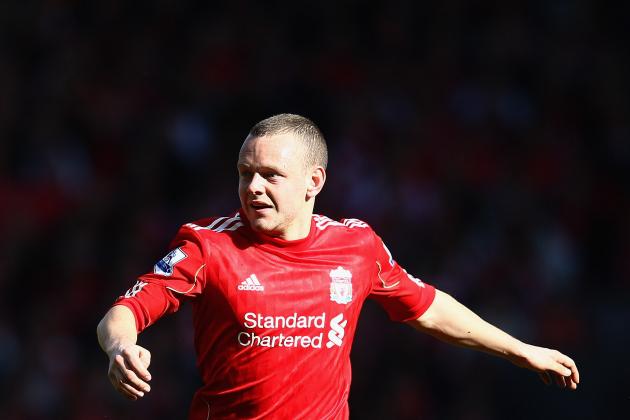 Clive Mason/Getty Images

Kenny Dalglish perhaps bravely opted to go with a 4-4-2 to counter Arsenal's 4-3-3 in midfield, and Charlie Adam and Jay Spearing playing centrally certainly out-worked and out-passed their opposite trio of Alex Song, Mikel Arteta and Tomas Rosicky.
Spearing was snapping into challenges with his usual gusto and used the ball efficiently, though he rarely broke beyond the midfield line.
Adam in contrast was the attacking fulcrum of many of Liverpool's advances, though his distribution and decision making constantly leaves much to be desired, and so it was the case again against Arsenal. For further detail on exactly why Adam has frustrated in midfield, read here.
Spearing was replaced late in the game as Liverpool went for broke after trailing 2-1, but he performed well and only once did Rosicky get away from him in the first half.
The diminutive scouser protected the defence well in the centre and allowed Liverpool's wide midfielders to get forward at every opportunity.
Charlie Adam was disappointing with his set piece delivery, and with one particular instance should have played in a teammate, Jordan Henderson, to bear down on goal.
However, his dribbling was as below par as his corner taking today, and Adam lost the ball on that occasion.
Jay Spearing: 7 / 10
Charlie Adam: 7 / 10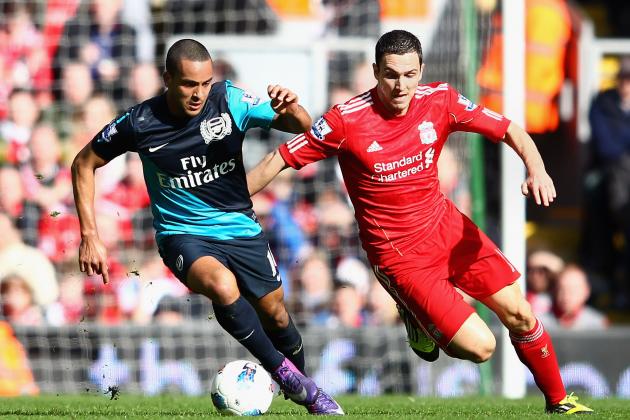 Clive Mason/Getty Images

Stewart Downing kept his place in the Liverpool team following an improved showing over the last couple of weeks, and he continued his better form with a decent display down the left side.
Bacary Sagna was a formidable opponent at right-back, though Downing was never afraid to try and take him on before whipping over a cross.
The battle was about even, with Sagna stopping as many attacks as Downing managed to put over crosses, but his pace and ability to come inside was clearly a problem for the back line of the Gunners.
Downing certainly should have done better with a chance to lob into an empty net after Szczesny cleared from outside his box, but that poor right foot of Downing's failed to connect with the ball at all.
Jordan Henderson on the right might have been expected to lose his starting spot after he was poor in the League Cup final, but he played much better against Arsenal.
Frequently coming infield to get the ball left Liverpool narrow at times if Martin Kelly didn't get forward from right-back, but it did allow Henderson to get involved in the game and link up with his teammates, which was more important.
Two or three excellent crosses from the right also added to his better display, while a side-footed shot was well saved by Szczesny, though he perhaps should have scored.
Henderson's runs forward into space should have helped Liverpool win this game, but a combination of poor decision-making in the final third and a general reluctance to shoot from some players, conspired to once again stop the Reds from taking all the points.
Henderson's link up with Suarez when they were two-on-one with a Gunners defender was a case in point.
Jordan Henderson: 7 / 10
Stewart Downing: 7 / 10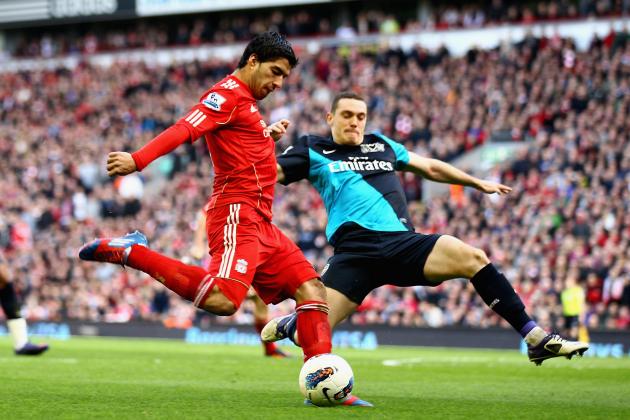 Clive Mason/Getty Images

We can start off by acknowledging the huge effort put into the game from both players.
Liverpool should have beaten Arsenal; they were hungrier, more energetic, created more chances and looked like the better side all round.
Much of that stemmed from the front two of Dirk Kuyt and Luis Suarez.
The two were excellent at closing down the Arsenal defenders, hustling them into playing long and aimless or back towards their goalkeeper, never letting the ball roll easily into midfield.
They also linked up well with each other in and around the penalty box, and both forwards hit the post.
Suarez showed again why he is one of the best in the Premier League at dribbling, as he beat four defenders in a tight space before rolling his shot goalwards, but Wojciech Szczesny made a good stop.
It was, however, the same old story for Liverpool as, for all their good play, the entire team failed to score even a single time against Arsenal.
The front two naturally had the most chances, and none was more gilt-edged than Dirk Kuyt's penalty which was won by Suarez.
Kuyt's spot-kick wasn't the best and was well saved, but the rebound should certainly have been put away, instead of being scuffed and again saved.
On this showing, the Kuyt-Suarez partnership up front is the way forward for Liverpool.
But they have to score goals, it is as simple as that.
Dirk Kuyt: 7 / 10
Luis Suarez: 8 / 10, Man of the Match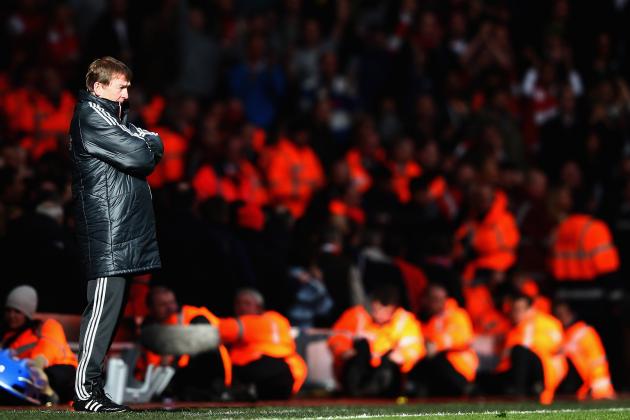 Clive Mason/Getty Images

With eight minutes of injury time to be played at the end of the game following a long stoppage for treatment to Mikel Arteta, Kenny Dalglish gambled on holding out until the 87th minute to make his first change, when Craig Bellamy replaced Stewart Downing.
The reluctance to change was understandable, as Liverpool had dominated the game and were still creating plenty of chances, but the lack of finishing was undeniable.
Liverpool played very well, and were the better side, but didn't win.
The change unfortunately didn't help in any way as just four minutes later Arsenal went ahead.
Andy Carroll came on for Jay Spearing as a last resort, but the damage was done, and he didn't even touch the ball, while Bellamy had only five minutes to get involved afterwards.
Craig Bellamy: no rating
Andy Carroll: no rating
Unused subs: Alexander Doni, Sebastian Coates, Jon Flanagan, Maxi Rodriguez, Jonjo Shelvey.