Jeremy Lin: Rising Star Must Prove Himself Against Rajon Rondo and Celtics
March 2, 2012

Chris Trotman/Getty Images
In a game that could propel the New York Knicks into a true playoff contender, nobody-turned-sensation guard Jeremy Lin must prove himself in this critical matchup with the Boston Celtics.
Both teams currently sit in second and third place of the division, as .500 records keep them from taking a true step above the other.
The Celtics will be pitted against the New Jersey Nets on Friday night, who could give them a real run for their money given they now have Brook Lopez back. The game will ultimately decide where the Celtics stand in the division, as they will either move a game above or below the Knicks.
After Sunday's game, New York will have a chance break the tie to the series, which would be critical in their push to challenging the Philadelphia 76ers for the top spot in the division.
It will also be a huge test for Lin, as this will be his biggest challenge since he went up against LeBron James and the Miami Heat before the All-Star break.
In that game, Lin struggled mightily as he only scored eight points while recording three assists in 34 minutes.
It was certainly a shot back down to reality, as the new sensation finally had a game that proved to the world that he's not immortal. 
The fact of the matter is, every player is due to have a bad game every so often. Unfortunately for Lin, his came on his biggest floor yet, and now he must bounce back to prove that it was simply one bad outing. 
That being said, Lin did bounce back in his most recent game. He had 19 points and 13 assists against the Cleveland Cavaliers this past Wednesday, but there is a major difference between them and the Celtics.
Like the Heat, Boston has a lot of veterans, and they are very good at playing defense. This season, despite their struggles on offense, the Celtics are holding their opponents to just 88.6 points per game—that's third best in the entire league.
This is a major obstacle for Lin, as he may once again have a hard time getting around the Celtics, not to mention point guard Rajon Rondo.
Rondo is a strong and notoriously nagging defender, which could seriously throw Lin off from his current playing trends.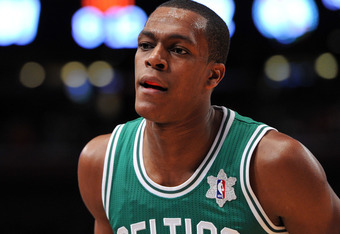 Christopher Pasatieri/Getty Images
It will be a matchup like this in which Lin must prevail to prove to the sports world that he is truly a rising star in the NBA.
There is no doubt that he has already made an impact that nobody could have seen coming. However, in the final stretch run of the season, Lin has to continue to play as he did early on to be able to officially reach that level of stardom.
That won't come without strong performances over teams that they could potentially see down the line during the critical parts of the season, as well as the playoffs.
Jeff Chase is a Featured Columnist for the Chicago Cubs and Arizona State football.
Follow @Real_Jeff_Chase