New York Giants: Top 10 Reasons the G-Men Will Repeat as Super Bowl Champions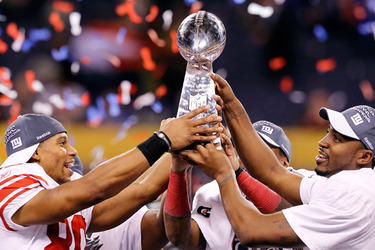 The confetti has fallen. The parade is over. The Trophy is in hand.
Now, finally, it is time to take a serious, sober look at next year. Now, with our adrenaline no longer hovering around Orange Alert, with the euphoria of defeating Tom Brady and the New England Patriots a second time faded, with the "is he is or is he not a Hall of Famer" discussion silenced for a while, we can get down to business.
And, in the business of repeating as Super Bowl champions, the Giants have been abysmal.

After their 1986 dream season ended with a Super Bowl win over the Denver Broncos, they went 6-9, with not even a sniff at the postseason. They followed up their 1991 "Wide Right" win in Super Bowl XXV with a .500 record and no playoffs. In 2008, a successful defense was looking good until Plaxico Burress, a loose waistband and an illegal handgun derailed their hopes for a repeat.
So, what's to make us think 2012 will be different? Read and learn, my NFL friends. Read and learn.
Begin Slideshow

»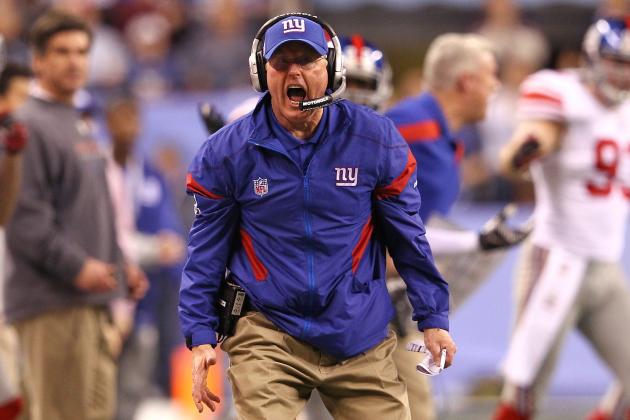 Al Bello/Getty Images

Most talking heads will point to what Tom Coughlin did this year—bringing his team together despite injuries and several poor performances to win the franchise's fourth Super Bowl.

But if you really want to know what to expect, and what Coughlin is capable of as a defending Super Bowl champion coach, you need to simply look at the 2008 season. The Giants began the season 10-1 before wide receiver Plaxico Burress shot himself in the leg at an NYC nightclub, turning the season on its end. After losing three of their last four, the Giants flamed out at home against the Philadelphia Eagles.

But few coaches could have survived the loss of their star wide receiver (who many thought should have been the Super Bowl MVP), and Coughlin's Giants were well on their way to one of the more impressive seasons a defending Super Bowl team has had. Expect him to repeat that success, sans a gun-toting star receiver incident.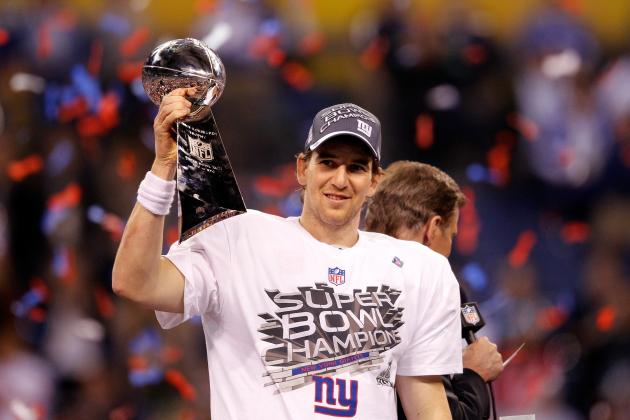 Rob Carr/Getty Images

The 2011 season was Eli Manning's coming out year. He was one Hail Mary away from a 5,000 yard season, he eliminated most of his lazy interceptions and, most importantly, the G-Men won because of him not in spite of him.

There's no reason to think that Manning will regress in 2012. In fact, he should be even better with another year under his belt as the on-field leader, and another year throwing to the likes of Victor Cruz and Hakeem Nicks.

He should also be better because the Giants running game couldn't be any worse. An improved running game will take pressure off Manning, and his offensive line buying him more time will allow him to find the open man and look downfield.
That could be scary to opposing NFL defenses.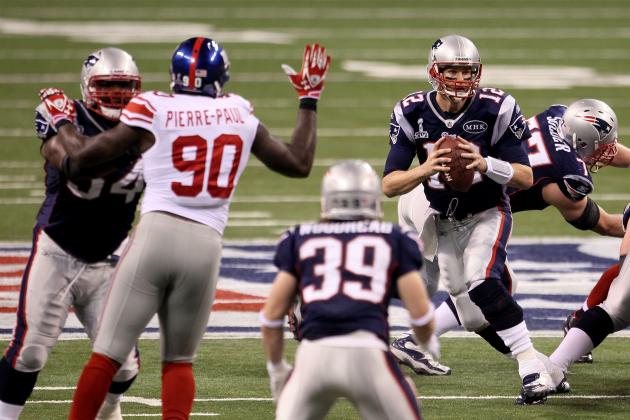 Jeff Gross/Getty Images

What's up with JPP? Well, we will see.

JPP was outstanding in 2011, with 72 tackles and 16.5 sacks in his sophomore season. The 6'5", 270 pound defensive end out of the University of South Florida terrorized opposing quarterbacks from the start and never let up.
Early last season, when JPP was filling the gap left by injured Jason Tuck and Osi Umenyiora, defensive line coach Robert Nunn told the New York Post that Pierre-Paul's potential was unlimited: "I'm amazed every day by JPP. Every game it's just like he learns something new and he continues to improve."

JPP won't sneak up on anybody next year, but it doesn't matter. Knowing that a freight train is coming at you is only half the battle; stopping that freight train is the other half.
With a healthy Tuck and the return of Umenyiora, Pierre-Paul should get fewer snaps in 2012, which should actually help him as he relies more on explosiveness than brute force.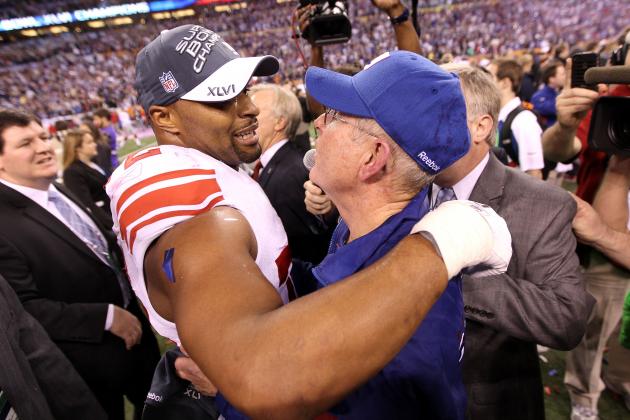 Jamie Squire/Getty Images

Love him or hate him, Osi Umenyiora may well have saved the Giants defense last year. Umenyiora started only seven games for New York, but still put opposing quarterbacks on their back nine times and harassed them as much as any other Giant.
Sure, he's a prima donna who spent much of the last offseason whining about his contract. And, yes, he can be a handful for coaches and teammates alike. But clearly he can still play at a high level, among the best in the league.
Umenyiora will come to camp this year rested and ready—a full year removed from knee surgery and after a modestly demanding season in which he started only seven games. He will be a force again.
His strong finish to 2011 should rule out a trade, unless the Giants front office knows something we don't. Common sense says Umenyiora's return to health and to the team bode well for a Giant repeat in 2012.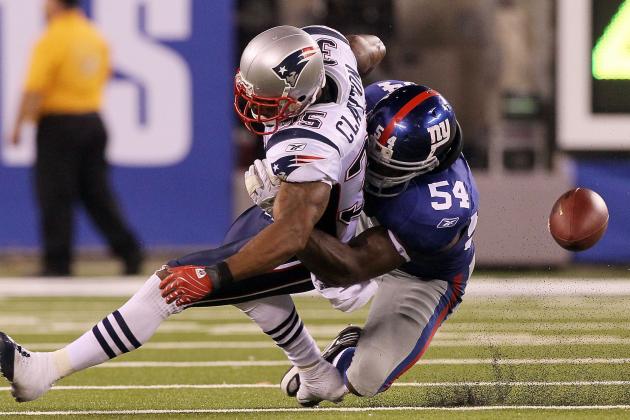 Jim McIsaac/Getty Images

Giants' middle linebacker Jonathan Goff was supposed to be a force in 2011, but a torn anterior cruciate ligament ended his season before it really began.

In 2010, Goff showed great promise, garnering 52 tackles and stuffing the lanes of opposing offenses.

Goff's recovery is ahead of schedule according to Giants brass, and Goff and his right knee should be ready to pick up where he left off in 2010.

The Vanderbilt star emerged out of nowhere in his second year to solidify a linebacking corps that needed all the help it could get, and it's not unrealistic to expect an 80-tackle season out of a rested and healthy Goff. His return in 2012 will help the Giants in third-and-short situations and inside the red zone, and should eliminate some of those late-game collapses the Giants endured midseason.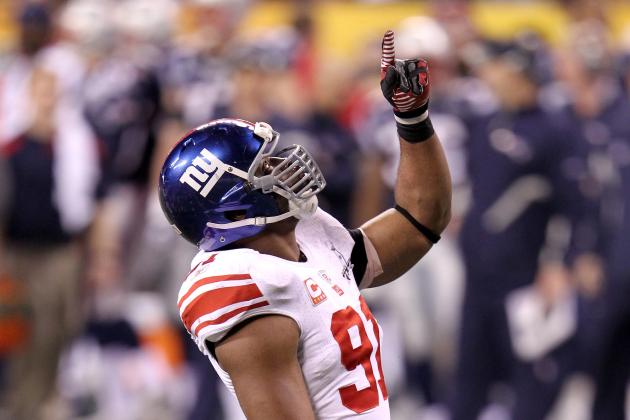 Andy Lyons/Getty Images

Defensive end Justin Tuck will return to his Pro Bowl form in 2012, bolstering what is already one of the Giants' strengths.
Tuck, 28, was slowed by injuries last year—to his toe, groin, neck and shoulder—but he showed flashes of his old self throughout the year. He had surgery on his shoulder after Super Bowl XLVI, removing scar tissue in what coach Tom Coughlin described as a minor surgery.
Tuck tweeted about the shoulder surgery last week: "Coach C spilled the beans. Yes I had shoulder surg. Nothing major. Will be more than ready to defend the title."
And Tuck will be more than ready.
He rises to the occasion, just as he did in Super Bowl XLII, when he recorded two sacks and forced a fumble.
There is no bigger challenge in pro sports than defending a Super Bowl title, and Tuck, like all the Giants, wants to become the first team to repeat since the Patriots.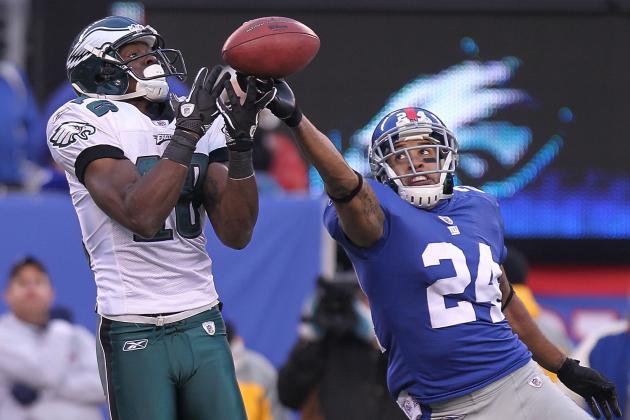 Nick Laham/Getty Images

In 2011, the Giants' secondary spent more time in surgery than Doogie Howser, dropping like flies from the preseason and beyond.
The biggest loss? Cornerback Terrell Thomas, who tore his ACL in the preseason and missed the entire year. Thomas was head and shoulders above the rest of the Giants' secondary in 2010, garnering 81 tackles, five interceptions and two fumble recoveries.

His return will solidify a corps that was mediocre at best in 2011.

Thomas is weeks ahead of schedule with his rehab and recently told ESPN that talks with Giants' brass are going well: "I don't think they want me to hit the free-agent market and so we'll know in a couple of weeks whether I'm a free agent or I return to the New York Giants."

Going into 2012, the Giants secondary is considered by many the team's biggest weakness beyond its offensive line. Thomas's return will improve it by leaps and bounds.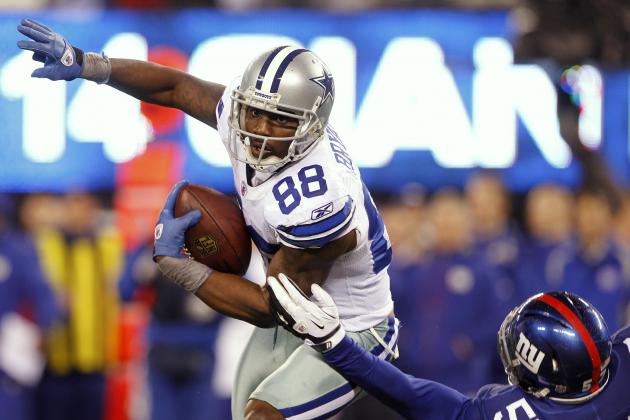 Rich Schultz/Getty Images

The Giants won the NFC East with a 9-7 record this year, edging the Dallas Cowboys and Philadelphia Eagles by a single win. The woeful Redskins finished 5-11.

Getting back to the Super Bowl starts with dominating your division and securing home-field advantage throughout the playoffs. Sure, the Giants won two on the road this year, but despite what players might tell you, they would much prefer to defend the title at home.

Both the Cowboys and Eagles could be better next year, but it's unlikely either one of them is going to rack up 12 or more wins with inconsistent quarterback play and defenses that don't know how to close out a game.
The Giants will be the class of the East again, setting the stage for another Super Bowl run.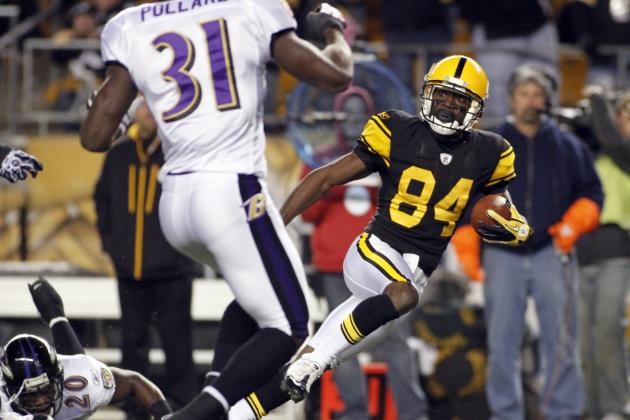 Justin K. Aller/Getty Images

Beyond the New England Patriots, who clearly don't worry the Giants, there is no monster team in the AFC with which to contend.
Baltimore and Pittsburgh are the biggest threats should the Giants make it to Super Bowl XLVII in New Orleans. Both the Ravens and Steelers play like NFC teams—staunch defense and ball-control offense—but they lack the playmakers the Giants have on offense, and their defensive lines are aging. The Houston Texans proved they are not ready for prime time just yet in their playoff flameout, and are still two or three years away from being a real Super Bowl threat.
And as for the AFC West, well, must we?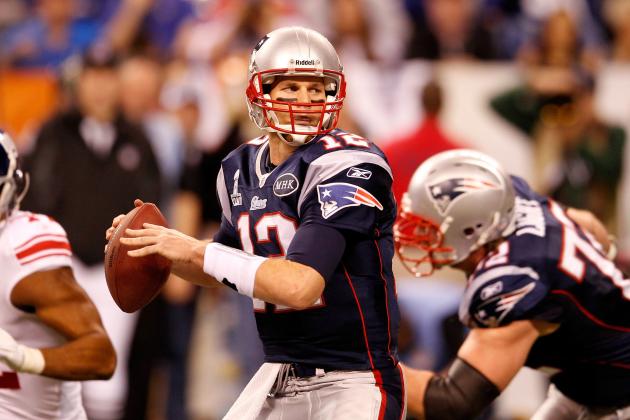 Rob Carr/Getty Images

To put it simply, this team has no fear. It fears no one.

They beat the defending Super Bowl Champions on the road. They beat the up-and-coming San Francisco 49ers on the road. They beat Tom Brady and the New England Patriots (again) in Super Bowl XLVI. And they swept the Dallas Cowboys, their biggest NFC East rivals, twice in the last four weeks of the season to eke into the playoffs.
It's one thing to think you can do anything, to believe you can handle all your competition can bring. It's another thing to know it.

The G-Men know they can handle anything the NFC can throw at them, and they know they can handle anything the AFC can throw at them. They will enter 2012 with the swagger of Tiger Woods circa 2000, the cockiness of Muhammad Ali versus Sonny Liston and the absolute confidence that Michael Jordan had every day he took to the court.
They will repeat because they are simply that good.