NBA Trade Rumors: Dealing Rajon Rondo Would Start Culture Change With Celtics
March 2, 2012
Elsa/Getty Images
To the surprise of many, we saw the name of Boston Celtics point guard Rajon Rondo pop up before the season in trade rumors involving now Los Angeles Clippers point guard Chris Paul.
Now, with the Celtics struggling and not a serious championship contender, Rondo's name has popped up again. Depending who you talk to, Danny Ainge is either aggressively shopping Rondo or not shopping him at all.
This time around, though, we aren't nearly as surprised, and quite frankly Ainge is making the right move by shopping Rondo.
Looking at the Celtics as they stand right now, it's over.
They had their run and it was a successful one, producing a championship.
But it's time to start over an change the culture.
Who else can Ainge deal to bring in enough talent to quickly rebuild the Celtics into contenders?
It makes next to no sense to deal Kevin Garnett or Ray Allen.
Both of their salaries come off the books next season. That's over $31 million Ainge will have at his disposal. You don't want to trade those guys and bring in additional salary. Allowing Garnett and Allen to finish out the season in Boston makes the Celtics major players in free agency for the next couple of seasons.
That brings us to Paul Pierce.
Not many teams that would need Pierce will be able to offer close to $15 million in salaries in exchange for him, much less the quality young talent Ainge would want.
That brings us back to the logical guy to shop, and that's Rondo.
Sure he's one of the NBA's better point guards, but is he worth the problems he creates?
Is he really a guy to build a team around?
While it's not the point guards job to necessarily be a big scorer, as Boston's Big Three prepares for their final run together, he's going to have to be able to close out games next season and beyond.
Rondo's really not that type of player.
How confident are you that he can knock down shots in crunch time?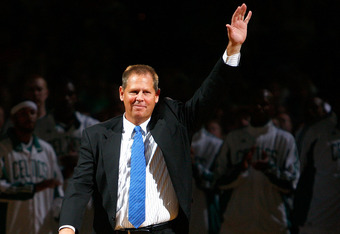 Jim Rogash/Getty Images
The most important thing though is that Rondo has a ton of trade value.
His salary is slightly over $10 million this season and $11 million next year. He's also signed throughout the 2015 season.
The Celtics could likely get a nice haul in exchange for their All-Star point guard.
It's a risky move, but Ainge has taken risks in the past.
Dealing Rondo for two or three pieces of the future, plus two first-round picks in next year's draft, plus the cap space created by the departure of Garnett and Allen and the Celtics could be rebuilt and very competitive in a very quick time span.
That's why dealing Rondo makes sense for Ainge.
The goal in Boston is winning NBA championships. Anything short of that is a failure.
Sending Rondo packing is the first step to getting back to that winning culture.