San Antonio Spurs' 11 Most Impressive Winning Streaks During Pop's Tenure
Andy Lyons/Getty Images

Fresh off the San Antonio Spurs' 11-game march through the best of the West, what better time to reminisce about Gregg Popovich's 11 finest winning streaks?
Since the Spurs' first championship run in 1999, Pop's Duncan-led teams have been consistently dominant. Popovich's career 68 percent winning percentage in regular seasons has set him apart from his peers, and these streaks certainly helped those numbers.
In chronological order, here are San Antonio's all-time greatest winning streaks under Gregg Popovich.
Begin Slideshow

»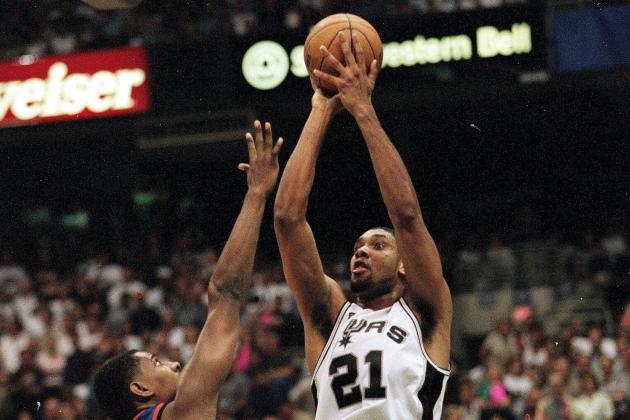 Todd Warshaw/Getty Images

In only his third season as San Antonio's head coach, Popovich brought the Spurs' franchise its first NBA Championship in dominant fashion. Led by a young Tim Duncan and the veteran David Robinson, San Antonio won 12 straight in the playoffs, including sweeps of the Los Angeles Lakers and Portland Trail Blazers.
The Spurs held their opponents to only 79.9 points a game during that stretch, giving up 100 or more points only once. Anchored by Duncan's and Robinson's size, the championship run was an appropriate introduction to the suffocating defense that has defined Pop's approach.
It also established Tim Duncan as a legitimate superstar, helping him walk away with his first of three NBA Finals MVP awards.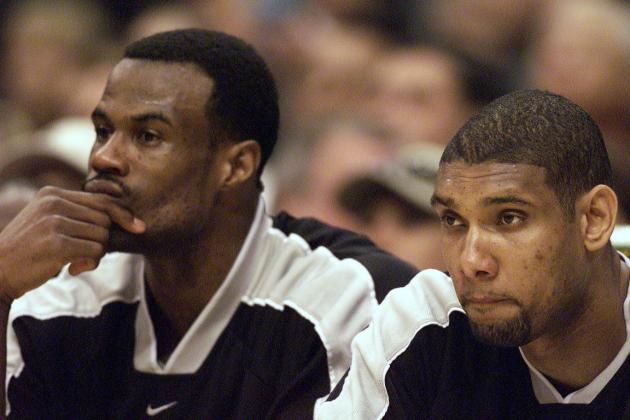 Donald Miralle/Getty Images

While the Spurs' 2002 postseason would end with a three-game losing streak to the Los Angeles Lakers, the regular season included a series of dominant winning streaks.
The most impressive came in March when San Antonio rattled off 13 consecutive wins, including an 18-point blowout of those pesky Lakers that was followed the following night by a win against the Dallas Mavericks. Tim Duncan never scored fewer than 21 during the streak and broke 30 four times.
San Antonio put together three other streaks of note during its 2001-02 campaign: seven games in November, another 10 straight in December and eight in a row to finish the season.
Duncan would go on to average a career-high 25.5 points along with 12.7 rebounds, 3.7 assists and 2.5 blocks in a bid for his first MVP award.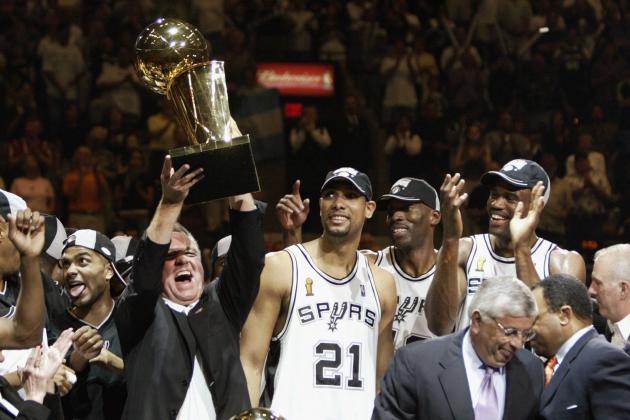 Ezra Shaw/Getty Images

No one should have been surprised when the Spurs claimed their second championship. On the heels of two disappointing postseason exits at the hands of the rival Lakers, San Antonio twice made compelling statements in 2003.
The Spurs won nine straight in January and February, including eight consecutive away games on the perennial "Rodeo Road Trip." The next-to-last game on that trip was an eight-point victory over the reigning-champion Lakers. Thanks in large part to Tim Duncan's 28 points and 20 rebounds, San Antonio overcame 44 points from Kobe Bryant while David Robinson sat out with a hip injury.
Duncan would put up an equally impressive 27 and 17 performance in a nine-point win against those same Lakers to kick off an 11-game winning streak as the season drew to a close.
The regular season dominance was a sign of things to come. Duncan would go on to earn his second straight MVP, and San Antonio would claim its second NBA Championship while vanquishing the Suns, Lakers and Mavericks in the playoffs.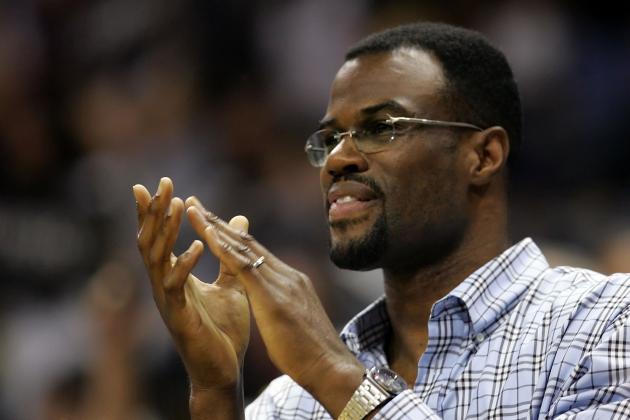 Ronald Martinez/Getty Images

With a retired David Robinson now watching from the sidelines, the reigning champions got off to a rough start in 2003. San Antonio got off to a surprisingly bad 8-9 record to begin the season, and after losing four games in a row, something clearly snapped.
The Spurs notched 13 straight wins in December, returning the team to a respectable 21-9 mark through its first 30 games.
Tim Duncan scored 47 in the streak's first win, and San Antonio's defense returned to championship form with a vengeance. The Spurs held opponents to only 77.8 points over the course of those 13 games. In seven of them, those opponents couldn't even top 74, a feat virtually unheard of in professional basketball.
This streak was Pop at his best, and it was proof that there was most certainly life after David Robinson.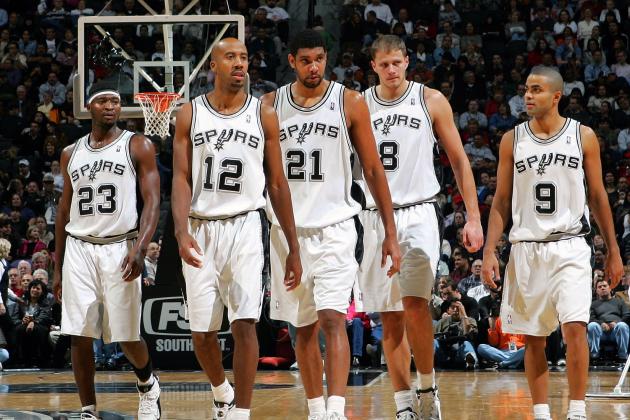 Ronald Martinez/Getty Images

In Tim Duncan's first postseason run without David Robinson, things had gotten off to an exceptional start for the re-built San Antonio Spurs.
Pop's club closed the regular season with 11 straight wins, including a key away victory against Los Angeles. It then swept the Memphis Grizzlies in the first round of the playoffs and won its first two contests against the Lakers to push the streak to 17 consecutive wins.
Like the season's earlier streak, this too was predicated on legendary defense, and the Spurs held opponents to an average of 80 points over those 17 games. Though one of Pop's most impressive streaks, it may have proven to be its undoing.
The Spurs lost their last four games to Los Angeles, including a crucial 74-73 loss in Game 5, when the series was tied at two games apiece. After Tim Duncan ostensibly won the game with an incredible buzzer beater, Derek Fisher infamously scored on a play in-bounded with only .4 seconds left on the clock. San Antonio would protest that the clock started too slowly to no avail, and the Spurs were denied an opportunity to repeat as champions on one of the more dubious calls in franchise history.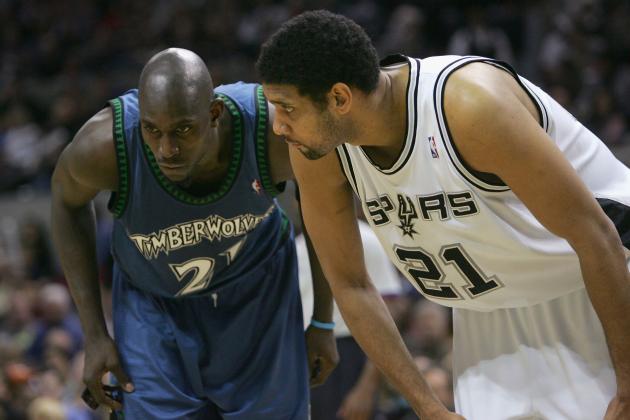 Ronald Martinez/Getty Images

Although the 2004-05 campaign wouldn't yield any singularly spectacular streak, San Antonio got off to what would prove to be a very important hot start.
The Spurs won six straight and later eight in a row throughout November and December, giving the team an impressive 25-6 record going into 2005. The early cushion in the standings became critical when Duncan sprained his ankle in March and the Spurs lost eight of its last 17 games.
San Antonio won its division nevertheless and went on to secure its third title, this time against the defending champion Detroit Pistons.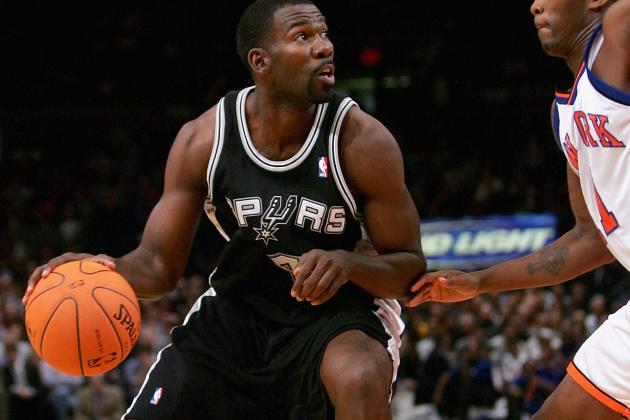 Chris McGrath/Getty Images

With Michael Finley added to the fold in 2005, the Spurs looked poised to finally win back-to-back championships. Yet another successful February road trip created particular reason for hope.
San Antonio won nine consecutive games, including six straight away victories (and seven overall). After dropping the final two games of the road trip, the Spurs went on to win another seven straight, including matchups with the Mavericks and Lakers.
From January 1st to the end of March, San Antonio managed a 32-9 record and proved to be a contender once more. It just might have gotten the back-to-back championships if it weren't for a heartbreaking Game 7 overtime loss to Dallas in the Semi-Finals.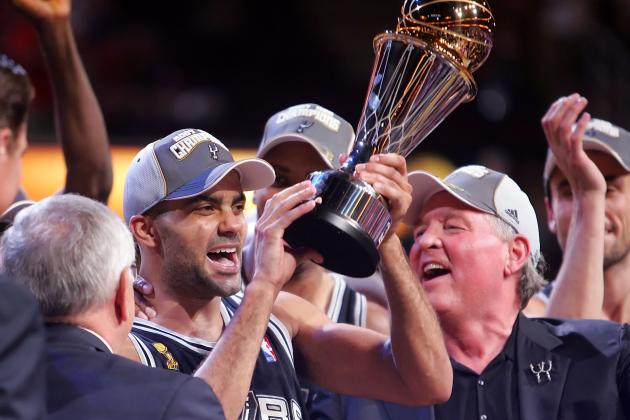 Ronald Martinez/Getty Images

The 13-game streak is noteworthy, but it's really only part of the story here. From February 13th to April 13th, San Antonio accrued a remarkable 25-3 record.
For onlookers who dismiss the 2007 championship on account that it was against an underwhelming Cleveland team, they would be wise to remember how dominant this team was in all other respects. It ranked atop the NBA defensively, won 58 games during the regular season and lost only four times throughout the entire postseason.
The season also solidified Tony Parker's emergence as the Spurs' first option. He averaged over 18 points for the second year in a row and was selected as MVP of the NBA Finals.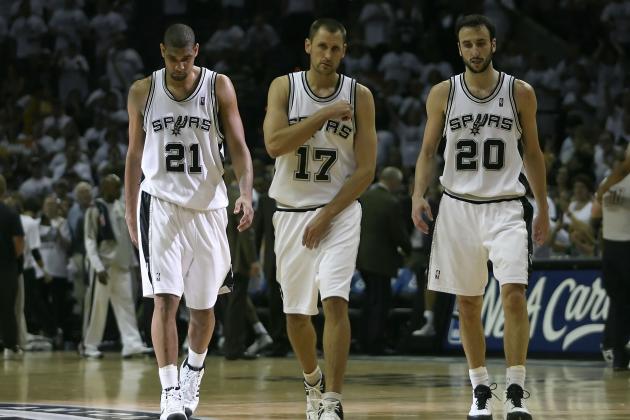 Ronald Martinez/Getty Images

Manu Ginobili averaged a career-high 19.5 points in 2007-08 in arguably his best season with the Spurs. He was also instrumental in San Antonio's 11-game winning streak in February and March.
Ginobili first outplayed LeBron James to the tune of 46 points and eight three-pointers and dropped 44 against the Timberwolves two games later, shooting a combined 28 of 38 (and 15 of 20 from range) in the two games.
Manu would surpass 30 in three additional games during the streak.
The Spurs ultimately fell short in the Conference Finals but remained a dangerous contender even as the Lakers and Celtics traded their ways to the Finals.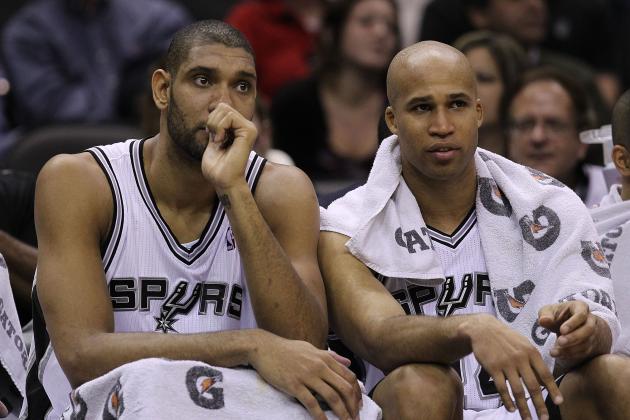 Ronald Martinez/Getty Images

Despite two postseason disappointments, the Spurs came out of the gates in 2010 looking as elite as ever. Richard Jefferson became a deep threat in his second season with San Antonio, and general manager R.C. Buford injected youth like DeJuan Blair and Gary Neal into the lineup.
With the new-look roster, San Antonio strung together a 12-game streak in November and another 10 consecutive wins in December. After a blowout of the Oklahoma City Thunder on January 1st, the Spurs' record sat at 29-4.
Though a battered Spurs' squad would eventually succumb to the Grizzlies in the first round, their start to the season ranks among the most impressive in NBA history.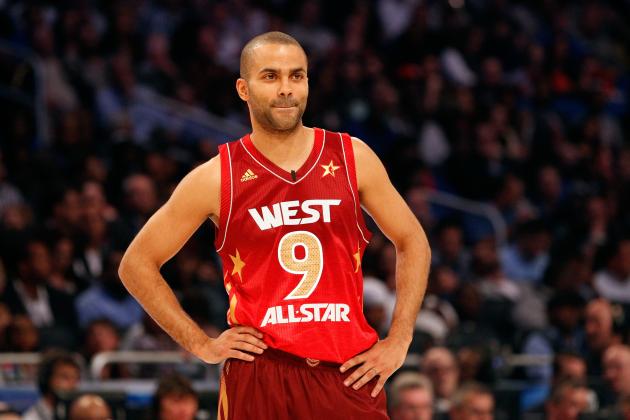 Ronald Martinez/Getty Images

On his way to his fourth All-Star selection, Tony Parker helped San Antonio this year to yet another classic winning streak. Behind Parker's 42 points against the Thunder (along with games with 37, 34 and 30), Pop's team bested the Western Conference elite during the most recent stretch.
Besides the convincing win against Oklahoma City, San Antonio quieted its demons against Memphis (twice) and then quieted the hype in Lob City with an overtime win against Chris Paul's Clippers.
More significant still, the Spurs' streak included seven straight on the road. Its 8-1 record on this year's nine-game road trip qualified as an NBA record.
Meanwhile, Ginobili missed all but four of the 11 games, and his limited return wasn't a factor. Of all of Pop's streaks, this one may be most impressive. When many have already closed the door on the Spurs' dynasty, this team has looked unstoppable on the road, even without one of its stars.