Now Is the Time for Chicago Bulls to Trade Carlos Boozer
February 27, 2012

Jonathan Daniel/Getty Images
Carlos Boozer is the most polarizing figure in Chicago sports. Some fans love him, others hate him.
Either way, Boozer is a player who drives a lot of intense debate among Chicago Bulls fans.
On arrival from the Utah Jazz in the summer of 2010, Boozer was touted to create part of a "Big Three" alongside Chicago native Derrick Rose and fan-favorite Joakim Noah.
Boozer promptly broke his hand and missed the first six weeks of the season. In his eventual debut, Boozer failed to impress.
"Give him time," Bulls fans told everyone.
A few weeks later, Boozer's numbers were beginning to rise. The new criticism was that he padded out his averages against the NBA's weaker teams and failed to do the business against the elite-level squads.
By season's end, with a handful of more injuries, Bulls fans' patience was at the limit.
So Carlos Boozer turned up after an extended summer 10 pounds lighter and playing much better than in his first season in Chicago. He still has the "beats up on weaker teams" label floating nearby, but he's largely silenced his critics.
Which makes now the right time to look for a trade for the Bulls' big man, especially with a hefty number of star names on the trading block.
Los Angeles Lakers power forward Pau Gasol is rumored to be on his way out of Tinseltown—who better to trade for than a two-time NBA champion with masses of playoff experience? A move for Gasol would likely include Boozer and backup point guard C.J. Watson heading to L.A. The Lakers could then either make things work with Boozer or wait and use their amnesty clause on him at a later date.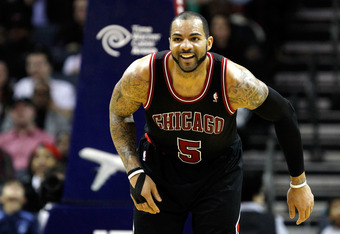 Streeter Lecka/Getty Images
Boozer's production is still good enough to demand great value in return, value that could help push the Bulls over the edge in terms of beating the Miami Heat, the team tipped to make it back to the NBA Finals this summer.
Other than his sketchy performances, another reason to trade Boozer would be for his totally lackadaisical attitude on defense. Time and again, Boozer is blown past on defense without even an attempt at slowing the ball. Time and again, a player will race to the hoop and Boozer will step away rather than taking a charge (or at least trying to). Whenever he does try, he often fouls his man, which restricts his offensive output, as he ends up sitting on the bench for a while.
There are other options out there to trade Boozer for. He could be used as part of a package to land Dwight Howard in the Windy City, or he could be used to entice a combination of a shooting guard and replacement forward, positions which would need to be filled in his absence.
It will be difficult for the Bulls to make a trade for Boozer, but it would be justifiable. Whether it is what the fans want any more is debatable, but the trade is doable.
Other side of the coin: My view on why cutting Carlos Boozer is the WRONG move.