Boston Celtics: Why Paul Pierce's No. 34 Will Eventually Hang in the Rafters
February 25, 2012

Elsa/Getty Images
The Boston Celtics have retired 21 numbers in their storied franchise's career, the most out of any sports franchise in North America. The names on this list of retired numbers are of some of the greatest players in NBA history, including Bob Cousy, John Havlicek, Larry Bird and of course, Bill Russell.
Lifetime Celtic, Paul Pierce, deserves to be the next player added to this list.
Now in his 14th season with the Celtics, "The Truth" is still producing at just as high of a level as he was when the C's selected him with the 10th overall pick out of Kansas in the 1998 draft. When Pierce was a rookie, he instantly took on a leadership role for his depleted team and led them in scoring and steals, making the All-Rookie First Team in the process.
For the first nine years of his career, the Celtics really didn't give Pierce much help on the court. Over this time, the best players Pierce played with for at least a couple of seasons were Antoine Walker, Kenny Anderson and Ricky Davis. Most players would have left a team that never really came close to a championship in such a long period of time, but Pierce didn't.
When Danny Ainge finally did bring Pierce the teammates he deserved in Ray Allen and Kevin Garnett, he proved just how good he was and led them to a championship in only their first year together, winning the 2008 NBA Finals MVP. Since, the Celtics have made the playoffs every season, going to the Finals again one more time, but falling short to Kobe Bryant and the Los Angeles Lakers.  
Besides his leadership and what he's done to make the Celtics better throughout his career, Pierce also has all of the individual statistics and honors, making him worthy of being named with the Celtics all-time greats.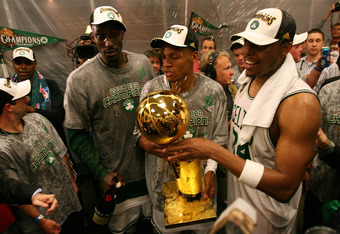 Elsa/Getty Images
Currently, Pierce has 21,921 points, putting him second in Celtics history only behind Havlicek and an average of 22.1 PPG for his career also puts him second in Celtics history behind Bird. At the pace Pierce is still scoring, I believe he will eventually catch Havlicek and become the Celtics all-time leading scorer before he retires.
Besides that, Pierce is first in team history in three-pointers made and free throws made, second in steals and third in games played and defensive rebounds. He is also a 10-time All-Star, named to an All-NBA team four times and even won the three-point contest during All-Star Weekend back in 2010.
If Pierce did all of this for almost any other franchise and not the Boston Celtics who have won 17 championships and have a NBA-record 10 Most Valuable Player awards, he would most certainly be considered top-five in team history.
I don't see how anyone can argue that Pierce shouldn't go down in history with the rest of the Celtics greats and doesn't deserve to have his No. 34 hanging in the rafters some day right next to Bird's No. 33.