Kansas City Chiefs: Dwayne Bowe and Kansas City's Salary Cap Ramifications
February 23, 2012

Jamie Squire/Getty Images
Going into this off season, there was a lot we didn't know about the status of Chiefs salary cap and how it might affect  free agency.Things appear clearer now. We know how far under the salary cap this team is and why that money is not being spent. Even with the resent signing of former Raiders cornerback Stanford Routt, if the past has taught us anything, it's to expect the unexpected.
A few things seem clear right now. With the addition of Routt, it looks like the Chiefs will most likely put the franchise tag on Dwayne Bowe. They "may" try to sign him to a long-term deal, but that's never going to happen which means Brandon Carr will hit free agency.
 Is there a chance that Carr, Routt and Bowe will all be retained? Not likely, and here's why:
Stanford Routt will cost the Chiefs $11 million in 2012. There is no way the Chiefs will convince Carr to play for less. They could tag Carr, but that would allow Routt and Carr to earn more than Flowers and that would make Flowers very unhappy. Besides, with Arenas playing the slot as their No. 3 corner, do you really think they would pay Routt $11 million to be No. 4?
Now this may not come as any surprise, but in a poll taken in another BR article, 60 percent of Chiefs fans believe that they will keep all three, thus the basis for this article.
But there is a bigger issue here. Franchising Bowe keeps Bowe a Chief for only one year. That means they still need to sign him long-term.
An even bigger issue is that next year's free agents include Branden Albert and Glenn Dorsey. Albert grades out in the top 10 of left tackles in the NFL, and since the Chiefs already have a pathetic offensive line, holding onto Albert is crucial.Many inside the organization predict that he will be tagged next year, costing the Chiefs $9.4 million.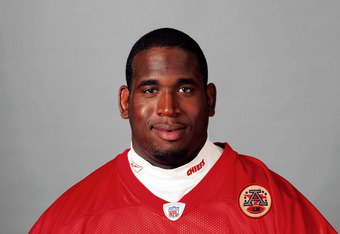 Handout/Getty Images
Fans may feel differently, but the Chiefs have also made it clear that they want Dorsey to stay. If Dorsey gets tagged it will cost the team $8 million and Albert will leave, especially if they draft an offensive tackle who could replace him.
So where does this leave Bowe? It leaves him in limbo.
There has been a lot of discussion among the brass that they have mixed feelings about Bowe if he signs a long-term deal because he may take the money and lose the motivation and focus he needs to stay at the top of his game. Remember, he was once in Haley's doghouse but now there is no more Haley to keep him in line.
But what people don't realize is that Bowe is motivated and improved, as evidence, in the fact he decreased his dropped passes, five passes to be exact, compared to last year's fifteen.
The point here is the Chiefs are a team that always looks down the road. They have plenty of money to pay players now, but you always have to keep in mind that there are more free agents to come next year, and only one player may be tagged. Fans have a tendency to think about the present, but good GMs are much more concerned about the future.
And so it goes. For now, Bowe gets the tag, Carr laughs at any offer the Chiefs may give him, and the Chiefs replace Carr with Routt.
Will the Chiefs spend come free agency? Will they consider trading some of their own picks? How far away is this team from getting deep into the playoffs? Most importantly, does the money spent on these players put their future at risk?
And then we get to the big question, the punchline to this puzzle. Will this team have the money to spend when that final and most important piece is needed, getting a true "Franchise" Quarterback?
In the end that's all that matters