New York Giants: Players They Missed the Most in 2011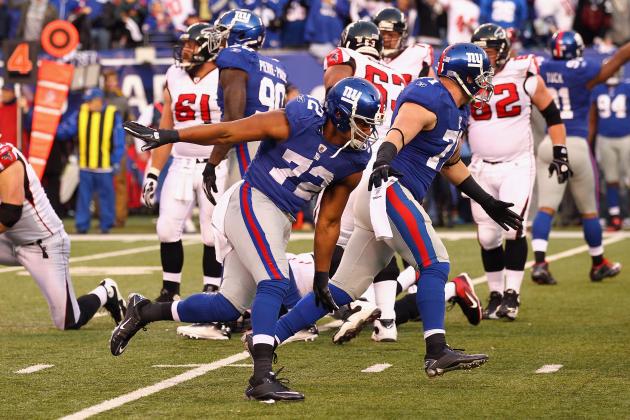 Al Bello/Getty Images

The Giants surprised everyone this season, rising above injuries and inconsistent play to eek into the playoffs and ultimately secure the franchise's fourth Super Bowl trophy.

But the road to the XLVI was hard given the rash of injuries that hindered the team.
Seven key Giants missed more than 100 games this season. Yet they still won the Super Bowl.

So, the optimist in you is wondering how much easier might this year's Super Bowl run have been but for all those injuries?

Well, we'll never know.
But here's a look at how the top seven players who spent time a lot of time on injured reserve this year could really help the G-Men repeat as Super Bowl champs by staying healthy next year.
Begin Slideshow

»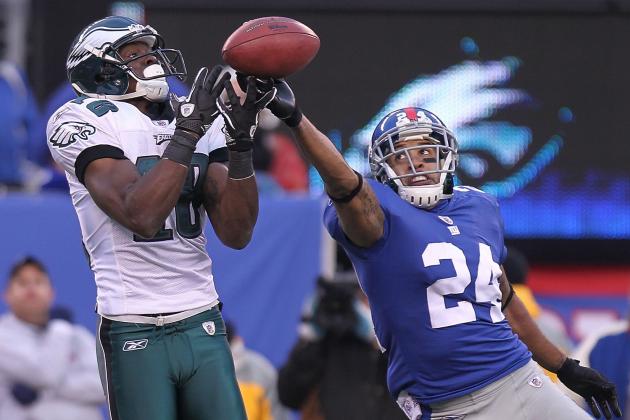 Nick Laham/Getty Images

Cornerback Terrell Thomas, who tore his ACL in the preseason, told Sirius XM NFL Radio recently that he is three to four weeks ahead of schedule with his rehab and is hopeful he will return to the Giants.

Thomas, a free agent, was far and away New York's best cornerback in 2010.

He led the secondary with 81 tackles and tacked on five interceptions and two fumble recoveries.

Going into 2012, the Giants secondary is arguably the team's biggest weakness beyond its offensive line, and Thomas' return is expected to improve matters dramatically.

"I want to come back, my man," Thomas told Sirius XM NFL Radio.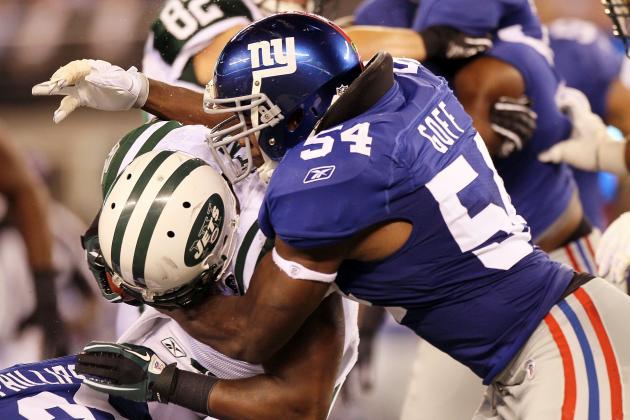 Jim McIsaac/Getty Images

Coming off a promising 2010 season in which he had 52 tackles, Giants starting middle linebacker Jonathan Goff was expected to be a force in 2011.

That all came crashing down when Goff tore the anterior cruciate ligament in his right knee during a preseason practice, ultimately missing the entire season.

Goff, a fifth-round draft pick out of Vanderbilt in 2008, was only in his second year when he emerged as an up-and-coming star for a linebacking corps that needed all the star power it could muster.
His return in 2012 should help the Giants in short yardage situations, both pass and run. If the Giants struggled defensively this year—and at times they did—it was in third-and-short situations.
A healthy Goff will definitely make a difference.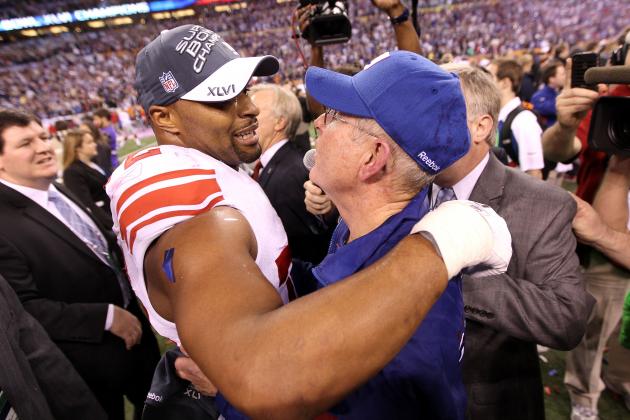 Jamie Squire/Getty Images

Osi Umenyiora started only seven games for New York last year, but still garnered nine sacks, an impressive statistic.
He did this after an offseason wrought with whining about his contract, pay me or trade demands and more.
Umenyiora missed seven regular-season games while recovering from knee surgery in August, then after suffering a bad ankle sprain late in the season.

His strong finish to 2011 will make it hard for the Giants to trade him during the offseason, and his return to health bodes well for the team's pass-rush as they look to repeat as Super Bowl champs.

With Umenyiora and Tuck holding down the right and left end of the Giants defensive line, the team should be even more intimidating than they were last year, especially with the chance for the trio of Umenyiora, Tuck and Jason Pierre-Paul to play a full season together.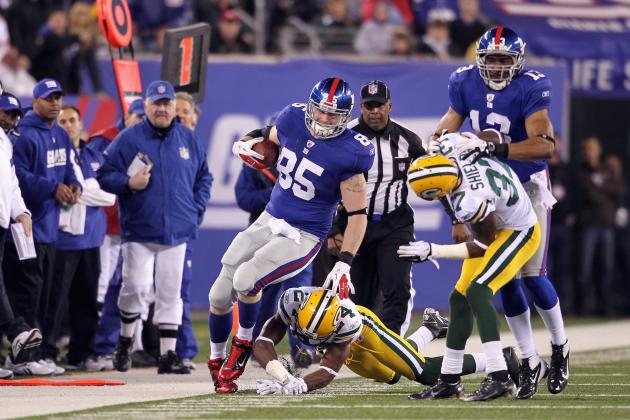 Nick Laham/Getty Images

Jake Ballard performed admirably in 2011, racking up 38 catches for 604 yards and four touchdowns as a replacement for Kevin Boss, who went to Oakland in free agency.

But a knee injury late in the season slowed Ballard down. Then, to make matters worse, he tore his ACL in the Super Bowl and will likely miss all of next season. Originally, doctors thought Ballard had only torn his meniscus, but an MRI confirmed it was indeed his ACL.

The Giants were lucky in 2011, as Ballard, Bear Pascoe and Travis Beckum filled Boss' shoes in tandem.
But a healthy Ballard was key to the Giants short yardage, underneath passing this year and in opening up some holes for a recovering running game. He will be missed in 2012.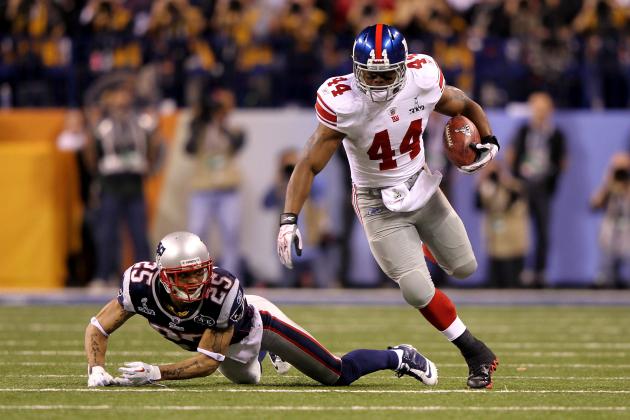 Jamie Squire/Getty Images

The Giants running game was nearly non-existent until the last few games of the 2011 season, in part because of an off year by Ahmad Bradshaw.
Bradshaw missed four games with a fractured foot, then slogged through the final nine games on that injured foot, infrequently showing the spark he had in years past. His 659 yards rushing were little more than half his output in 2010.
Bradshaw did end the year with nine rushing touchdowns, but was subpar in short yardage situations.
The Giants rushing attack was the worst in the league this season, and a healthy Bradshaw paired possibly with Brandon Jacobs (who claims he wants to return to NY) is a good start in reversing that downward trend.
His return to health will help, but the Giants are expected to look to the draft for another breakout running back to solidify a core that was underwhelming in 2011.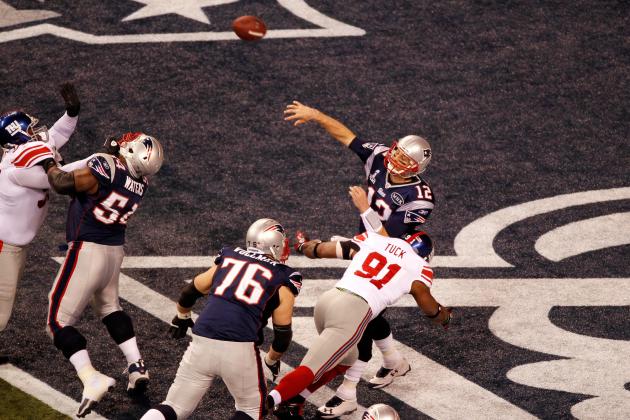 Gregory Shamus/Getty Images

Defensive end Justin Tuck missed four games to injury in 2011 and was less of a presence in years past when active.

After playing in every Giants game the last four seasons and appearing in two Pro Bowls, Tuck was hobbled by injuries this year.

Tuck was not much of a force on the pass rush, garnering just five sacks this year and faces possible shoulder surgery during the off-season.

The Giants are not hurting defensively, at least on the line, but a healthy Tuck—one who reminds fans of his 2008 Super Bowl season—would go a long way in taking some pressure of Eli Manning and Co. to shoot for another 5,000-yard season.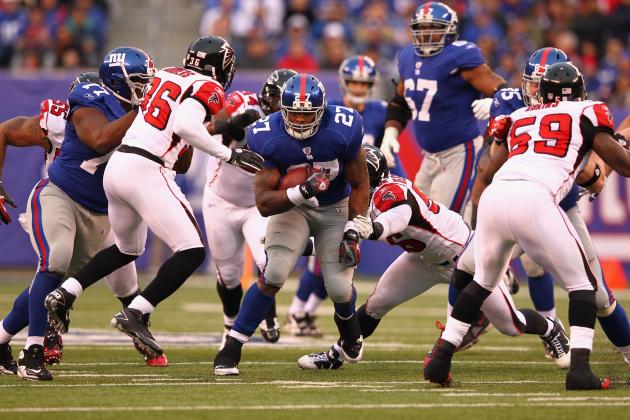 Al Bello/Getty Images

At the risk of sounding like a broken record, the Giants running game plain stunk up the joint in 2011.
That stank can be attributed in great part to devastating injuries to the Giants offensive line, most notably to starting center David Baas and left tackle Will Beatty.
In July, the New York Post heralded Baas as a "bigger, younger and ... healthier option" than 2010 starting center Shaun O'Hara.
Two out of three isn't bad.
Beatty, a 2009 second-round pick by the Giants, waited two years to secure the starting left tackle job, only to lose it when he suffered a detached retina Thanksgiving Day weekend.
A healthy Baas and Beatty are Part 1 of the Giants' rebuilding effort in the trenches. Part 2 should be addressed in the draft.