EPL Arsenal Gunners: 7 Questions Arsene Wenger Must Answer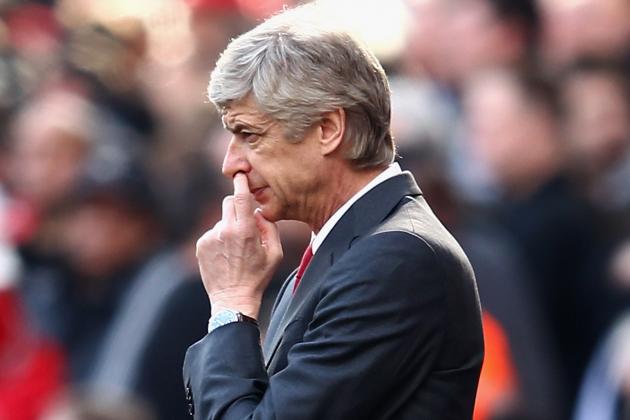 Clive Mason/Getty Images

Football fans are a fickle lot.
A week ago, there was doom and gloom in the Arsenal world. A San Siro humbling at the hands of AC Milan followed by an uninspired exit at Sunderland in the FA Cup. No goals scored, six conceded.
The sharks were out for Arsene Wenger's head. His successors had been identified. The players were written off, the coaching staff crucified. Our pedigree was questioned. The club's future looked bleak.
And just a week later, after that admittedly glorious thumping of the old enemy, everything is as right as rain. Or is it?
Of course it is! They're in fourth place. They're still in the Champions League. They're just seven points behind Spurs and they play Manchester United next; so the gap could soon be down to four. Robin Van Persie's on fire. Theo Walcott has found his goal-scoring touch. Tomas Rosicky has rediscovered his mojo. Arsene Wenger is the man again.
What a load of rubbish!
I'm far from being a pessimist, and, though, I'll happily agree that the Gunners are five percent better off than we were a week ago, they're still in the midst of the most disastrous season since Wenger has been at Arsenal.
The team is ranked fourth in goals scored and could be fifth by Saturday. They don't have more than a one-percent chance to go through in the Champions League. They're out of the FA Cup (trophy-less, etc.) Arsenal could quite easily end the season in fifth place or worse, meaning no Champions League next year. The Gunners are in danger of losing their captain and best player at the end of the season. They don't have another world-class attacking player at the club, whereas in years gone by, they never had less than three or four. And Arsenal's ability to attract top talent will take a massive blow should they finish outside the top four.
A number of possible reasons have been bandied about to explain why they're in such a pickle—funds, Kroenke, Fabregas, defensive coach, commercial deals all spring to mind.
And while I wouldn't dare challenge the authority or position of Wenger, irrespective of the team's current predicament, there are some answers I'd really like from him. Answers to questions that have rankled me for a while now. Questions about people and situations that often appear too absurd to be true. But true they are—real and present.
Here goes...
[Follow me on Twitter @ratanpostwalla]
Begin Slideshow

»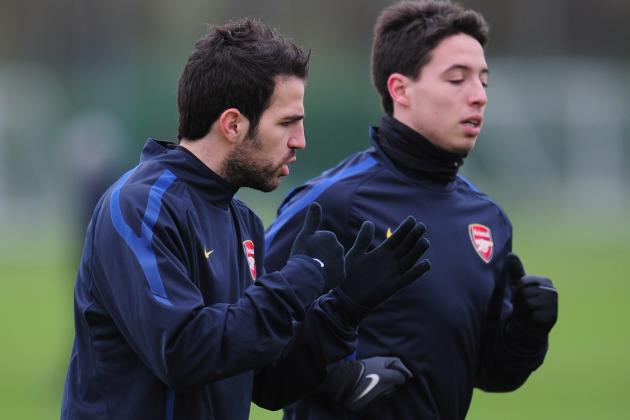 Shaun Botterill/Getty Images

The obvious starting point, I guess.
Now, we all knew two things at the end of last season. Actually, even earlier than that. The first was that Cesc Fabregas would be off to Barcelona in the summer. The second that Samir Nasri was a mercenary; and given Manchester City's interest in him, there was no way he would extend his contract with Arsenal.
Add to that the obvious fact that these two players were Arsenal's creative heartbeat. Both top-quality midfielders.
Then why did Arsenal wait till August to sell the two of them? Especially considering the fact that neither was sold at anything approaching an exorbitant price. Yes, £24 million for Nasri was good money, but £30 million for Fabregas was nothing short of a joke. Especially given the benchmark that had been set with the Torres-Carroll merry-go-round.
Was there some hidden clause that we are not privy to? Is there a knock-down buy-back clause in Fabregas' contract that drove down the price? Were the payments made up front because Arsenal needed the cash? And what were we doing in June and July? Did they try to line up comparable replacements?
What was the club thinking, Mr. Wenger, when it allowed two of the team's best players to leave in August without adequate replacements being brought in?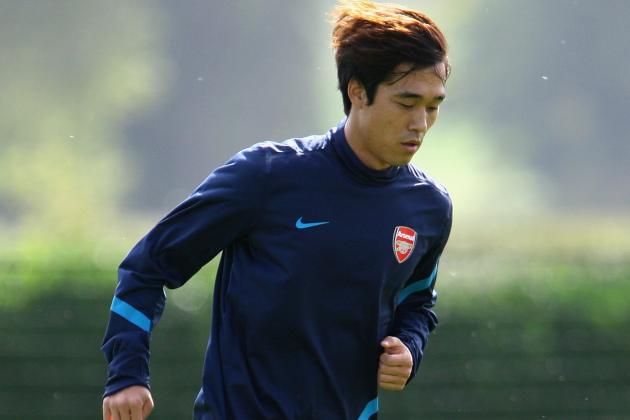 Julian Finney/Getty Images

Robert Louis Stevenson could have written a sequel to Kidnapped based on this deal, such was the drama with Park's signing.
The Korean was in the process of being transferred out of relegated French club Monaco, and had popped across to Lille for a medical. He completed a part of the medical, and then he suddenly vanished into thin air.
Early rumours suggested that he was making his way to London on the Eurostar for an Arsenal medical. Arsenal were also reported to be interested in Lille wonder-boy Eden Hazard, and this snatching away of Park surely scuppered that deal, assuming it was on.
So, having delighted Arsenal fans with this most audacious of coups, the kind we were at the receiving end of when Cristiano Ronaldo signed for United, my question is obvious: Why hasn't Park played?
Four starts (three in the Carling Cup, and one in the Champions League) in seven months and a solitary Premier League substitute appearance hardly seem worth all that trouble. Added to that, he's off on military duty in a year.
What's going on? Is he unfit? Is he just not good enough? Do you not like him? What is it, Arsene? I've seen some of his highlights—he isn't all that bad.
So, what gives?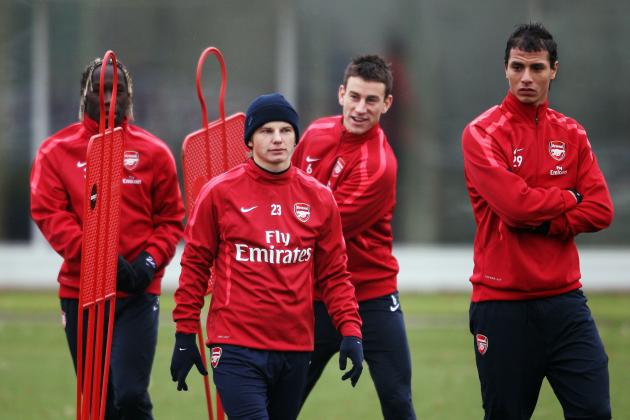 Dean Mouhtaropoulos/Getty Images

Arsene Wenger has been known to pluck players out of obscurity and make world-beaters of them. Anelka, Fabregas, Vieira, Van Persie are names that come to mind immediately.
He has also been known to buy players whose careers were stagnating, revitalise them and make them better than ever. Bergkamp, Henry, Overmars and so many others fit this description.
Which makes it all the more bewildering that these two players—Arshavin and Chamakh—who were relatively close to the top of their game, who started their Arsenal careers with a flourish, suddenly vanished without a murmur or whimper.
So wretched has their form been that they barely made an appearance off the bench. And when Arshavin did see time, he was greeted by an unprecedented chorus of booing.
What went wrong? How did Chamakh lose not just his goal-scoring touch but also the basic ability to control and pass a football? Why did Arshavin lose his magic? Where did those mercurial assists and spectacular strikes go? And will we ever see these two players produce anything meaningful in red and white again?
Or have you given up, too, Mr. Wenger?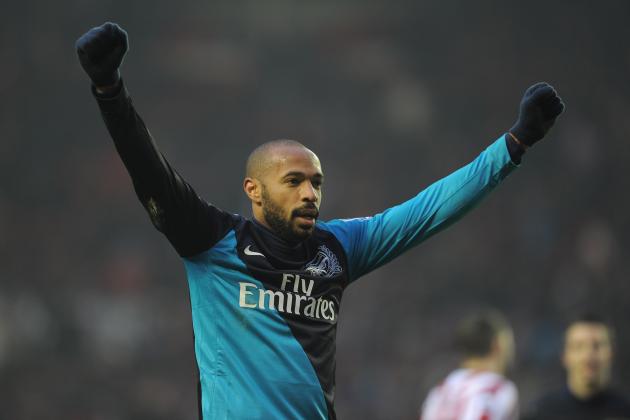 Michael Regan/Getty Images

And don't even think of saying, "Henry."
Unless I'm way off the mark here, it is widely known and accepted that Arsenal lack that something special up front. That little bit of magic that Fabregas could create at will and Nasri was learning how to do. That the team were (are) way too dependent on RVP.
Then when Arsenal had a full month, and lots of money (or so we're told), why no signings in January?
You know, Arsene, that everyone is available at a price. Vieira was, Henry was, Fabregas was. So, in a season when fourth place was as crucial and elusive as this one, why did you do nothing? There's normally at least some transfer buzz surrounding Arsenal. This time, not a murmur. I can't remember a deadline day as silent as this one.
Did you really believe that you didn't need anyone, Arsene? Or was no money available?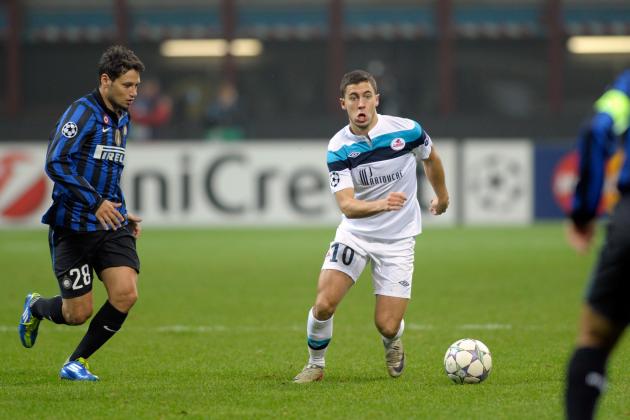 Claudio Villa/Getty Images

Sticking to the money theme, let me first clarify that I'm not one of those who prescribes to the Chelsea-Manchester City-Real Madrid school of squad development. I'm very much a subscriber to Wenger's way. But at this moment, it is obvious that the squad needs strengthening. From outside.
Szczesny, Chamberlain, Gibbs, Coquelin, Wilshere, Jenkinson and Miquel will be wasted in the Europa League. If they wait around, that is. Arsenal need one or two top-class talents today.
So tell us, Arsene, should fans wait in hope for the summer? Is that pot of gold at the end of the rainbow a mere illusion? Will the likes of Hazard, Mario Goetze, Lukas Podolski and others be Arsenal's aspirations? Realistically? Financially?
Or should we Park our hopes elsewhere?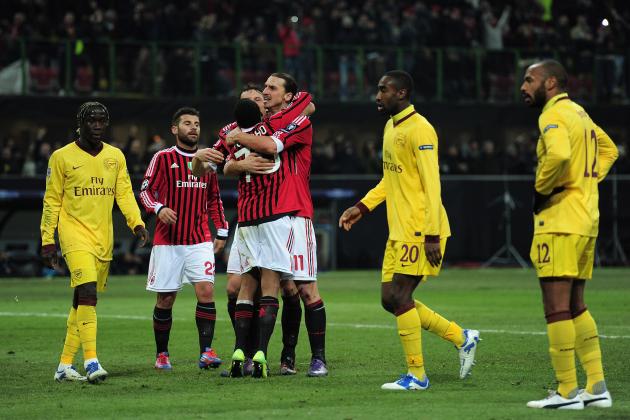 Shaun Botterill/Getty Images

I've followed Arsenal closely for a good many years now, and scorelines aside, I cannot remember a season when the team have looked as abject as they often have this term.
Old Trafford, Ewood Park, the San Siro, the Stadium of Light, Craven Cottage, the Liberty Stadium, at home against Liverpool and United. I'm sure there are more. All terrible performances.
I don't expect them to go through every season unbeaten, but the least I expect from an Arsenal team is a fight. And while they can justifiably have one or two howlers, that number is closer to 10 this season.
Why, Arsene? We've got experienced, pedigreed internationals. Talented youngsters. All well-paid. Playing for a fantastic club. In a world-class stadium. In one of the world's truly great cities. Coached by one of the best ever.
Then what makes them so woeful so often? Where's that spark, that buzz, that should be a natural offshoot of playing for the Arsenal? Are the players just a bunch of overpaid brats? Or are they the real deal?
And if they are, where's the required consistency?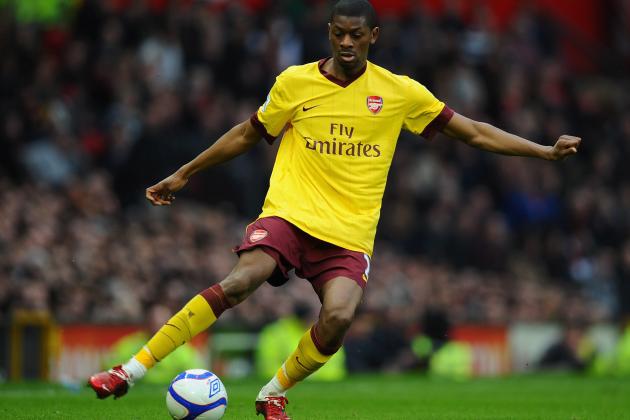 Clive Mason/Getty Images

Dan Smith.
Eight years, five clubs, 35 appearances. Started his career at Sunderland. Played three games for them. In one of them, he effectively wrecked Abou Diaby's career.
If I'm not mistaken, most Arsenal fans have written Diaby off. And I don't blame them. In over six years at Arsenal, 121 starts. Almost as many injury layoffs, it would seem.
But where Diaby is concerned, I'm seriously biased.
Patrick Vieira is my second-favourite Gunner of all time (after Tony Adams), and Diaby seemed to be his natural replacement. Gifted with everything a footballer could want—height, physique, presence, speed, nimble feet, two-footedness, the ability to head, an eye for goal.
Diaby has made only two brief substitute appearances this season, and a total of 20 appearances last term.
On the rare occasions he is able to build up some momentum, he does tend to look the part.
But with every successive setback, his chances of making an Arsenal career (or any career for that matter) for himself appear even more remote.
So, my selfish question, Mr. Wenger, is: Does he have any hope, or are we witnessing another Owen Hargreaves in the making?