NBA All-Star Game: A Celebration of the Obvious, and of the Obviously Wrong
February 22, 2012

Kevork Djansezian/Getty Images
On NBA All-Star weekend, Kobe Bryant and LeBron James will lead the NBA's best players—and all the human baggage that comes with them—into Orlando, where hopefully there's more to do than ride around Epcot for hours. For the youngsters competing in the dunk contest, the next few days offer an opportunity to put their names on the map, or in the case of an emerging star, solidify his marketing plan.
However, the main event, Sunday's All-Star Game, suffers by comparison. Making an All-Star Game says, in the most general way possible, that a player is very good—something he, and we, probably knew already. The superstars get the most playing time and the MVP trophies, and those fringe guys who could benefit most from the exposure have to wait until they have earned a spot at the top. It's all remarkably conservative, like Downton Abbey in high-top sneakers.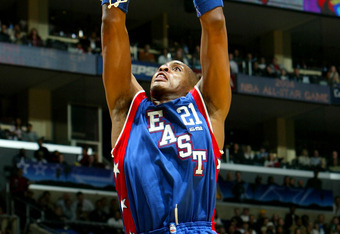 Jed Jacobsohn/Getty Images
That's why the most memorable All-Star selection of this century has to be Jamaal Magloire in 2004. The coaches picked Magloire as a reserve because the East needed a center to back up Ben Wallace. Never mind that Magloire scored 19 points to lead his team. He was an All-Star because someone had to be; it was the high point of his career, and to this day, never fails to get a laugh.
The same goes for Vince Carter's perennial spot in the starting lineup, even well after he stopped rising to the occasion. Carter, whose career has by any measure been a disappointment, has the All-Star Game credentials of a future Hall of Famer. However, this year, when Tim Duncan failed to make the Western Conference roster for the first time since 1998 (he made it in 1997, his rookie season), there was little consternation or celebration of his achievement.
Great players are expected to make the All-Star Game. Very good ones will put in a few appearances before their careers or over. That's in keeping with the natural order of the game. We only take notice, and start discussing, when the system doesn't work, when Jamaal Magloire is suddenly rubbing shoulders with the dominant stars of his era. In 2001, Antonio Davis made the team. There was a good reason at the time—just as with Magloire—but it doesn't sync up with the big picture.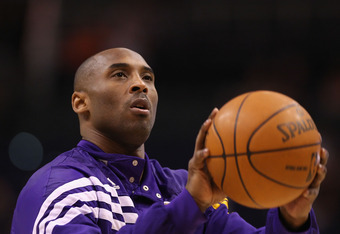 Christian Petersen/Getty Images
Take a look at this year's team. LeBron James is in his eighth game; he has two MVP awards. Kobe Bryant is making his 14th appearance, with four MVPs to his name. Chris Bosh has seven, just ahead of Walt Frazier. The All-Star Game is a party for the league's elite, and those just below them have to wait and see each year if they will get in the door. In the long run, though, things even out. Eddie Jones was in three games? Of course he was. We may not remember him being there, but he still probably belonged.
That's why Jamaal Magloire stands out. His single appearance is a mirage; there's no way you would put him on the same level as Nick Van Exel or Cazzie Russell, both of whom retired with only one All-Star selection to their name. Sure, Magloire averaged a double-double that season, but the next year he was injured, lessened and then traded to Milwaukee. You have to look up Magloire's stats to remember what he did well. Sam Cassell, another one-timer, is the kind of player you know had to have made it at some point.
Arguments about All-Star selections miss the point. It's not about who is right or wrong this year, but about making sure that the participants remain, well, obvious. The insistence on carrying two centers, or of distinguishing between small forwards and shooting guards (if not the two types of guard and forward), opens the door for accidents. Maybe that year, some dude made sense. Will he five years later?
The All-Star Game isn't a competition, it's pageantry. Yes, the game gets serious in the second half, but the point isn't to put together a sound team. It's a pat on the back at the season's halfway point, one that says "you're still great," or "this year, you've been really good." And even there, it's less about what has come before and more about what comes next—whether it's the second half of the year, or the years down the road.
Take it at face value: There's no way the game can contain all of the NBA's stars, but at the very least, all of the participants should be recognizable as stars.