Boston Red Sox: 22 Biggest Question Marks Heading into Spring Training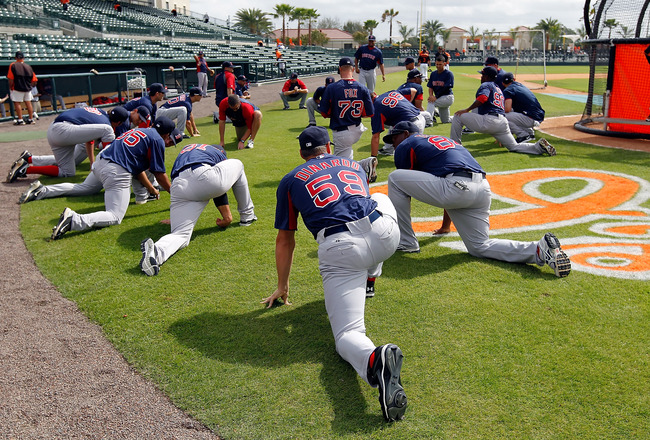 Stretching does not cure all offseason woes.
J. Meric/Getty Images
The tumult of the September collapse; the chicken and beer fiasco; the departure of both the GM and the field manager; the loss of Jonathan Papelbon; the controversial hiring of Bobby Valentine—this has certainly been an offseason to remember.
And it hasn't even ended yet for new GM Ben Cherington and his team. There is still speculation that the Red Sox may make a last-minute deal for a proven, veteran starter. Roy Oswalt and Edwin Jackson are still available, and Gavin Floyd could be had in a trade.
However, other than re-signing David Ortiz (which is a great move, in my opinion), many of the questions that were unanswered at the end of the 2011season are still not answered.
In some cases, that is not necessarily bad. I, for one, totally agree with Cherington's approach of avoiding the highest-priced free agents this year. I agree with his tactic of waiting for the feeding frenzy to die down, then picking up some very serviceable parts to supplement a very good team (which many forget was the best team in MLB for a good part of last summer).
The biggest question mark still revolves around the question the media wants to ask, and the players want to avoid: "What happened last September, and how do we know it won't happen again?"
For weeks in the fall, there was a steady flow of rumor, innuendo and criticism in New England media (especially sports-talk radio).
I wrote at the time,
Not until that is done will the Red Sox actually be able to move on to resolve team (and eventually on-field) issues. This issue is so big it totally overwhelms all the others. This is still a PR disaster, and without being effectively blunted or refuted, it will fester for months like a dead critter under your porch.
I also added that the team must address this problem before players report to Florida. If not, the launch of spring training will become a media circus, with the focus being on the end of 2011 instead of the beginning of 2012.
That's not the environment you want to have going into a new season.
For a while there, things seemed to die down a bit.
Maybe it was just a case of media exhaustion, and also the fact that the well of juicy tidbits seemed to dry up. And of course the Patriots run to the Super Bowl kept the spotlight off the Red Sox for a while…
Now, reporters are getting their first crack at most of the players since the 2011 collapse. And the sticky questions about the end of last season are being asked again—because they were never answered the first time around.
As Saul Wisnia so effectively put it, "If you listened to sports radio over the past couple weeks, it was easy to pick up: Fans are angry and want a change. Enough 'Sweet Caroline' and waxing poetic about 2004 and '07; it's time for these underachievers to get serious."
But it is human nature to fret, so to give you nail-biters out there a scorecard, I'm providing this list of 22 questions which still need to be answered.
Keep Reading

Boston Red Sox: Like this team?