Solving Boston Red Sox Pitching Problem: First Step–Make Daniel Bard a Starter
November 15, 2011
Doug Pensinger/Getty Images
Let's start with one simple fact. It's a lot harder to develop (or find) good starting pitchers than it is to find relievers. Let's face it, a top-four rotation of Beckett-Lester-Buchholz-Bard would not be bad.
So, please hear me out.
With Pap gone, I doubt Bard has the makeup to be a closer. After all, he was 2-9 for the year, and his eighth-inning appearances (56 of them) are not as lights out as many think. Yes, he had that lights-out midsummer stretch, and for the year, batters hit only .205 against him. However, Bard allowed 22 runners to score, in addition to giving up 25 runs of his own, with a very average eighth-inning ERA of 4.38. 
His disastrous September (ERA of 10.64 with nine walks in 11 innings pitched) adds to the concern.
Former Red Sox closer Dick Drago shares these concerns about Bard as a closer, saying, "He just doesn't pitch like a closer. To pitch one inning, you don't need three or four pitches. Two will do, as long as your stuff is good.
"For example, when you come into a game with a two-run lead, you need to challenge people. Throw your best stuff and say, 'Here it is, hit it.' Sure, every once in a while somebody will connect and hit one out, but what are the odds? What you don't want to do is fool around and end up walking people."
(I looked it up: the league average is that pitchers give up one home run every nine innings.)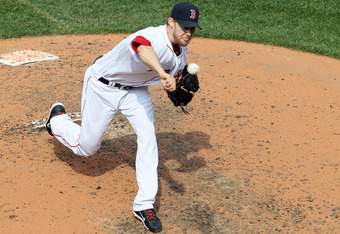 Elsa/Getty Images
What many forget is that the Red Sox drafted Bard as a starter, and he made 44 starts (with admittedly terrible results) in 2007.
Bard himself has said that starting wasn't the problem; he just was not pitching well that year, and the results would have been the same no matter what inning he pitched. At the start of the 2011 season, he expressed an interest in returning to a starting role. 
To those who have suggested that the Red Sox should pursue C.J. Wilson, I remind you that Wilson was a reliever for five years before transitioning to a starting role in 2010. I also believe the market will pay Wilson far more than he's worth, which is why I did not recommend him for the Red Sox.
The Rangers are also seeking to move their closer,  Neftali Feliz, into the starting rotation–so there are two recent precedents for you.
The Red Sox will need to revamp the bullpen again this year, and if Bard can succeed in the rotation, they can plow the starting pitcher free-agent money they will save into the pen, and perhaps into a right-handed hitting outfielder.
Bard is arbitration-eligible, having earned $505,000 in 2011. Even with an arbitration bump, the Red Sox are not going to be able to find many starters with Bard's stuff available at that price.
Finally,  I like the idea of trying Bard as a starter more than Alfredo Aceves. Yes, Aceves has started 9 games in his major league career (5 for the Yankees and 4 with Boston); however, he is clearly a far superior pitcher as a reliever. 
As a starter, his ERA is 4.18; relieving, it is 2.62. His strikeouts-to-walks ratio as a starter is almost even, while as a reliever he punches out almost three times as many as he walks. In late and close situations, in tie games or with a one run lead, he is lights out–batters hit less than .200 against him. Also, Aceves can and does eat a lot of innings; his role to me is more valuable than Bard as an eighth inning specialist. 
One caveat: if Bard does start, he's not going give you a lot of innings, at least not in his first year while he stretches out his arm. This may seem contradictory to my earlier point about getting starters to go deeper into games, but for Bard the low-risk, high-reward potential is worth an exception.