Seattle Mariners: Why It Makes Sense to Bat Chone Figgins Leadoff
February 22, 2012

Otto Greule Jr/Getty Images
Chone Figgins : Noun
Definition: Big mistake free agent signing
Origin: Angels, Los Angeles, California or possibly Anaheim
Example Sentences:
"Chone Figgins just hit into a double play."  
"When I heard the Mariners were considering hitting Chone Figgins leadoff it seemed like a bad idea."
Then, after I gave it some thought, it made a lot of sense.
Look, the Mariners aren't going to win the AL West this year. Nothing short of a miracle will get them even within a sniff of the wild card, but that doesn't make this season a total loss.
Right now GM Jack Zduriencik and by extension manager Eric Wedge need to find out what they've got with the young talent they've amassed while incorporating them into a lineup that still has a few veterans with something to prove. 
With Figgins, though, the goal is simple: polish him up and sell him off. 
Get him as many at-bats as possible while playing a number of positions to showcase his versatility.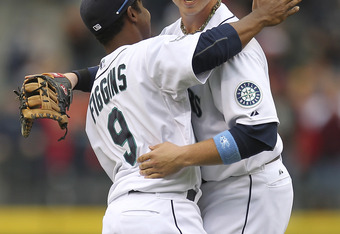 Otto Greule Jr/Getty Images
So long as he's healthy and not causing too much trouble, the Mariners will probably do everything they can to make Figgins marketable to as many prospective trade partners as possible.
Therefore don't be too surprised to hear a lot of stories or mentions of Figgins coming out of Mariners camp about...
"Chone working with the youngsters"
"Joking with teammates"
"Maintaining a positive outlook and attitude"
"Looking for redemption while taking on several positions"
"Playing like he's 10 years younger"
My suggestion: everybody play along.
If Figgins and the M's can pull this off in netting anything in return come the trade deadline, it might be the greatest contribution Figgins makes to the ballclub and get the one final monkey off Jack Z's back.
It's not that Figgins is a bad guy, just a bad fit for this team both when then signed him and pretty much ever since. If he has anything left in the tank at this point, everyone needs to support this effort. 
It would do all parties a world of good, with the exception of one person—Kyle Seager.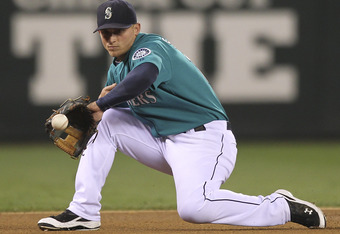 Otto Greule Jr/Getty Images
Sadly I had a sneaking suspicion this might happen when Seager got the starting job at third base last summer.
As Geoff Baker at the Seattle Times reports:
Figgins now is healthy and the team has indicated he will get the bulk of the playing time at third base. That leaves Seager looking to be the backup at multiple positions, including third base, shortstop and second.

"They've kind of prepared me for everything," he said. "I've been preparing to play multiple positions."

Seager continued to learn about the finer aspects of playing third base on Monday, taking part in a rundown drill in which multiple scenarios and positioning was explored. The Mariners have discussed making him a "super-utility" type of player, but they're already doing that with Figgins to some extent.

There's also the possibility the team could eventually shift Seager back to his natural second base spot and move Ackley to an outfield job, like he had in college. But that won't happen this year and there's little point even thinking about doing it until Seager shows he can hit consistently.
Reading between the lines here, it would seem that nothing short of Seager being team MVP in spring training can save him until at least Figgins is gone.
In a way it might be for the best. Let Seager work on improving the finer points of his game in Arizona over the next few weeks with the big club, then send him to Tacoma so he can play every day rather than ride the bench. 
Before long, Figgins will either be trade bait or out of the lineup, and if Seager is ready things might work out for everyone after all.