Tight Situation: New York Giants Once Again Faced with TE Question Marks
February 21, 2012

Elsa/Getty Images
"Deja Blue" has become something of an overused phrase in the New York area as of late.  Yes, Eli Manning once again led the Giants on a fourth-quarter game-winning drive to beat the very same team he made his bones against in 2008.  I get the history repeating itself storyline.  I'm not necessarily knocking it. 
But fast forward two weeks past Super Bowl XLVI and a different scenario from the past is revisiting New York this morning. For the second time in as many years, the Giants are faced with a looming question mark at TE heading into the offseason. 
As we already know, both starter Jake Ballard and role player Travis Beckum suffered torn ACLs on Feb. 5.  At the earliest, they will be able to return to the active roster in late October because they are both destined for the "Physically Unable to Perform" list. 
Ordinarily, the PUP list serves as a stay of execution for teams that wish to retain injured talent they feel have the potential to contribute again in the near future. However, a problem develops when two players who were slated to make the roster at the same position both need to utilize the temporary reserve status.  This is especially true at TE, which is one of the smaller sections of the New York depth chart. 
The Giants traditionally carry three TEs on the main roster, even though they often opt to utilize a reserve TE in their jumbo or goal-line sets.  Heading into 2012, the only lock to make the roster at TE (provided he stays healthy) is Bear Pascoe. The Fresno State alum continued to be a reliable target for Manning in the postseason.  He scored his first career touchdown in the NFC title game and contributed with four key receptions  (including the game's first) in the Super Bowl.  Pascoe has also been a reliable backup FB for New York on multiple occasions.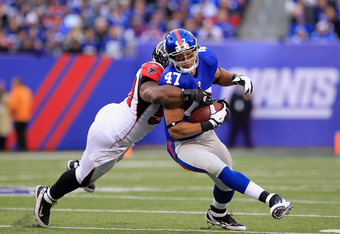 Chris Trotman/Getty Images
Behind Pascoe the water gets murky.  Heading into 2011, the Giants suddenly found themselves without a clear-cut starter at the position due to their failure to retain Kevin Boss.  Though Ballard had emerged as a serviceable starter, he obviously will not be available for the first quarter of the season and likely beyond in '12.  If the Giants hope to carry three TE's throughout the season, it leaves them with two options. 
The first option requires New York to retain two TEs it feels will be expendable should both injured incumbents convalesce rapidly enough to return to action at the season's midway point.  This could potentially mean that the Giants would be heading into their first eight games with a position group almost entirely consisting of undesirable players.  
The second option requires the departure or the submission to injured reserve of either Ballard or Beckum.  This way, the Giants can field two choice TE's through Week 8 if necessary and then waive the third option when ready.
Regardless of which option is chosen, keep an eye on Toledo alum Christian Hopkins.  Hopkins stands at 6'5", 277 lbs. and was a member of the Super Bowl-winning practice squad in 2011.  He is a rather large and physical player whose work ethic has garnered praise from the entire Giants front office and staff.  Even if he should fail to meet expectations come training camp, he could receive a temporary invitation to the final roster until a former member is deemed healthy enough to return.  With time in the Giants organization/offense already under his belt, he has an advantage on other training camp bodies that will be cycled in to compete. 
Should Green Bay fail to come to terms with TE Jermichael Finley, or decline to franchise tag him, he would be an attractive pickup for Big Blue.  Tipping the scale far closer to a passing threat than a blocking tool, the athletic and versatile Finley is already what the Giant had so desperately wanted to develop Beckum into.
The Giants faithful are all too familiar with the organization's tendency to find a project and burn several years worth of valuable roster space on him.  It took four years to separate from Sinorice Moss, and Ramses Barden's tenure will likely stop after three uneventful seasons.  Travis Beckum spent the first two seasons of his Giants career as an undersized TE/oversized WR that seemingly had no place in the pro game.  Jerry Reese was so dedicated to developing a "flex TE" that Beckum was still granted a roster spot in 2011.  He finally earned it with a 67-yard TD grab against Green Bay in December.  Beckum would add several catches throughout the post season as well. 
The irony, of course, is that as soon as Beckum began to develop into the reliable and exotic weapon that the Giants GM had envisioned, he was struck down with an injury that could cause him to miss the entirety of the upcoming campaign.  If he were adequately replaced by a similar player, New York would gain far more wiggle room when selecting the final 53. 
The argument has been made that Finley would not benefit from joining the Giants roster due to their already triple-headed attack in the passing game.  While respectable, this logic is ultimately false as the "flex TE" was able to equal his career-high of 55 receptions and exceed his previous benchmark for yardage with 767 accrued alongside a receiving corps that boasted Jordy Nelson as its fourth option.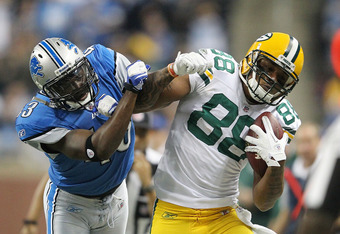 Leon Halip/Getty Images
His presence in the passing game was so profound that he is currently log-jamming Green Bay's attempts to tag him by arguing he is in reality a true WR.  If that were to be deemed accurate, a tag would offer him a larger one-year deal than the offer that would be extended to a true TE.
Should Green Bay decide that it would be easier to replace Finley than it would be to compensate him, he will hit the open market at the most valuable TE.  Being as the Giants do not have a laundry list of glaring needs, they could very well be competitive in the possible bidding war.
Finley would add another dangerous passing option for Manning should his full complement of WRs return. If Manningham, a free agent, should depart, Finley could immediately compete to fill that third target designation.  He is more than accustomed to the role of slot WR.
If acquiring Finley is not in the cards, I would expect the Giants to bring in a value-priced veteran with some tread left on the tires.  They will also use anywhere from their second-round through seventh-round pick on a young talent that could shine if given the opportunity. 
The bottom line is this: I don't see a scenario playing out that allows the Giants to field both Beckum and Ballard in 2012.  Unless one is eligible for IR, there is no way that both can remain Giants. 
Follow me on Twitter @BadGuy_GFB.