Lakers Rumors: What Will Help the Los Angeles Lakers Contend for a Championship?
February 18, 2012

Stephen Dunn/Getty Images
The Los Angeles Lakers currently sit at fifth in the Western Conference and two games back of the suddenly relevant squad who also occupies the Staples Center, the Los Angeles Clippers. While they have won seven of their past 10 games, it would be difficult to find any Lakers fan who thinks the purple and gold have had an above-average season.
There has just been something off with Los Angeles this season. They are certainly a playoff team, but by no means a legitimate championship contender at this point. However, playing in Tinseltown will always mean a number of rumours swirling around the franchise. Who will stay? Who will go? And what can the Lakers do to improve their chances at postseason success?
An interesting story was released this week by ESPN about the Lakers allegedly trying out Gilbert Arenas. This is certainly an interesting one and may sound kind of desperate to some Lakers fans. L.A. could certainly use a proven guard on their team, and Gilbert Arenas was a star in the NBA several years ago. Unfortunately, he has garnered more negative headlines than anything in the last few years. His production on the court has severely dipped, while his behaviour off the court has mitigated his chances of regaining his All-Star status.
With a recent history of injuries, signing Arenas would come with risk, and he could just develop into another filled seat on the bench if he can not rediscover his game.
Perhaps the most prevalent rumour circling around Los Angeles right now concerns the future of Pau Gasol. He was instrumental in the back-to-back championship campaigns, but his recent struggles have created many rumours about his potential departure. The prospect of Gasol heading to the Minnesota Timberwolves was brought to the web this week by Fox Sports. A potential deal involving the arrival of Los Angeles native, rookie Derrick Williams, combined with a slate of draft picks may be tempting for the Lakers if they want to cut ties with Gasol.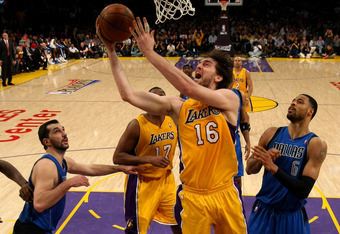 Stephen Dunn/Getty Images
Wherever Pau ends up, he has the potential to add size and scoring to their lineup. When he is on his game, he is a very valuable asset and also possesses the experience of multiple championship runs. Veteran leadership can never be understated or under-emphasized on a team with playoff aspirations.
In the latest, and seemingly never ending, talk surrounding Orlando Magic centre Dwight Howard, a recent New York Post story was released stating that Kobe Bryant was lobbying for Howard to join the purple and gold. The trade rumours of Howard joining the Lakers have been transpiring for quite some time, and maybe they will pursue him more vigorously now that they know how the playoff picture is shaping up. Chances are the intentions of Bryant were overblown, but the premise still remains sincere; the Los Angeles Lakers would love to have Dwight Howard in their lineup.
After the debacle that was the attempted Chris Paul trade earlier this season, the Lakers still feel as if they need to pursue at least one significant signing in preparation for a lengthy playoff run. If Bryant's statements are what can entice Howard to consider a move out West, then it won't matter what was said.
If the Howard speculation does not result in the big man joining the Lakers, another name that has been attached to Los Angeles is Cleveland Cavaliers guard, Ramon Sessions. He would be an excellent addition to a roster which is desperately seeking a capable point guard to spread the ball around. Yahoo! Sports broke down this potential deal last week. The Lakers have money to spend after unloading Lamar Odom, and a guy like Sessions would instantly fill a hole on the Lakers' roster. Although he has been recently limited by injuries, Sessions has an impressive stat line and will mesh well with Bryant.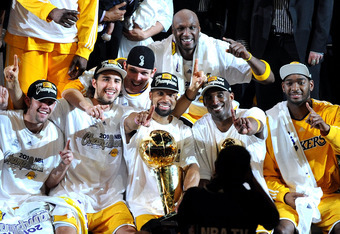 Lisa Blumenfeld/Getty Images
Ultimately, if the Lakers wish to challenge the likes of San Antonio and Oklahoma City in the Western Conference, they will need to make a move to address the concerns that are holding them back. They have been playing better as a team over the past few weeks, but they still have a way to go in order to be considered one of the NBA's elite teams heading into the playoffs.
Kobe has picked up his complete game as of late, which is a necessity if they hope to move past the first round of the postseason. Andrew Bynum is another key piece and still needs to prove he can produce down the stretch when each game takes on much more significance.
Perhaps most importantly, from a pride standpoint, the Los Angeles Lakers need to re-establish themselves as the best team in town. If the playoffs were to start today, the Los Angeles Clippers would be the higher-ranked team over their much more accomplished counterparts. That sure sounds weird to say.