2012 NFL Free Agents: Predicting New Homes for the Top Wide Receivers
February 19, 2012

Donald Miralle/Getty Images
Let's put it this way, if a franchise is looking for a top No. 1 wide receiver and it doesn't have a high selection in the first round of the 2012 NFL draft, free agency is the next move.
And with pro football so reliant on a dominant passing game, it only makes life easier for an offense that can dish the rock to well-established targets. That said, here's to predicting the new homes of a some premier receivers this offseason.
Vincent Jackson, San Francisco 49ers
The San Francisco 49ers desperately need a stud No. 1 receiver for Alex Smith to target and it appears that Vincent Jackson will become available. According to Kevin Acee of the San Diego Union-Tribune, the Bolts and Jackson are likely to part ways:
While the official word from both sides will be that they are open to reuniting—and the Chargers could become players once they see where the market has been set—it is unlikely Jackson will be a Charger once other teams get in the bidding. And that bidding is expected to go quickly.
And that bidding needs to be done by the 49ers. Unlike San Diego, San Francisco has a excellent rushing attack, knows how to play consistent defense and has a better head coach in Jim Harbaugh.
Alex Smith may not be the well-established quarterback that Philip Rivers has become, but he's proven to develop rather quickly under Harbaugh and did so without any healthy or overly dominant receivers.
Tight end Vernon Davis was definitely his best target, but adding Jackson to that mix will fill that one void San Francisco has been missing since Terrell Owens left, which is a big time receiver who can stretch the field against any pass defense.
Reggie Wayne, Arizona Cardinals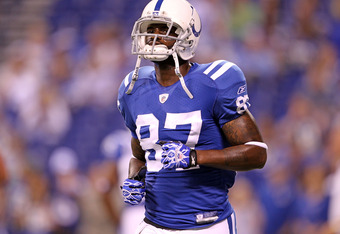 Andy Lyons/Getty Images
Reggie Wayne was an interesting receiver throughout his career because in playing second fiddle to Marvin Harrison from 2001-2008, he quickly developed into a reliable No. 1 receiver.
In his first season without Harrison, Wayne helped lead the Colts offseason with Peyton Manning to the Super Bowl and again to the postseason in 2010. Despite not having Manning in 2011, Wayne still had solid numbers with 75 catches for 960 yards.
However, if Wayne wants to extend his career, signing with a team like the Arizona Cardinals would certainly be a win-win situation. For one, Arizona needs that legitimate No. 2 receiver to assist Larry Fitzgerald and to force defense to play more against the pass.
The Cardinals also have an improving defense to fall back on, and cornerback Patrick Peterson is a dominant return specialist. It's an ideal place for Wayne to close out his career, especially after Arizona finished 2011 with a 7-2 record over their last nine games.
Mario Manningham, Miami Dolphins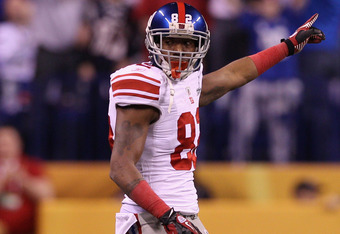 Elsa/Getty Images
Now he may not be in the top tier of free agents like Jackson and Wayne, but Mario Manningham is right on the cusp of that upper-echelon group.
In that group, though, are his teammates Hakeem Nicks and Victor Cruz. To that end, after three fairly productive regular seasons in 2009, 2010 and 2011, Manningham really shined bright on a big stage.
Throughout the 2011 postseason, Manningham was one of Eli Manning's most reliable targets and his sideline grab in the Super Bowl sums everything up in a nutshell. Super Mario can stretch the field, be a possession guy over the middle and catch a quick slant then proceed to leave everyone in the dust.
If he remains in New York, though, Manningham won't be anything more than that role-playing receiver he's been since his rookie year.
Therefore, checking out the Miami Dolphins is a great idea. They need a stud No. 2 target to complement Brandon Marshall and tight end Anthony Fasano, plus the Dolphins ground game emerged toward the end of last season.
Include a sound defense and a rather weak division in the AFC East, and Manningham will roll with the Dolphins.
John Rozum on Twitter.