San Diego Chargers: Is It Time to Start Showing Eli Manning Some Love?
February 18, 2012

Al Bello/Getty Images
When the New York Giants won Super Bowl XLVI against the New England Patriots, 21-17, Eli Manning became only the 11th quarterback in NFL history to win two or more championship rings.
Manning's name now sits in the record books alongside such legends as John Elway, Bart Starr and Bob Griese. If winning the Super Bowl is the standard by which we judge all quarterbacks, then Manning is better than Joe Namath, Johnny Unitas and Brett Favre (all with one Super Bowl win each).
Other great players such as Dan Marino, Jim Kelly and Dan Fouts never won a Super Bowl and while Eli's brother Peyton did win one Championship ring, Eli has the jewelry advantage over his older brother and his father Archie (who never made it to the Super Bowl).
With Eli Manning being so successful, is it time for Chargers fans to show him some love?
On Super Bowl Sunday, I was in a house divided in Ocean Beach, San Diego. There were three tribes in the living room; Giants fans, Patriots fans and Chargers fans. While the feuding never reached the Grangerford-Shepherdson levels of Huckleberry Finn, passions still ran high.
The Giants and Patriots fans were obviously supporting their own teams, while Chargers fans were conflicted. They didn't like the Patriots as a team, but they really couldn't stand Eli Manning either. For the record, I wanted the Giants to win. I like Big Blue's defense and I enjoy watching Ahmad Bradshaw and Brandon Jacobs run the ball more than I enjoy Patriots Rob Gronkowski catching it.
I've also moved on from Manning's rejection of the Chargers. For some fans, however, even after all these years, the hurt is still too much to bear.
The lead-up to the 2004 NFL Draft was a mess. The San Diego Chargers were a mess. They had finished the 2003-2004 season with a 4-12 record, the worst in the NFL. The Bolts had started the season by losing their first five games. In 2003, they got beaten home and away by the Denver Broncos and the Kansas City Chiefs. San Diego QB Drew Brees had a rating of 67.5 with more interceptions thrown than touchdowns—15-11.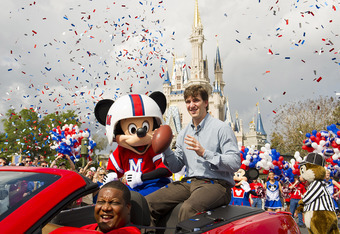 Handout/Getty Images
Eli Manning was the pick of the 2004 draft. In a class that included Larry Fitzgerald, Ben Roethlisberger and Roy Williams, the Chargers decided to go with the QB who played his college football with the Old Miss Rebels.
The Chargers weren't the only organization looking at Manning, the Giants were also courting him. The New York team promised Manning more money, bigger endorsements and a larger fanbase. Eli's own father advised him to join the Giants and not San Diego, maybe influenced by what happened to former No. 2 draft pick Ryan Leaf.
Considered one of the biggest busts in NFL history, QB Leaf was selected second by the Chargers in the 1998 draft, behind only Peyton Manning. The careers of the former first two draft picks could hardly have turned out more different. Manning is heading to the Hall of Fame, while Ryan Leaf finished his pro career in 2002 with a QB rating of 50.0.
Archie Manning didn't want his son to become the next Leaf and San Diego coach Marty Schottenheimer didn't want Manning either. Schottenheimer preferred Philip Rivers. Eli Manning stated that, if picked, he wouldn't play for the Bolts but Chargers manager A.J Smith had other ideas.
On the day of the draft, the Chargers took Manning as the No.1 pick. He was a Chargers player for all of 45 minutes. San Diego traded Manning to the the Giants for No. 4 pick Philip Rivers and third-round pick Nate Kaeding. The Chargers also got a 2005 draft pick from the Giants, which they used to select Shawne Merriman. Trading Manning for Rivers, Kaeding and Merriman was pretty good business by A.J Smith and the powder blues picked up three iconic players.
The rejection of the Chargers by Manning still runs deep with most fans, but is the hurt somewhat misplaced?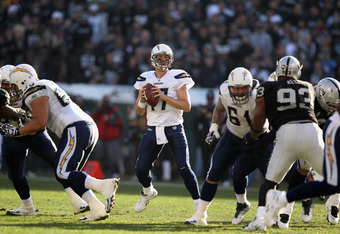 Ezra Shaw/Getty Images
Manning made it clear he didn't want to join the Chargers—it's not like he promised to join and then changed his mind. He didn't walk out on anyone or pack his bags and leave. It's not like he said he was working late at the office but instead was out gallivanting with some floozy from the Big Apple.
Manning was never attracted to or fell in love with San Diego—it's as simple as that. If we had not traded Manning, it would have been terrible for all concerned. No one wants to be stuck in a bad relationship with a QB who doesn't want to play for them. Letting Manning go was for the best. Like writer Richard Bach once said, "If you love someone, set them free. If they come back they're yours; if they don't they never were."
If Manning had joined San Diego, would he have gone on to become the player he is today? Late in the fourth quarter of the Super Bowl when the Giants were driving and needed to score, was there ever any doubt that Manning would lead them to a touchdown? The TV pundits go on about him way too much, but he does seem to have matured into a good QB. He has been Super Bowl MVP twice and has a 100 percent winning record in two finals reached.
If Manning was asked was he right to reject San Diego, I'm sure he'd say "Yes." Would Manning have led the Chargers to the Super Bowl playing MartyBall? No.
While Chargers fans would like to have the two Super Bowls that Manning has won, not many fans would trade Rivers for Manning. Bolts fans would be happy to have Brees back and his Championship, but we traded him away. Also long gone are Michael Turner, Darren Sproles, Junior Seau, LT and Merriman.
Maybe when we look at the lack of success the Chargers have enjoyed over the last few years, we should wonder about what we gave away rather than what never really had.
There are many reasons to be upset over the Chargers' recent failures and while Manning's slight may have hurt, it ultimately might not have ever mattered. The Bolts would not be any nearer today to lifting the Lombardi Trophy with Manning than without him.
Rivers is still the guy to lead San Diego to the final and if he gets some help from the defense, there is no reason to suggest that he can't do it.
Maybe it will take a Super Bowl win against Manning and the Giants to appease some fans, but now seems like a good time to let the grudge go. We may not see Peyton Manning in a Colts uniform again and we've always enjoyed games against him. Whether you love him or not, Peyton Manning will be missed. It would be a shame if we let being spurned by Eli Manning stop us from some of the exciting things he brings to the game. Let's put rejection, jealousy and envy behind us.  
Let's spend next season concentrating on the things we can do, like getting behind the team and supporting them all the way the Super Bowl.