Brandon Spikes and 6 Other New England Patriots Bound to Break out in 2012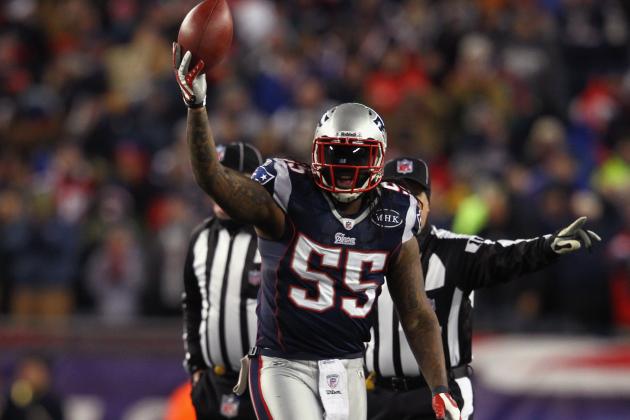 Al Bello/Getty Images

The New England Patriots ended their thrilling 2011 season on a sour note with a coulda-shoulda-woulda loss to the New York Giants in Super Bowl XLVI.
Pats fans should be thinking about one thing, and one thing only: How can this championship-caliber team improve in time for next season?
Bill Belichick and the Patriots coaching/scouting staff have already started their homework for potential free agents and draft-day steals. With gaping weaknesses at wide receiver, pass rusher and safety, New England will certainly be busy over the next few months.
Regardless of free agency and the NFL draft, Pats fans should be excited about these seven players already on the roster who are ready to breakout in a big way in 2012.
*All ages shown in player slides are for the start of the 2012 season
Begin Slideshow

»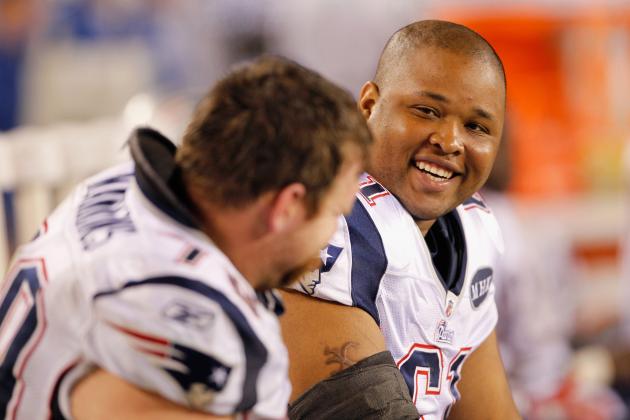 Rich Schultz/Getty Images

The New England Patriots struck gold when they signed former Kansas City Chiefs guard Brian Waters only a few days before the 2011 season. Waters was phenomenal, earning himself a trip to the Pro Bowl for the sixth time in his career.
After not sniffing the playoffs during his 10 years as a Chief, Waters made it all the way to the Big Game this season. Unfortunately, that may have been all the big fella' needed, as Waters is contemplating retirement this offseason.
If he chooses to come back, the Pats will welcome him with open arms. If not, New England will insert rookie guard Marcus Cannon into the mix and see what happens.
Cannon is a mammoth of a man, listed at 6'5" and 360 pounds, and was solid in limited time this season.
We all know that Cannon has the toughness to gut through a 16-game season—he overcame non-Hodgkin lymphoma in just a few short months last summer—the question is whether he has the talent required to keep Golden Boy Tom Brady clean for 60 minutes every Sunday.
Coming out of TCU, Cannon showed tons of promise. He was an All-American and earned a spot on the All-Mountain West first team. Because of his condition, Cannon fell to the Patriots in the fifth round of the 2011 NFL Draft.
If given the chance to replace Waters in 2012, I expect Cannon to jump at the opportunity and prove all his doubters wrong.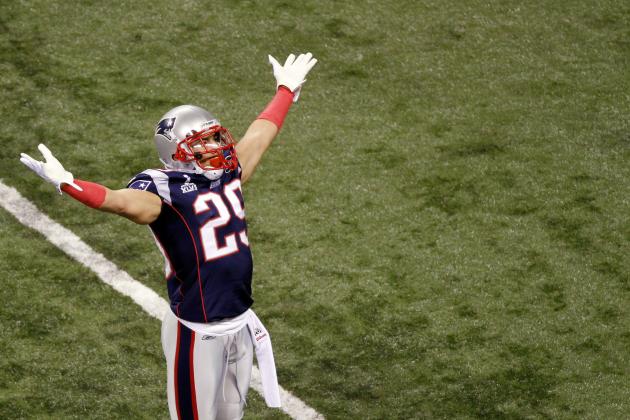 Gregory Shamus/Getty Images

"Who is No. 29 playing safety tonight?"
That's what every single New England Patriots fan was thinking when Sterling Moore made his NFL debut for the Pats in the Meadowlands during a prime-time battle against the hated New York Jets.
As it turned out, Moore sucked as a safety.
That night he made bad reads and even knocked fellow defensive back Devin McCourty out of the game on an awful-looking missed tackle.
He tallied just six tackles in four games before being benched for a mixture of James Ihedigbo, Matthew Slater (a wide receiver) and Nate Jones. Ihedigbo did just enough to win the job, and Moore was back to being an afterthought.
So when he was given a second chance at cornerback in Week 17 against the Buffalo Bills, Moore took advantage. Big time.
He finished with two interceptions (one being a beauty that he returned for a touchdown), a tackle and two passes defensed that day. With the Pats secondary in shambles, coach Bill Belichick had seen enough—Moore was back in the mix.
The rookie was given a heavy workload in the playoffs, and he more or less shined as the No. 2 corner next to Kyle Arrington. He deflected two passes in each playoff game, came up with a game-saving play in the AFC Championship and made a number of clutch plays in the Super Bowl. There were also bad plays—like when he got torched in single coverage by Baltimore Ravens' burner receiver Torrey Smith for a touchdown—but those mistakes are correctable.
In 2012 I fully expect Moore to get a chance as the third or fourth cornerback, and am hopeful that he will finally provide the Patriots' secondary with some much-needed depth.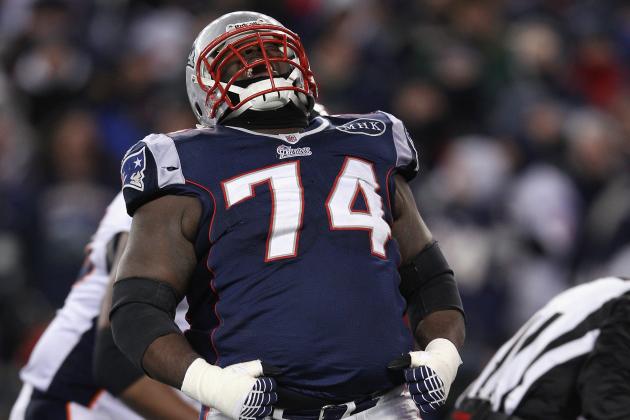 Elsa/Getty Images

Kyle Love was a forgotten man for New England Patriots fans coming into the 2011 season. After all, he was behind Albert Haynesworth, Myron Pryor and Mike Wright on the depth chart coming into training camp.
But that's the funny thing about sports.
Sometimes guys surprise you. Sometimes guys come out of nowhere and prove they belong.
(Giving everybody a second to stop thinking about Jeremy Lin…)
(Still waiting)
And we're back!
So as I was saying before I got rudely LINterrupted (sorry, it was right there), Love's emergence this past year was a pleasant surprise for New England.
With Haynesworth never living up to expectations and eventually being cut, and Pryor and Wright's injury issues, Love sprung into action.
He started 13 games, recording 33 tackles and three sacks as Vince Wilfork's sidekick.
With a year of starting experience in his back pocket, 2012 should be a breakout season for the undrafted Mississippi State graduate.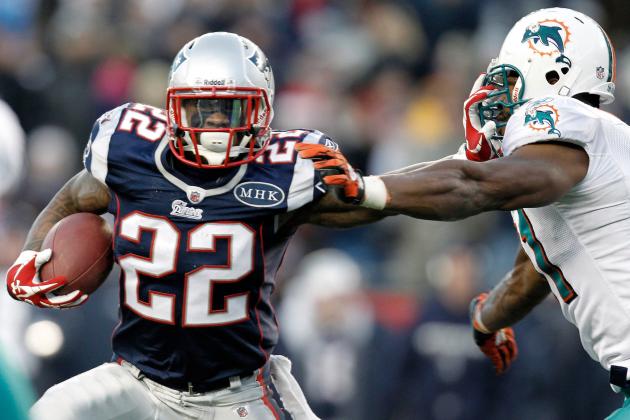 Winslow Townson/Getty Images

Stevan Ridley's rookie season was a roller coaster ride.
He was magnificent in the preseason before going down with an injury. When he returned to the gridiron in the regular season, he made his presence felt in a big way when he exploded for 97 yards and a touchdown on just 10 carries against the Oakland Raiders in Week 4.
After that game, opposing defenses zeroed in on the rookie and shut him down for the next two months.
Toward the end of the regular season, however, Ridley got his mojo back. He rushed for 243 yards on just 47 carries (5.2 average) over his last four games, and had Patriots fans clamoring for more playing time for the youngster in the postseason.
In Ridley's first playoff game he made an unforgivable mistake in Bill Belichick's eyes: he fumbled the ball away.
And with that, Ridley was relegated to bench-warming duty for the AFC Championship (where he was inactive) and the Super Bowl.
Assuming Ridley works on holding onto the ball, the Patriots may have themselves a very solid player. The former LSU Tiger showed flashes of excellence both as a ball-carrier and pass-catcher, and has the quickness and speed required to break a big play in the NFL.
He and fellow rookie Shane Vereen should help form New England's rushing attack in 2012.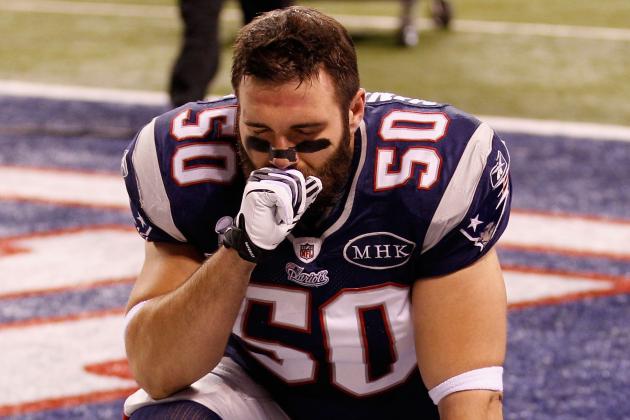 Rob Carr/Getty Images

Rob Ninkovich has really had a nice progression as a member of the New England Patriots defense.
He has seen his snap totals increase in each of his three seasons, as well as his tackle and sack numbers. This year, after producing a sturdy 74 tackles and 6.5 sacks in the regular season, Ninkovich was outstanding in the playoffs, proving to be one of the Pats' main defensive cogs.
His experience at "setting the edge" helped New England bottle up Tim Tebow and the Denver Broncos' vaunted rushing attack (the 1.5 sacks weren't bad either) in the AFC Divisional Round, while his ability to create pressure in important situations was valuable both in the AFC Championship Game and the Super Bowl.
Ninkovich's "clutchness" is backed up by his numbers.
During the regular season, Nink played his absolute best when the Pats were behind, recording 48 tackles, 4.5 sacks, two interceptions, one touchdown and three passes defensed.
He has shown stoutness defending the run and he can get after the quarterback. All he has to do is start bringing that energy with some consistency.
With his tremendous work ethic—one of the main reasons the Patriots felt comfortable extending his contract for two years and $4 million right before the season started—I wouldn't be surprised if next year, Nink's third as a starter, is the year it finally all comes together for the 28-year-old.
Ninkovich could see an even bigger bump in snaps in 2012 with the pass-rushing tandem of Mark Anderson and Andre Carter potentially leaving via free agency.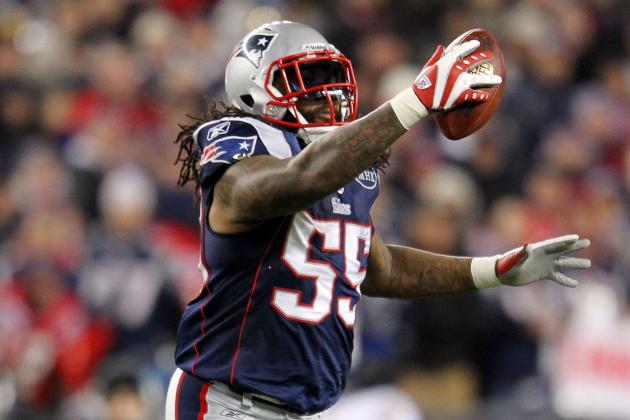 Jim Rogash/Getty Images

Brandon Spikes is a total beast.
For a national audience during Super Bowl XVLI, the energetic linebacker showed off his whole bag of tricks. He made some thunderous hits in both the running game and passing game, and was probably New England's best defensive player that day.
In the playoffs, after a frustrating regular season marred by injuries, Spikes proved to be the team's best playmaker. He came up with a sack in the AFC Divisional Round, a huge, momentum-swinging interception in the AFC Championship Game, and a forced fumble in the Super Bowl (as well as 11 tackles).
Spikes is on the precipice of greatness.
Most people look at the Pats' linebacking corps and see Jerod Mayo as the best of the group. I disagree. While Mayo is certainly more reliable, both in his performance and his health, it is Spikes who is the most talented player in the group.
He's ferocious in the middle of the field, blowing up play after play, poor receiver after poor receiver. His toughness is what helped New England's porous defense transform into a semi-competent group in the postseason.
If Spikes can stay on the field, and that's not a given considering his 12 missed games in the last two years, he should see the biggest leap out of any player on the Patriots' defense.
I expect by 2012's end that Spikes will be mentioned among the AFC's linebacking elite.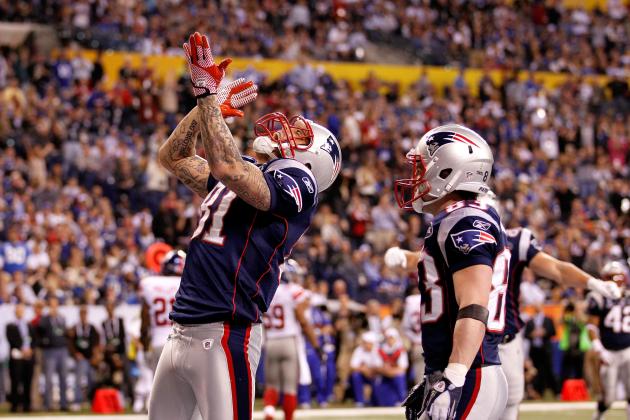 Rob Carr/Getty Images

Aaron Hernandez is already one of the best tight ends in football. The fact that he is sure to get better in 2012 is a scary thought for the other 31 NFL teams.
Hernandez started the season off red-hot, grabbing 14 passes for 165 yards and two touchdowns in the New England Patriots' first two games this year.
However, like last season, an injury slowed the University of Florida product. He missed a couple games, and then struggled for a few weeks dealing with the lingering effects of his knee injury.
Once December came around, though, Hernandez emerged as Tom Brady's favorite target.
With opposing defenses focusing all their efforts on attempting to stop Wes Welker and Rob Gronkowski, Hernandez was largely left in single coverage over the last couple months of the season.
He took advantage, grabbing 51 catches from December through the Super Bowl for 618 yards and four touchdowns.
Hernandez displayed ridiculous versatility when he lined up as New England's running back for an entire series against the Denver Broncos in the AFC Divisional Round, a trait that surely earned him some brownie points with head coach Bill Belichick.
As great as Gronk was in 2011 and he was phenomenal, Hernandez was right on his tail. With a full season of games, there is no reason to think that Hernandez can't catch 90 passes for 1,100 yards and 10 touchdowns.
With Hernandez, Gronk, Welker and whomever comes in through free agency or the draft, Brady should put up spectacular numbers in the passing game yet again in 2012.