NBA Trade Scenarios: Best Shooters Likely on the Market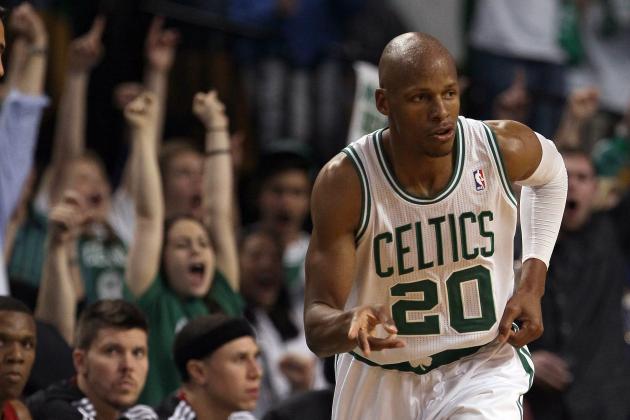 Elsa/Getty Images

With the NBA Trade deadline quickly approaching, teams need to start making moves that will help them compete for this year's NBA Championship (or at the very least, solidify competitive teams for future championships).
One skill-set that many teams need right now are long-range shooters, players that can spread the floor so the frontcourt can operate and can keep opponents on their heals.
Though not all of these prospects are actively being mentioned as trade-bait, they all have the potential to help the teams interested in targeting them while improving the dynamics and capabilities of the teams they would be leaving via trade assets.
Listed are seven prospects for trades, their potential suitors and a rationale for why the teams would want to make a deal.
Begin Slideshow

»
Andy Lyons/Getty Images

O.J. Mayo is a career 37.8 percent shooter from deep (37.9 percent this year) and riding out his contract behind Tony Allen is likely going to create friction on the Memphis Grizzlies. Sending Mayo to a team that needs a shooting guard and has aspirations to make immediate waves in the playoffs (thus may be willing to part with players and future draft picks), would be in the best interest of the franchise.
Potential Target: Los Angeles Clippers
Rationale: With the loss of Chauncey Billups the Clippers are looking for additional scoring threats on the outside. The Chris Paul-to-Blake Griffin duo thrives when given space to operate. Mayo's ability to spread the floor would give them that opportunity and, with targeted assists from Chris Paul cutting to the basket, he would dramatically alter the ability for the Clippers to score both inside and out.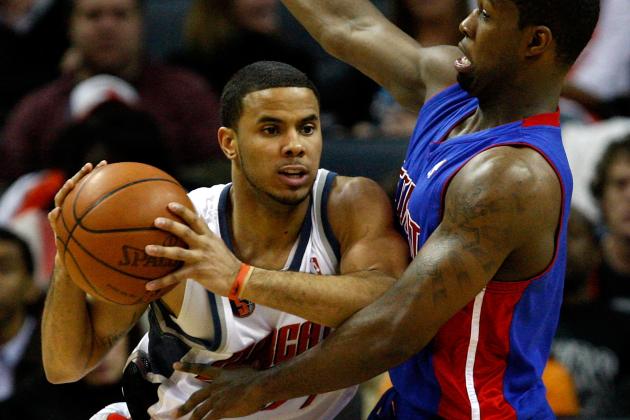 Streeter Lecka/Getty Images

With the recent signing of Kemba Walker, the Charlotte Bobcats have two capable, young point guards on their roster. Though that is a luxury many teams would love, sitting at 3-26 is a painful position to be in and Charlotte needs to address many holes in their roster prior to inevitable lottery pick this summer.
Augustin is shooting 34.2 percent from the arc this season (career 37.8 percent) and his ability to score from the outside gives Charlotte a good bargaining piece when looking to bolster their franchise for seasons to come.
The Bobcats have holes throughout their roster and would benefit from dealing Augustin to a team with some extra talent in the paint, perhaps in a package deal to pick up a veteran shooting guard in the process.
Potential Target: Utah Jazz
Rationale: The Utah Jazz desperately need an effective, dynamic starting point guard and, with one of the strongest frontcourts in the league, they can offer the Bobcats someone who can help them score more points in the paint.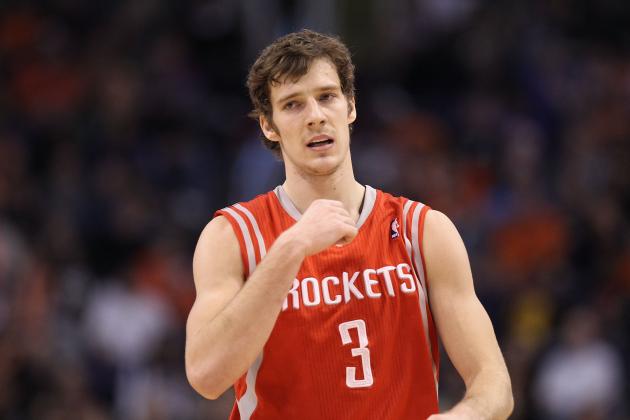 Christian Petersen/Getty Images

Though he is suffering a bit this year from long-range, Dragic is a career 36.7 percent three-point shooter. He has the ability to hit shots from all over the floor and would help a team that is stagnant on offense.
He is stuck behind fellow point guard Kyle Lowry, who has three years remaining on his contract and, with Dragic's contract about to expire, Houston would be wise to get something out of him.
Rather than simply letting him walk this summer, Houston could send Dragic (likely in a package deal) to a team looking to add versatility at the one-spot, put in someone to replace an aging veteran and help spread the floor for other premier talent.
Potential Target: Los Angeles Lakers
Rationale: Derek Fisher has lost a step and Kobe Bryant needs someone else to create movement on offense. Dragic helps put into place someone who can score through movement or from the three-point line.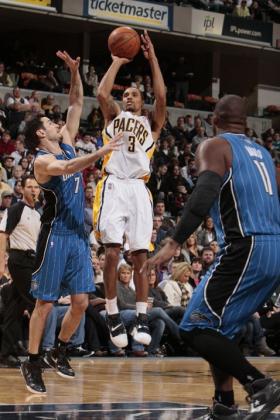 2012 NBAE (Photo by Ron Hoskins/NBAE via Getty Images)
Despite having recently suffered from a chip fracture in his ankle, George Hill can offer a team a proven scorer. He has outside range as a career 37.9 percent three-point shooter.
Hill proved in his 2009-11 campaigns with the San Antonio Spurs that, if he is given minutes, he can be productive. With the need for a shooting guard on various teams around the league, Hill could be a valuable trading piece that Indiana can leverage in order to add more depth to their frontcourt.
Potential Target: Boston Celtics
Rationale: With aging Ray Allen entering the farewell laps of his productive career, Boston needs to add some youth and replace Allen's ability to make teams suffer from the outside.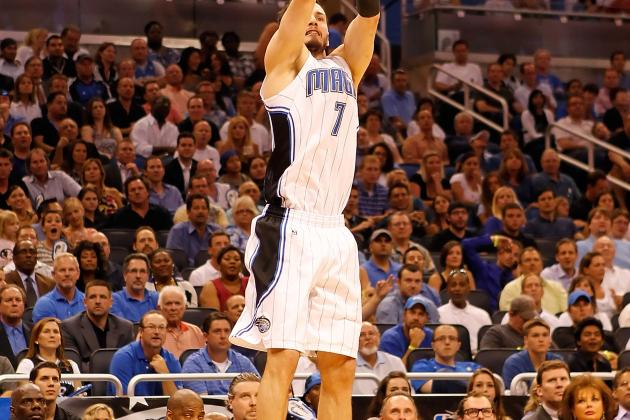 J. Meric/Getty Images

J.J. Redick
The Orlando Magic simply do not want to pay $6.5 million per year to their backup shooting guard. With Jason Richardson inked through 2014, they may want to use the trading of Redick (either alone or with other players) to help try to convince Dwight Howard that he should start and end his career in Orlando.
Whether or not they are successful in keeping Howard is still questionable, but with Orlando sitting at fifth place in the Eastern Conference standings, something needs to change to try to convince him the franchise is intent on winning a title soon.
Potential Target: Philadelphia 76ers
Rationale: Though the 76ers are currently sitting in first place in the Atlantic division, to make it past the Miami Heat or Chicago Bulls in the playoffs, they could benefit from adding additional outside shooting. Redick gives them a player who can help spread the floor for Lou Williams, Andre Iguodala and Co. to operate.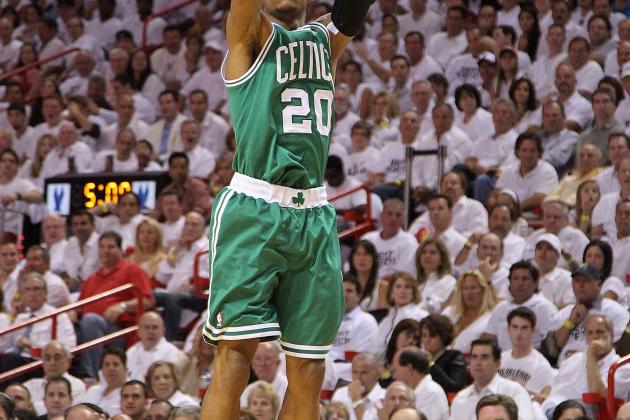 Mike Ehrmann/Getty Images

While Ray Allen was a significant part of winning the 2008 NBA Championship for the Boston Celtics, his production this season has slightly dropped from last year and he is in the final year of his contract.
Much like other teams fearing losing instrumental players without any reimbursement, Boston may look to send Allen to a team that could benefit from a veteran shooting guard that can still light it up from the outside (currently shooting 49.5 percent from beyond the arc) and is looking for a return trip to the NBA Finals.
Possible Destination: Oklahoma City Thunder
Rationale: With the addition of Ray Allen to the Thunder's lineup, they would (arguably) be one of the favorites to win the NBA Championship this season. Determining which pieces to part with in order to pick Allen up would be difficult, but with Kevin Durrant, Russell Westbrook and James Harden all signed up for a multi-year run at the playoffs, the addition of Allen could very well be the catalyst to get them over their final hurdle to elite status.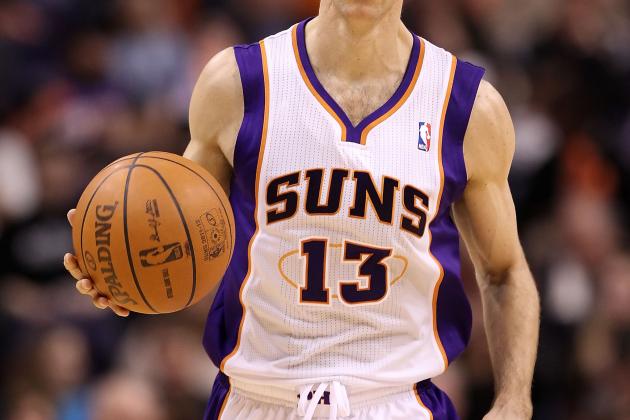 Christian Petersen/Getty Images

Though Steve Nash has indicated that he is not looking to be traded, sending him to another team that is on the cusp of being an NBA Championship caliber squad—and can send some valuable assets in return—would be a wise decision. Though Nash is 38 years old, he is shooting 42.9 percent from behind the arc and is still a top four point guard in efficiency according to Hollinger's player efficiency rating (23.24).
Potential Target: Portland Trailblazers
Rationale: The Trailblazers have a nice mix of players throughout their lineup, but their point guard play is mediocre at best. Nash would immediately fill that hole and would help LaMarcus Aldridge, Jamal Crawford and Gerald Wallace by facilitating their ability to put up big points.