New York Knicks' Jeremy Lin Lights Up the World from Toronto to Taiwan
February 15, 2012

Rob Carr/Getty Images
This never happens.
This is not Rudy.
This is not Tim Tebow.
Heck, this is not Lindarella.
It's bigger. It's stranger. It's surreal.
This is a straight-up dream.
No Division I scholarship. Undrafted. Transient. D-Leaguer. Bench warmer. Couch crasher. Now, add cold-blooded killer to Jeremy Lin's list after his three-point dagger Tuesday night that not only pierced the Raptors but reverberated around the globe, from Toronto to Times Square to Taiwan.
I checked in with family members back in Taiwan, and Linsanity has taken over in Lin's parents' home country. Nearly every local channel has a ticker on the bottom of the screen that runs Jeremy information 24-7. 
He's being perceived as everyone's son.  The son you are proud of and you can show off to your friends.  The son you hope will return one day.  Everyone is wondering when he'll be back.  
Even Taiwan President Ma Ying-jeou, who like Lin is a Harvard grad, took time out from running the country to cite Lin's teamwork as worthy of emulation in his government.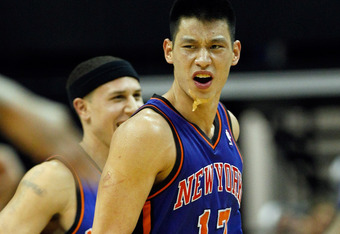 Rob Carr/Getty Images
Luck and numbers are linked in the Taiwanese culture, so people are actually picking lottery numbers based on what day of the week Jeremy will play, the number of assists he had last game and, of course, his jersey number, 17.
Back in the States, where people spend a lifetime itching, hoping to leave some sort of scratch on New York, Lin has had a supernova effect on the big city in less than a week.
Being the first Taiwanese-American NBA player has placed lofty enough expectations on Jeremy Lin's shoulders. But he's also had to carry the Knicks, and he's done it—for six straight wins. 
In his first five starts, lights-out Lin has logged 136 points, which is more than any player since the NBA-ABA merger. He eclipsed the big fella, Shaquille O'Neal, who for all intents and purposes was bigger than life. 
Seems as if Lin has the bigger shadow now.
With all the success, the flotilla of media continues to grow—it was reported by AP that 75 media members were in attendance in Toronto. The attention has gotten so out of control that the Knicks media relations have already put the kibosh on one-on-one interviews with Lin. Has any player gone from zero to 60 faster than Lin? LeBron James? Kobe Bryant? Michael Jordan?
Everything Lin touches lights up. 
Doesn't the success have to eventually get to him? Nah, doesn't seem to be the case.
His faith continues to drive him. His roots keep him humbled. He still says all the right things. He even turned down Letterman. Go figure. Even though we've kept in touch only every now and then since I first interviewed him in 2008 and covered the league for NBA.com, Jeremy still hasn't gotten too big to reply. I sent him a text congratulating him on his success, and his reply, "Thanks for the text...good to hear from u bryan!"
He's going to have to eventually slow down, right?
By now, teams are hopefully taking him seriously, scouting him and putting in defensive schemes to slow down his dribble penetration.
We'll still have to wait and see when the "villain," Carmelo Anthony, enters the plot.
No doubt, the schedule will get tougher (the Knicks play the world-champion Mavericks and the Heat in the next eight days)—you can't keep playing the Raptors, Jazz, Wizards and Nets every night. And if Jeremy continues to tally 8.5 assists to 5.2 turnovers (what he's averaged in a six-game span), the turnovers will eventually catch up to him.
Until then, Jeremy is in the unenviable position of being in the spotlight—good or bad.
But if anything, he sure has shown he can handle it.