Free Agency 2012: Potential New Orleans Saints Safety Dashon Goldson Profile
February 13, 2012

Thearon W. Henderson/Getty Images
This is the fourth in a running series of articles on Saints free agent and draft targets. Previously highlighted were Lions defensive end Cliff Avril, Browns linebacker D'Qwell Jackson and Chargers wide receiver Vincent Jackson.
They say If you can't beat 'em join em, or in this case, have them join you. Unless you've been living under a rock the past month and a half, you know the Saints lost in the divisional round to the San Francisco 49ers last month. 
It's possible though that amid the horror of five turnovers and a defensive relapse greater than the one Frank has weekly on the Showtime series Shameless, you could have missed the best safety in the NFL. 
As is common with most safeties in the NFL, they often go unseen. Being Mr. Invisible is a good thing for Goldson. But as with any great safety, there are approximately five plays each game where that player does something that makes you notice him—for better, or sometimes for worse.
In 2011, it was almost always for better from Goldson, as he made his first Pro Bowl after accumulating 67 tackles, 1 forced fumble, and six interceptions in 14 games.
At 6'2", 200 pounds, Goldson combines great size with excellent technique, incredible range, mental aptitude rarely seen at the position, and a level of toughness which makes him the full package.
These qualities weren't always as obvious. In 2007, Goldson lasted until the fourth round of the NFL Draft after a somewhat average career at the University of Washington.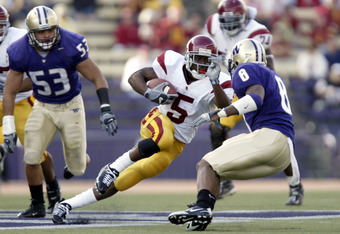 Otto Greule Jr/Getty Images
No matter how talented a scout one is, there is almost zero chance anyone saw Goldson becoming the finest safety in the NFL a short five seasons later.  
Yet no safety in the league had a finer season in 2011. And no safety is set to receive quite the pay raise that Goldson is about to get. Despite showing tremendous skill and great production in 2010, the restricted free agent agreed to a thrifty one-year, $1.2 million deal this past offseason.
Goldson is likely to command the highest safety contract in league history this offseason—or at least if I was his agent, I'd be looking for such a deal. That's bad news for any team looking to acquire this particular player's services.
But the good news is that for such a salary, you'd be getting the most well-rounded safety in the league—and a player just now coming into his prime.
Pros
Few players are so obviously great players when watching them on film. With Goldson, it's really difficult to find a weakness.
For one he is almost never out of position. In the game against the Saints, you may remember a first-half throw Drew Brees made after pump faking. That works against every safety in the league—except Goldson.
Dashon read Brees' eyes and baited him into a poor throw which he picked off and ran back to the New Orleans' four-yard line. That recognition ability was on display in every game I watched, as he routinely came up to make an important tackle or break up the football.
Beyond the mere recognition is a simple fundamental that Goldson has learned. To steal from a church I adore which talks about "keeping the main thing the main thing," Goldson does that from his safety position.
He keeps the main thing the main thing in that he never allows himself to come up on the run until he knows the ball has already been handed off. Instead, he keeps his focus on the pass until he absolutely has to come up to make a play.
He can do this because he possesses great click-and-go ability—meaning he can stop and break downhill with relative ease. Therefore, Goldson almost never gets beat deep and with superior downhill speed, he can make a tackle on a ball carrier and really hit that guy.
All these abilities lead to an overall aspect of his game that is so hard to find. He always finds himself around the football.
Whether it's making a tackle or a play on the ball, it's hard to put the tape on and not see Goldson around the football. As for big plays the defense gives up, it's generally due to a breakdown somewhere else on the defense.
His mere presence around the football is a positive for the defense due to his amazing ball skills and a playmaker mentality which radiates throughout the rest of the defense. In that sense—among others—Goldson is a tremendous leader who makes his teammates better.
The great leadership doesn't end at turnovers but in that he's always positioning the back end of the defense, then after the snap doing his own job.
I like to think of him as the ultimate "do-your-job" safety or defensive player. If you had 11 Dashon Goldsons who just did their job, offenses would never score against you.
Cons
It's hard to come up with weaknesses for this particular player. I have to resort to circumstantial things such as "if…then…arguments. With Goldson these include "if he fails to break down, or gets excited, then he becomes a poor tackler."
Or "if the quarterback makes a perfect throw then his ability to break on the football looks delayed." Or, can he turn his hips, since I actually only saw him do so once in five games?
There just isn't a lot to dislike about this Pro Bowl safety.
Potential Role With the Saints
Though Goldson said Friday he expects to return to San Francisco, we all know it is too early to guarantee such a transaction coming to fruition. There have been more automatic re-signings gone awry in the past to say this is a done deal. 
Therefore, it seems okay for Saints fans to hope and pray that maybe just maybe the Niners and Goldson will hit an impasse in negotiations long enough for the Saints to come in and sweep the young veteran off his feet. 
Assuming they are able to do so, Goldson would fit right into this defense with little to no resistance from anyone—aside from perhaps Roman Harper and Malcolm Jenkins. But they should remember the Giants under Steve Spagnuolo routinely played with three safeties. The three would actually fit together quite nicely.
Harper would be your in-the-box, blitzing safety. Jenkins would be your hybrid man-to-man cover guy and blitzer who drops back to play cover two, while Goldson plays the other half of the field or drops down to play a hook-to-curl or flat zone.
The greatest avenue of improvement the Saints' defense would experience is in mentality. Goldson expects to create turnovers and make big plays on the football. No quality is more needed on the New Orleans defense.
For that reason, the Saints ought to throw everything and the kitchen sink to acquire either Goldson or D'Qwell Jackson (more on him here) this offseason, if not both. 
Of course, signing Goldson would require a reworking of Roman Harper's huge contract, and could make it more difficult to bring back tier-two free agents such as Tracy Porter and Robert Meachem.
But the addition of Goldson could downplay those losses to such a degree that they no longer are even large losses. 
Here's the ultimate point. The Saints need a player who is going to come in and make a Darren Sharper-type difference.
Christian Petersen/Getty Images
That player doesn't have to be a free safety. It could be a pass rusher (Cliff Avril, anyone?), it could be a linebacker who makes 160 tackles and causes a myriad of other big plays, or a safety who lets nothing get by him and makes big plays too. 
I have yet to find a player likely to be available at pick No. 59 in the NFL Draft who is going to come in and be that guy right away in 2012. The three defenders I have highlighted the past week are the most likely to do that for the New Orleans defense.
Perhaps only one is needed. Maybe two can be had. All three would make the New Orleans defense almost as good a unit as its offense was in 2011. 
No matter what the Saints will be good in 2012. Will they be championship-caliber? Only a whole offseason played out will give us a better idea.