NFL Offseason 2012: Should New Orleans Saints Look at D'Qwell Jackson?
February 8, 2012

Matt Sullivan/Getty Images
This article is the second of a running series on the Saints' free agent and draft targets. The first was a profile of the Chargers' Vincent Jackson. 
In 2011, the New Orleans Saints' linebackers were arguably the finest group on the defense. Jo-Lonn Dunbar stepped in for defensive Captain Jon Vilma, and the defense actually played better during this time. 
But Dunbar also showed an ability to step outside upon Vilma's return and play solidly on the edge. With that said, the Saints could be in position to potentially add one of the finest players in the game in his prime. 
The player I am speaking of is of course Cleveland Browns middle linebacker D'Qwell Jackson. In the 2011 season, the six-year veteran recorded a career-high 158 tackles—a tally good for almost 10 tackles per game.
In addition to that ridiculous number, Jackson also managed 3.5 sacks, three passes defensed, one interception and one forced fumble. Playing on a poor team—but an underrated defense—Jackson stood out as a playmaker.
Though these numbers served as a career year for the Maryland product, they are quite parallel for the rest of his career. Over his six-year pro career D'Qwell has been right around 10 tackles per game every season. His main improvement came in his playmaking ability, though in 2009 those numbers began to improve.
One benefit the Saints—or any other team in the sweepstakes for his services—will appreciate is a reduced cost due to him missing the entire season in 2010. This will drive the cost down on his value, thus making him more affordable than most players of his caliber.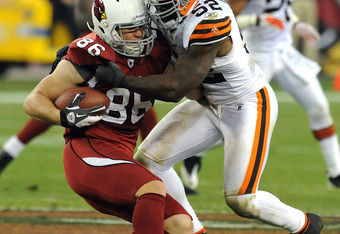 Norm Hall/Getty Images
Those are just some of the factors in play when it comes to the potential acquisition of one D'Qwell Jackson. Following is a scouting report—similar to the type Director of Pro Scouting Ryan Pace would undertake for the Saints, and likely has been doing on the Jackson and other potential Saints' free-agent targets.
Pros
There is a ton to like about the 28-year-old D'Qwell Jackson. First among those is the toughness and attitude he exhibited despite playing on a relatively poor football team. Despite knowing his team was out of contention for much of the second half of the 2011 season, he kept fighting hard and played just about every defensive down for his team.
In addition to that, Jackson proved himself to be the ultimate team player as his production all came within the scope of the defense. He always played his assignment—which actually made him a better football player. Along those lines, Jackson found himself around the football on nearly every play.
He exhibited great range in zone coverage combined with exceptional football instincts whether we're talking run or pass. And he excels in taking great angles to the football, something that cannot be said about all of the Saints' defenders. This attribute is one reason he wraps up as well as any defender in the league.
Among his other impressive traits is his ability to ward off blockers using his hands and great effort. Part of that is due to superior athleticism—part of it due to great effort. Either way, there's a lot to like about this linebacker just coming into his prime.
Cons
After four-full games of tape study, I came up with just three marks against Jackson—and I don't even feel confident bringing these up in such a forum. But at the risk of making Jackson sound like the best player to ever play the game, here are just a couple things Jackson needs to improve upon.
Against zone runs, Jackson's instincts tend to take over causing him to fly up quickly into a wide open hole and get eaten up by offensive linemen. Second, despite exceptional athleticism and effort, Jackson tends to lack sideline-to-sideline range—which is common for middle linebackers.
And though he won't be asked to do much blitzing in a New Orleans' defense, it should be noted he lacks elite pass-rushing skills.
Three questions come to mind in terms of Jackson's ability to play in the New Orleans' defense: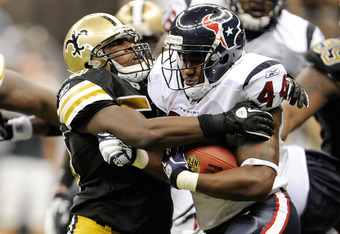 Stacy Revere/Getty Images
First off, can he improve the Saints' linebackers' man-to-man coverage abilities?
Second, what would happen should the Saints decide to sign Jackson and keep Jonathan Vilma?
Could the two co-exist?
Jackson's Role in New Orleans Should He Be Signed
I'll answer the latter question first. If the Saints decide to pursue Jackson and are able to ink him to a deal, Vilma would likely be out. It isn't so much that the two could not co-exist, but more that the Saints would be better off with Jackson-Dunbar-Casillas starting core than any other potential combination of players the Saints could role out.
Because Jo-Lonn Dunbar proved this season he could play the middle and outside, Dunbar would move outside and Jackson would assume control of the Saints' defense.
If the Saints are to make such a move, why not now when they are also switching to a new defensive coordinator?
Jackson would obviously call the defense and immediately improve the Saints' ability to wrap up ball-carriers. The run defense would improve its ability to eliminate big runs and deep throws over the middle would become a less effective option on the Saints' defense.
The Saints' defense would become a more physical unit that tends to intimidate opposing offenses. And Jackson would help improve pass coverage—giving the front four more time to effectively rush the passer.
It's hard to imagine a negative aspect to such a move. Only time will tell how well it would actually work should it happen.