Patriots' Future: Belichick, Brady Make Way for McDaniels, Mallett
February 13, 2012

A. Messerschmidt/Getty Images
Although Patriot Nation has had time to rinse the bitter taste of the Super Bowl loss from its collective palate, the following reality check may take the whole lot back to the brink.
Bill Belichick and Tom Brady will not be around forever.
Sure, this is stating the obvious. But the obvious isn't always apparent to sports fans, especially ones that follow a team as a successful as the New England Patriots.
Now, Belichick and Brady still have a few more years to win another championship. However, the sun is quickly setting on their illustrious time together. Soon, their names will be spoken in the past tense.
Before Pats fans head for the Sagamore Bridge, they should take a deep breath and read on.
Although the loss of Belichick and Brady will be painful, it need not be fatal. The Pats shouldn't end up like the Indianapolis Colts—ill-prepared and in shambles without Peyton Manning.
In fact, the pieces are in place for the team to have the smoothest transition in an empire's leadership since Augustus took over for Julius Caesar.
(Actually, that process didn't go smoothly at all, especially for Julius, who was assassinated. Plus, Augustus had to fight for the throne with Marc Antony, not to be confused with Marc Anthony, the former Mr. Jennifer Lopez.)
But, I digress.
Indeed, the Patriots' future is currently part of its present, namely in Josh McDaniels and Ryan Mallett.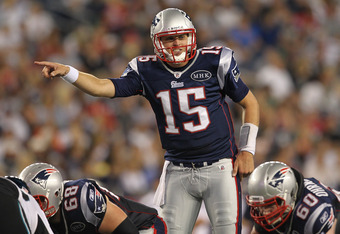 Jim Rogash/Getty Images
McDaniels is the perfect heir to the throne. In fact, his path is eerily similar to Belichick's.
Like Belichick, McDaniels was a gifted coordinator for a successful team.
Like Belichick, he had a disastrous first run as a head coach.
Like Belichick, he found salvation in his former mentor.
And like Belichick, he is ready for redemption.
Hopefully, McDaniels has learned from his past foibles like Belichick did and will grow from them. If so, the transition would be a seamless one.
Ryan Mallett—the other half of the equation—has a unique opportunity to be a pupil of one of the best quarterbacks to play the game. He can sit back for the next few years and learn from Brady, pick his brain. When the time comes for Brady to hang up his cleats, Mallett will be ready to go.
All of this doesn't mean that a McDaniels/Mallett tenure would be as glorious as the Belichick/Brady one, but it does mean that the Pats have the potential to continue to thrive.
In other words, they aren't the Colts.