Rajon Rondo Is the Tom Brady of the Celtics; Don't Trade Him, Build Around Him
February 13, 2012

At this point, I've just about given up trying to convince everyone that Rajon Rondo is the best point guard in the league. I tried, I really did.
It seems like every time I suggest that he's the future of the Celtics franchise, the trade rumors start all over again and Rondo's era in Boston looks like it'll end before it ever really starts. 
The longer the Celtics go with refusing to disband the Big Three, the clearer it becomes to me that they don't want to leave this team in Rondo's hands.
The Celtics are headed for a one-and-done playoff situation. Why? Because they have only one player on their roster who's in his prime. Rondo. That's it. 
In contrast, the Patriots have eight guys who were chosen for the Pro Bowl last January. Tom Brady won MVP for the second time in 2010. Rob Gronkowski and Aaron Hernandez haven't even hit their prime years yet and they're already superstars. The Patriots have a list of young, raw-talent guys who will be elite one day.
The Bruins have a list of vicious players performing at an elite level: Milan Lucic, Brad Marchand, Patrice Bergeron, Zdeno Chara and Tim Thomas, just to name a few.
Even with prime guys like David Krejci struggling with inconsistency and Nathan Horton battling concussion symptoms, the team is still incredibly deep and ready to win another Stanley Cup. 
Tyler Seguin is so good and so young, he won't be in his prime for another few years. It's scary to think about how great he will be. Seguin could have four or five Stanley Cups by the time he retires. Like Rondo, he represents the future of his franchise.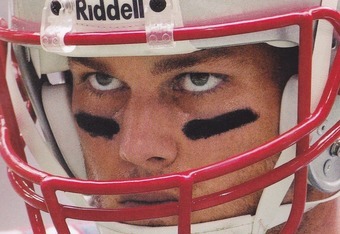 Brady is 34. Patrice Bergeron is 26. The age of a leader doesn't matter, just as long as the leader is playing at an elite level. Right now, the Celtics have only one damn player who's playing the best basketball of his career, and he's only 25.
They have one player who gets better every year, and that's the guy the Celtics want to trade. I can't believe there's anyone in Celtics management who's looking at this team and thinking, "Yeah, if we get rid of Rondo, we'll be on the right track. This team is going places!" 
This team isn't going anywhere.
Derrick Rose didn't play on Sunday, and the Bulls still almost beat the Celtics. In a seven-game slugfest with an elite team, the Celtics won't have the juice to get it done. The players themselves aren't at fault; poor management simply hasn't put the proper pieces in place to win.
The longer we keep making excuses for the Celtics and refuse to fix the problems, the longer we'll continue being disappointed.
Many fans are frustrated about last week's game against the Lakers. The fact that Los Angeles was gift-wrapping open jumpshots for Rondo down the stretch, thereby bottling up the rest of Boston's offense, is concerning.
To a certain extent, that line of thinking is absolutely correct.
However, the disrespect that Rondo gets as a shooter wouldn't be a problem if Boston had more dominant players on offense. The Celtics simply don't have any unstoppable scorers.
If anything, every offensive threat on the Celtics is pretty stoppable. It's not as bad as Chris Paul's former situation in New Orleans, but it's similar. You have a great point guard playing with guys who can't score on demand. It's why Paul wanted to go to the Lakers or the Clippers, and it's why the Celtics will keep struggling if new players aren't brought into the fold.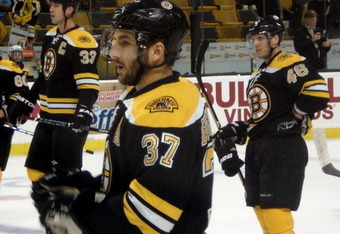 During the Celtics' championship run a few years ago, Rondo had those dominant guys to rely on. Kevin Garnett was an absolute beast; he imposed his will on opponents like a maniac. Ray Allen was lethal. Down the stretch of a big game, Paul Pierce was the man. Pierce is still one of the five most important Celtics of all time, but is he still unstoppable right now? Is he in his prime? Is Garnett? Is Allen?
It isn't disrespectful to ask these questions. If you owned the Celtics, these are the questions you'd have to ask yourself.
Well, in a sense, you do own the Celtics. You own them because you're fans, and the team belongs to the fans. That means you and I are part owners of this team. The ultimate goal is to beat the Heat and the Lakers. In a seven-game series, can we beat those teams right now? I don't think we can. So, we can either stay on this course, or we can act and make big changes. 
The thought of Pierce in a different jersey makes me sick to my stomach. But if we can trade him for a young player (or several young players) who can help us beat the Heat in the playoffs, then it simply must be done. I'm willing to do anything to keep the Heat from winning the trophy.
If we can get some dominant players in exchange for one or two of the Big Three, we have to pull the trigger. We have to make that trade, despite the emotional pain involved. 
The Patriots have been trading and releasing legendary players for years, and they continually do it without emotion. It's never personal, and it never affects the legacy of the players. You do whatever you have to do to improve the team.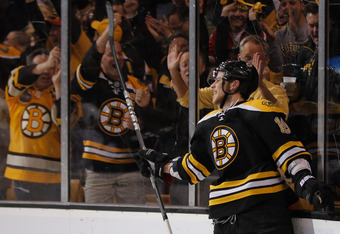 If Rondo had legitimate offensive weapons, it wouldn't matter if he shot 70 percent from the field or 5 percent from the field. It wouldn't matter if defenders played right up on him or six feet away, because he'd have guys who can score. 
Rondo has no elite weapons to work with, so his weakness as a shooter stands out more. When teams play five feet off him, it makes him look like a schmuck. But it's not Rondo's fault. Danny Ainge hasn't given Rondo a scorer in his prime who can make the big play on a consistent basis. 
For years now, Rondo's been stuck with the ball at the tail-end of the shot clock because nobody else is open enough or reliable enough to feed the ball to. Allen is smothered in constant coverage; it's amazing that he gets open as often as he does. 
Rondo is the future. He's the best point guard in the league and he's capable of leading the Celtics to glory for another 10 years. He's Brady, he's Bergeron, he's the engine. You don't discard a guy like that, you build around a guy like that. You give that guy the weapons to win. 
Ainge should sit down with the Milwaukee Bucks and find a way to get Brandon Jennings. In exchange, the Bucks can have anyone on the Celtics except Rondo. With Rondo at point guard and Jennings at shooting guard, the Celtics would have a young, raw and unstoppable backcourt.
Consider how many teams will struggle in the postseason, especially in the Western Conference. There are so many teams who would probably be willing to give up a young star in exchange for a seasoned veteran who can provide leadership.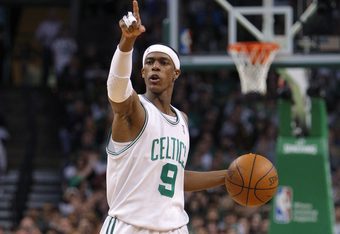 Ainge should sit down with the Kings and see what they want for Tyreke Evans, Marcus Thornton or DeMarcus Cousins. He should sit down with the Grizzlies and sniff out a deal for Rudy Gay or O.J. Mayo.
The Warriors, the Thunder and the Rockets have plenty of young talent that we can use. Likewise, they're probably looking for older leaders to provide wisdom in the event they find themselves in a Western Conference showdown with the Lakers.
Ainge needs to stop offering our youngest and brightest player as the sacrificial lamb. Start rebuilding this ballclub around Rondo. Every team in the league except the Heat will probably be looking to deal with the Celtics, so start inquiring.  
The Knicks clearly play better when they're not clogged with superstars and egos, so maybe it wouldn't be a bad idea for Ainge to reach out and see if New York's looking to trim the fat. I realize there's a rivalry there, but you never know. 
Just do something, Danny Ainge. Do something, and do it without eliminating the only elite player on our team. Rondo is our franchise player now. If we lose him, we lose the future. Realize it now, and don't let this kid go.
Brady won three Super Bowls before he turned 28. Rondo is 25 and he's already got one ring. There's no reason why he can't have two more in the next few years. The Celtics organization needs to stop making excuses and make it happen.