Peyton Manning Rumors: Why the New York Jets Must Pursue Manning
February 13, 2012
Michael Buckner/Getty Images
When the New York Jets were a popular choice as a potential destination for Peyton Manning early on in the saga that has become Manning's NFL future, I thought it was ridiculous.
They already had a quarterback in Mark Sanchez they were committed to—why give up on him so soon?
But after a disappointing season, an offseason that has portrayed the Jets locker room as dysfunctional and the fact they are financially stuck with malcontent Santonio Holmes, Manning may be the only way the Jets can live up to Rex Ryan's yearly Super Bowl prediction.
There's a reason the Jets remain a possible destination for those speculating on Manning's future.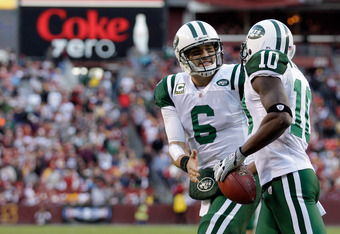 Rob Carr/Getty Images
After all of the drama in New York this year, will Sanchez be able to step into that locker room and assert his leadership? Is he capable of being a franchise quarterback in the first place? And can he and Holmes repair what apparently became a contentious relationship?
Because here is the thing—nobody will question Manning's leadership in any locker room in the NFL. If Holmes has a complaint with Manning, I'm sure he'll be told in no uncertain terms where he can stick that complain and to shut up and do his job.
And the Jets are a team Manning could bring to prominence. He'd likely prefer an upgrade or two at the skill positions on the Jets, but in Dustin Keller and a cooperative Holmes he would have a nice start. And he'd have a defense in place that was better than most of the Colts defenses over the years.
If there was an offseason where the Jets could still get value for Sanchez in a trade, it would be this one. Sanchez is still young, and I believe Pete Carroll and the Seattle Seahawks would have a great deal of interest in Sanchez if he was put on the trade block.
The Jets need to do their due diligence on Manning. If they can bring in a healthy Manning to lead their team and find a trading partner willing to give them back good value for Sanchez, they need to take their chances and make a move.
Because otherwise, they'll risk going into next season with a team and locker room that is anything but stable.
Hit me up on Twitter—I'm #Linning.