Chicago Blackhawks: Is It Time to Fire Joel Quenneville?
February 12, 2012

Jonathan Daniel/Getty Images
I want to start this off by saying I like Joel Quenneville. I think he is a good coach and I appreciate the job he did helping the Hawks hoist the cup in 2010.
With all that being said, I believe it is time for a parting of ways.
With the loss in Phoenix on Saturday, Chicago finds itself in an eight-game losing streak and they have lost 11 straight on the road. It was the sixth time they have been shut out this season.
The biggest problem during this losing streak is we keep seeing the same mistakes night in and night out. They reportedly went back to the basics on defense after the loss to Colorado on Tuesday. We have heard they have worked on the power play and penalty kill, but they continue to struggle.
It seems like Quenneville and the coaching staff have tried everything and for whatever reason this team is just not responding.
The penalty kill is 28th and they are allowing three goals a game, which is good enough for 26th in the league. The offense is scoring 3.1 goals a game, which is good enough for fourth, but the power play is ranked 14th.
A bad defense and a middle-of-the-road power play isn't the recipe for success.
This Blackhawks team has too much talent to be struggling like this. In the past when they have struggled they have always rebounded, but during this losing streak there has been no rebound. It seems like since losing in overtime to Vancouver, it has been nothing but downhill.
With the loss, the eighth-place Coyotes now have 62 points, just three less than the Hawks. With the Kings losing, the Hawks were able to hold onto the sixth seed, and with Colorado losing, the ninth-place team didn't gain any ground. The Hawks only hold a five-point lead on the Avs.
For Quenneville, this has happened before.
He was fired after 61 games in 2004 while he was coaching for the St. Louis Blues. He had a record of 29-23-7-2 back then, which isn't too far off his current record of 29-20-7 after 56 games.
There are a lot of things I could point to about Quenneville's coaching style. He is constantly changing lines, has a quick hook for certain players, refuses to play certain guys and he seems to be stubborn to this system.
For examples, all you have to do is look at guys like Michael Frolik, Sami Lepisto, Viktor Stalberg and the recently acquired Brendan Morrison.
Stalberg and Frolik have bounced from line to line, not just between games, but also between shifts. On Saturday, Frolik went from being on the top line Friday to being a healthy scratch against Phoenix. Stalberg went from the fourth line to the top line by his third shift on Saturday.
Morrison is more of the same. He went from centering the second line, to the fourth line, to being a healthy scratch, to then playing wing on the top line Saturday.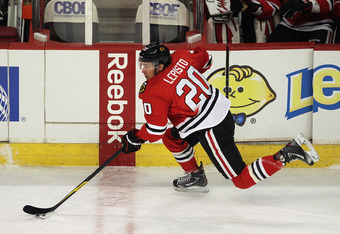 Jonathan Daniel/Getty Images
With Lepisto, it is a very different story. He has only played in 13 games to this point in the season and has never been given a stretch of more than three straight games in the lineup. The only reason he had that stretch was due to injury.
It is hard for me to believe that both John Scott and Sean O'Donnell bring more to the table than Lepisto. He is a plus-four on the season while Scott is even and O'Donnell is a minus-five.
These are just the most recent oddities, but things like this have been going on during his entire four-year run as coach.
Along with Quenneville, I would fire assistant coach Mike Kitchen, who has been in charge of the power play this season. Kitchen actually replaced Quenneville in St. Louis and did lead them to the playoffs, but then he failed to do so the next season before being fired after 28 games in 2007.
The obvious choice to take over is assistant coach Mike Haviland, who has been in the Hawks' system since 2007. He coached their AHL affiliate, the Rockford Icehogs, in 2007 and was then named to the coaching staff for the big club in 2008. Haviland has never been a head coach in the NHL but had a great deal of success in the minors and never missed the playoffs.
Another possible replacement would be senior advisor Scotty Bowman. Bowman is the father of general manager Stan Bowman and has won nine Stanley Cup championships with three different teams. At the age of 78, it may be a long shot that he would return to the bench, but you never know.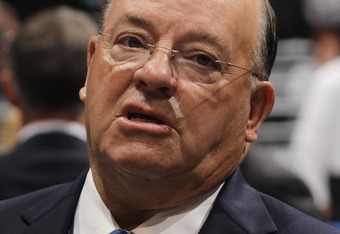 Bruce Bennett/Getty Images
Someone they may look at during the summer would be former assistant coach John Torhetti. He was an assistant on the 2010 team that left after the season and was replaced by Kitchen. Torhetti is currently the head coach of the AHL Houston Aeros, a team that is affiliated with the Minnesota Wild.
Sadly, I think letting Quenneville go might be the only thing to wake this team up. They have a few days off here before traveling to Nashville on Tuesday. They follow up that game with trips to New York to take on the Rangers and then they finish the road trip Saturday in Columbus. They then return home Sunday to take on the Blues.
This might be the best time to do it before it is too late. Let's hope it isn't already.
Make sure to follow me on Twitter @dachicagofan, and check out my weekly Blackhawks podcast every Friday on my site The MG Experience.