Chicago Blackhawks: Special Teams Continue to Struggle Against Sharks
February 11, 2012

Thearon W. Henderson/Getty Images
The Blackhawks lost to the San Jose Sharks 5-3 on Friday, and their special teams were a big reason why.
The loss was their seventh straight and their 10th straight on the road.
It has been hard to tell what the biggest problem is with the Hawks. 
Is it the goaltending leading to bad defense?
Is it bad defense that has lead to bad goaltending?
Also, where has the offense gone?
In 17 games since the New Year the Blackhawks have scored three or more goals only five times. They are currently ranked fourth offensively averaging 3.1 goals a game. They have scored one or less goals four times including one shut out.
Is the bad defense affecting the offense?
It really is hard to tell, but one thing that is clear is that Chicago is struggling on both the power play and penalty kill. The penalty kill is ranked 27th and their power play is ranked 14th in the league.
Currently on this losing streak they have only converted on once on their 18 power play chances. That is under six percent. They are converting on 17 percent for the season.
While on the penalty kill they have allowed seven goals on 23 chances. They are allowing teams to score on 30 percent of their penalties. They are killing 77 percent of penalties on the season.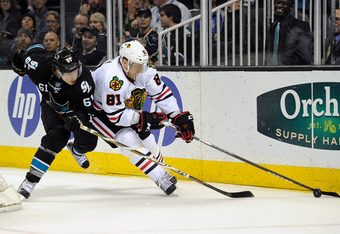 Thearon W. Henderson/Getty Images
Some of their struggles are due to personal problems, and other problems are due to the scheme.
I am not going to pretend to be a coach and explain how coach Quenneville's scheme isn't working, but something needs to change. The Hawks are lacking forwards who are willing to block a shot. Eddie Olczyk pointed out last night how the first two power play goals could have been avoided by Marian Hossa being willing to sacrifice his body.
It would also help if key members of the penalty kill weren't the ones committing penalties.
The power play I feel could be more effective with some personal changes.
I think splitting up the big four of Hossa, Jonathan Toews, Patrick Kane and Patrick Sharp could help make the second unit more effective.
Adding Viktor Stalberg to a unit would also help. He is fifth on the team with 15 goals and all have come at even strength. I would much rather have Stalberg out there instead of Andrew Shaw and Marcus Kruger.
I'd like to see the first unit be Kane, Toews, Sharp, Stalberg and Brent Seabrook. On the second unit I'd have Hossa, Dave Bolland, Andrew Brunette, Duncan Keith and Nick Leddy.
The Hawks are in sixth place heading into play Saturday and are only six points ahead of the ninth spot. Their opponent on Saturday, Phoenix, currently holds the eighth spot and are only five points behind them.
If the Hawks are unable to fix their special teams then they might not have to worry about trading for anyone, because they might be turning into sellers instead of buyers at the trading deadline.
Let's hope they turn it around, otherwise they might be getting an even longer summer vacation then last year.
Make sure to follow me on Twitter @dachicagofan, and check out my weekly Hawks podcast every Friday on my site The MG Experience.