Analyzing the Value of Wes Welker and His Future with the Patriots
February 11, 2012

When you consider Wes Welker's staggering numbers last season, and you add in the fact that his body can only endure a few more years of brutality on the field, it would make sense for him to look for a big contract right now.
But that's where things could get murky.
The more money Welker asks for, the harder it'll be for the Patriots organization to agree to. Elite receiver money generally goes to guys who are legitimate deep threats and virtually unstoppable from making big plays. That money also usually goes to receivers under 30.
Welker is 30. He isn't a deep threat, he isn't known for making the big play, and he's not a true red zone barbarian.
Welker is the guy that gets you down the field, piece-by-piece, and he does it better than anyone in the NFL. 
When it comes to catching the ball and moving the chains, nobody does it better than Welker. He's the best slot receiver in the game.
But there's also a downside.
Welker and Tom Brady have never hooked up for a reception of 20 yards or more in the playoffs. The infamous drop from Super Bowl XLVI was on a pass from 23 yards away.
When you consider the stats, the drop doesn't seem so shocking. When you're negotiating a new contract, this kind of stat can affect the the realistic amount of money involved. Two Super Bowls, zero Lombardi Trophies and zero catches over 20 yards. These numbers matter.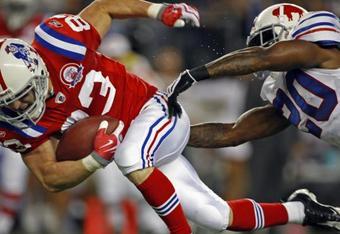 But then again, you can easily refute that claim with two simple words: Mario Manningham.
During Super Bowl XLVI, Manningham exploded for his second-biggest yard game of the season. He also made an unbelievable 38-yard catch that set-up the Giants' game-winning drive.
Manningham wasn't Eli Manning's first target; he wasn't even his second. He was the guy that Bill Belichick was willing to let beat them.
By that rationale, you could argue that a good receiver is capable of making a magical catch in the heat of the moment, no matter what logic and numbers tell you. David Tyree proved that in Super Bowl XLII.
Continuing that thesis, you could argue that Welker can just as easily make the big catch next time. It all depends upon how you view the stats, and how much value you put in them.
So in that sense, numbers can be fuzzy. Statistically speaking, Welker's drop wasn't surprising, but the catches by Tyree and Manningham were baffling.
The numbers are what they are, until they aren't. That's the beauty of sports.
In the 2011 season, Manningham had 39 receptions for 523 yards. Welker had 122 receptions for 1,569 yards.  Welker is clearly the superior player on paper, but that doesn't necessarily mean the Patriots will pay him superior money. They may prefer to pay someone who they believe can make that one golden catch. 
Welker is more of a chain-mover than a big-play guy, and the fans accept that. But the Patriots organization will take that into account if Welker asks for an elite contract.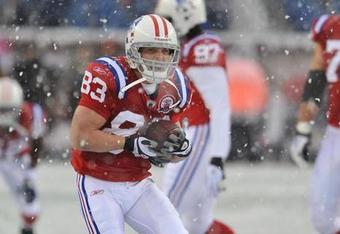 Had Welker made that catch, he could've asked for Copley Square to be renamed "Welker's Square," and the organization probably would've found a way to do it. A Lombardi Trophy changes everything. But without it, questions will be asked and issues will be debated.
As deadly as Welker is at moving the chains, the Giants didn't seem overly afraid of him in Super Bowl XLVI. In fact, the Patriots were far more fearful of Victor Cruz and Hakeem Nicks than the Giants were of Welker.
This could be another issue for the organization to consider.
Welker doesn't affect an opponent's defensive schemes the way Rob Gronkowski does. Opponents know that Welker is only a chain-mover, and they're content to let their defense make an eventual stop. 
In a strange way, Welker represents the bend-don't-break philosophy that Belichick uses against other teams. Belichick allows teams to collect tons of yards, but then he stops them in the red area or limits them to three points. 
It'll be tough for the Patriots to award an elite contract to a receiver that doesn't put six points on the board. 
Welker's bread and butter is picking up downs and collecting yards after the catch, but he's not the guy who ultimately beats you. If Belichick were coaching against Welker, he would let Welker get all the yards his heart desires and then make a critical stop in the red zone.
And yet, despite some downfalls, Wes Welker is still the man. He moves the chains better than anyone else in football, and that's what football's about.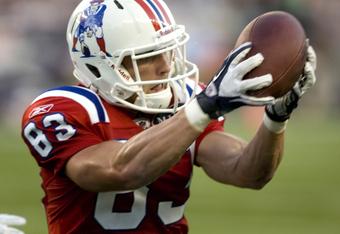 The Patriots need to add a long-ball threat, but they also need to keep Wes Welker. He's Brady's best friend on the field, and he's a big part of why we love this team.
We want him to stay.  
To do that, Welker will have to understand that he isn't Larry Fitzgerald or Calvin Johnson. If he ends up asking for elite money, the Patriots will probably say no.
A reasonable contract must be mutually agreed upon. 
The Patriots should keep Welker, and Welker should accept a rational fee to stay. There's nothing wrong with making under $10 million a year to be on a winning team with great fans in the stands and Brady at the helm.
I think that's more than fair.