Dwight Howard Trade Rumors: Magic Idiotic to Pull Superman off Trade Block
February 9, 2012

Sam Greenwood/Getty Images
The Orlando Magic and owner Rich DeVos need to wake up and realize that Howard isn't going to stay with the franchise long term and that trading him is the only way for the team to move forward.
"I don't want to trade him," DeVos said of Dwight Howard who could become an unrestricted free agent this summer.

That's not exactly "I won't trade him" but it signals what some are beginning to suspect. The Magic aren't in a hurry to trade Howard and aren't going to just give him away.
The Magic don't have the talent on their roster to compete for a championship in the immediate future and also don't have the trade assets necessary to improve the club to a championship level for this season.
Management has tried to get the team back to the NBA Finals since its five-game loss in the championship series in 2009 to the Los Angeles Lakers, but several bad trades by general manager Otis Smith have prevented the team from reaching that level again.
Orlando must look at the LeBron James situation in Cleveland and the Chris Bosh situation in Toronto back in 2010. Both players were the face of their franchises and were upcoming unrestricted free agents, or could opt out of their current deals.
The Cavaliers and Raptors foolishly did not trade them and hoped they could re-sign their star in the summer, but we know now that wasn't going to be the case. It wasn't hard to predict both James and Bosh leaving their teams, and it's even easier to see Howard leaving Orlando this summer.
Since the departure of James from Cleveland and Bosh from Toronto, the Cavaliers and Raptors have gone from playoff contenders to teams at the bottom of the Eastern Conference fighting for the best odds to win the draft lottery.
The Cavaliers were contending in James' final year with the team, which would have made the decision to trade him hard, but it would have been a necessary move that management had to have the courage to make.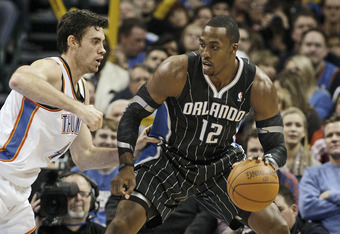 Brett Deering/Getty Images
Orlando is contending right now, but Howard isn't going to stay long term, so what would the Magic rather do, contend now and not make it past the second round in the postseason, or trade Howard and get some young players and/or draft picks for him because he's going to leave anyway?
Trading a player of Howard's caliber is tough to do when you're one of the better teams in the conference, but when you don't have a realistic shot at the title with him now, the decision to deal him becomes much easier.
DeVos is getting older and wants to contend while he's still alive, but he also does not want to pass on a Magic team that isn't going in the right direction to his family when he does pass.
DeVos, who is 85 and in a wheelchair, obviously isn't keen on the idea of starting a major rebuild with the team. If his hand is forced, he would prefer to keep his team competitive for as long as possible. DeVos told reporters he wants to keep the teams in the hands of his family for "forever," and certainly doesn't want to pass on a deteriorating product.
I understand where DeVos is coming from, and if I were 85 and hadn't won a title with my team, I would want to contend now, too. But keeping Howard past the trade deadline and hoping to re-sign him in the summer is a scenario that will inevitably to end in failure.
If Howard isn't traded before the deadline and he leaves in the summer, DeVos will be passing on a deteriorating product to his family.
Nicholas Goss is an NBA featured columnist at Bleacher Report.