5 Reasons Kyrie Irving Is Having Historic Rookie Season for Cleveland Cavaliers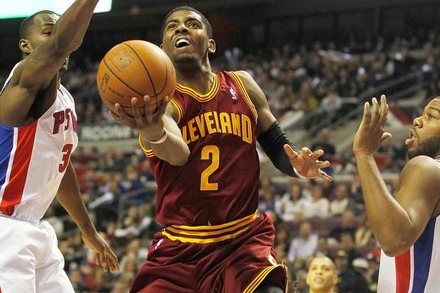 Cleveland Cavaliers rookie point guard Kyrie Irving is in the midst of one of the greatest seasons ever played by a rookie point guard.
Irving, the No. 1 overall pick out of Duke, was expected to be a good player. One injury-riddled season at Duke left a few question marks as to just how good Irving really would be at the next level.
Irving continues to answer those questions emphatically in every game.
Irving is faster, stronger and more athletic than any NBA analyst or player predictor indicated before the draft. The knocks on Irving were that he wasn't fast or athletic enough to create for himself in the NBA. A smart player, many had their doubts on whether he could get to the rim and actually finish.
Nobody has any doubts anymore.
Irving is a master at creating for himself and is proving to be an unstoppable force when he weaves through the lane. He is an incredible finisher with both hands and manages to make several jaw-dropping shots every single game.
Indeed, those questions have been silenced. And Kyrie's critics? They're awfully hard to find.
The following slides examine several of the reasons why Kyrie Irving's rookie campaign is, indeed, historic.
Begin Slideshow

»
To appreciate what Kyrie Irving is able to do in the paint as a point guard, one must understand how rare that ability is.
As Sebastian Pruiti points out,
Irving shoots 63 percent at the rim. This puts him in similar territory with Derrick Rose (62.9 percent), Tony Parker (62.4 percent), and John Wall (58.6 percent). In fact, Irving scores 1.292 points per possession near the rim, which puts him in the top 20 percent of all NBA players, according to Synergy Sports.
That's right. Read that again.
After only being in the league for a little over a month, Irving is finishing at the hoop better than Rose, who is widely considered the best finishing point guard in the NBA.
Game after game, Irving is proving to be more skilled and athletic than anyone predicted. He is already in the upper echelon of NBA players when talking about his ability to finish at the rim, and he should only get better as he continues to figure out the NBA game.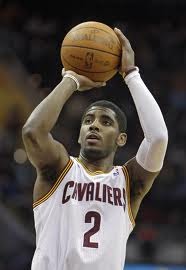 Kyrie Irving's ability to finish at the rim at the rate that he does for such a young point guard is almost unprecedented. That alone would earn him all sorts of honors and recognition.
What sets him apart from other point guards, young and old, is how well-rounded the rest of his scoring abilities are. Irving literally has the ability to score from anywhere on the court, and do it at a high percentage.
Irving currently has the fourth-best shooting percentage of all point guards, behind only Steve Nash, Chris Paul and Mario Chalmers. His mid-range game is phenomenal.
Currently ranked 12th among NBA point guards at 40 percent, Irving is also rock solid from beyond the three-point line. Irving is truly a player that can stretch the defense and make shots from all over the court.
Another nice aspect to his game, when other teams foul him, Irving is shooting a very solid 83 percent from the stripe.
These numbers, in conjunction with his inside numbers, truly make Irving a unique and special offensive weapon like few others in the NBA.
To go along with his inside scoring and half-court offense, Kyrie Irving is simply fantastic in transition.
Often times, players running the fast break have tendencies to either always look for the pass or always look for a shot, regardless of the situation.
Irving always seems to know what move is the right move to make. Often times, he will use his ability to absorb contact and finish with either hand at the rim. When that isn't an option, Kyrie uses his spectacular court vision and passing abilities to create easy shots for his teammates.
Usually, this is a skill that comes with years in the NBA and with a lot of practice with teammates. Irving runs the break with guys like Omri Casspi, Alonzo Gee and Anderson Varejao like they've been doing it for years.
Irving is able to put his impeccable decision-making and precise vision to the test, as he is always looking to run the court for easy baskets. For a young player, it's great to see him be so good without making a lot of transition errors. That's the sign of great things to come in Cleveland.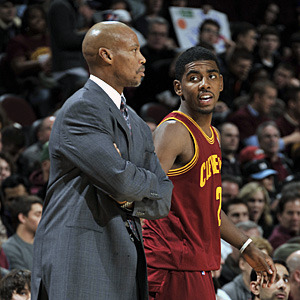 In a season full of unexpected results for Kyrie Irving, perhaps the least surprising element of his game has been his instant leadership. Sure, he's only 19 and in his second month in the NBA, but Irving's leadership skills were well documented before he got to the NBA, and he's been showing those skills since he first donned the wine and gold.
Entering a room full of veterans and players set in their ways, trying to be a rookie leader can be a daunting task. Irving has been up to that task because of his skill, his work ethic and his ability to encourage the players around him.
Tom Reed, of the Cleveland Plain Dealer, wrote about Irving encouraging Omri Casspi during a slump. It was also a hot topic recently when Irving made it a point to discuss Mychel Thompson's first NBA start with him to quell any nerves.
It's due to his willingness to speak up to his teammates and take any criticism onto his shoulders that the Cavaliers are playing so hard around him. He makes the rest of the players want to succeed, and he's clearly made some of his teammates better.
If he's doing this one month into his NBA career, it's fun to imagine watching a team led by Irving a few years down the road.
This may truly be the most impressive factor of the young Kyrie Irving's rookie season. Kyrie is putting up numbers and willing this team to compete every single night, and he's doing it while constantly being compared to, and referred to in the same breath as, LeBron James.
When the Cavaliers won the NBA lottery, the talk of LeBron immediately began again. Analysts would call the draft weak and say that there were no real superstars to be selected. People would say that Irving would be a good player, but no LeBron James.
The Cavaliers' schedule came out and they had zero nationally televised games to highlight their No. 1 pick, something that really never happens.
And throughout all of this, the LeBron talk, the lack of exposure and the doubts, Irving has shined. Playing his usual calm style, Irving has made people notice on his own, without the major exposure. Quietly, Irving is putting up numbers that rival what James did in his rookie year, and in a much more efficient way.
From day one, Kyrie has shown flashes of brilliance that have only grown brighter and brighter. He continues to bring excitement to the fans of Cleveland in a way that few rookies have ever been able to do for their fans.