Kobe Bryant Tops 5 Best NBA Players of the Post-Michael Jordan Era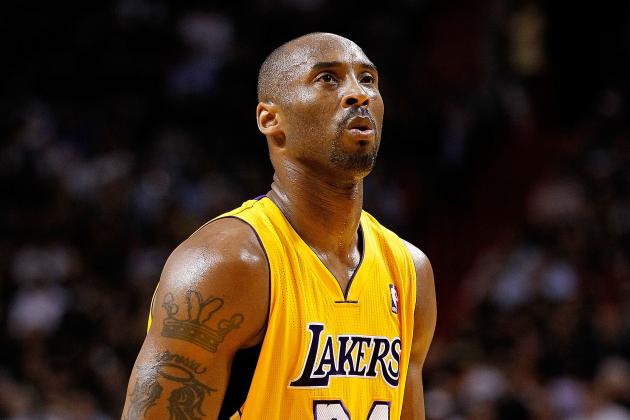 Mike Ehrmann/Getty Images
Kobe Bryant is climbing the all time scoring list.
Two nights ago Kobe Bryant passed his former teammate Shaquille O'Neal to become the NBA's fifth- ranked all-time leading scorer. It's yet another impressive accomplishment in what is becoming an increasingly spectacular career.
The man who was at one point "Robin" to Shaq's "Batman" has completely transformed himself as not just a player but as a leader on the court.
He's still not known as the most likable player on the court, but he leads by example. He works his tail off and is in peak physical condition.
Teams can beat the Lakers, and consequently Kobe as well, but for them to do, so they must outplay them. You can't beat Kobe's effort and his versatile offensive game which still features jaw-dropping athleticism, and now also features back-to-the-basket moves and feathery jumpers.
Kobe Bryant has become as much like the icon he succeeded as any fan of the NBA could have rationally expected. Michael Jordan's legacy is still safe. Through longevity Bryant may end up surpassing some of Jordan's numbers, but Jordan's defense and his six titles as the undisputed leader of his team seem to be safe, for now.
Kobe hasn't been the only player to excel in the post-Jordan era, though. There have been others. Who are the best of the era? Start the post-Jordan era at the conclusion of the 1998 finals.
Yes, Jordan would retire and then return for a less than memorable stint with the Washington Wizards, but his era of true dominance concluded with his 1998 title.
You won't be seeing JaVale McGee, Kwame Brown or Jonathan Bender on this list...
Begin Slideshow

»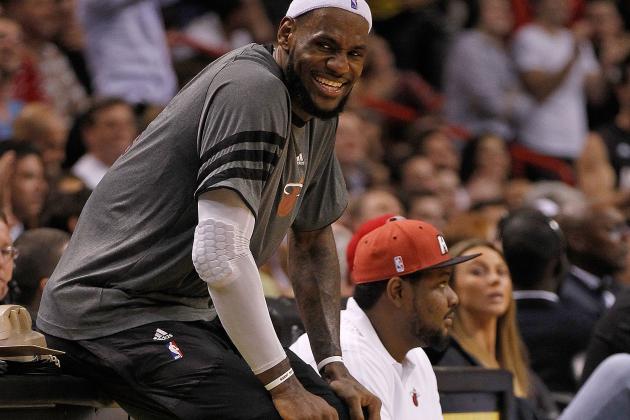 Mike Ehrmann/Getty Images
Still young LeBron has a chance to finish among the all time NBA greats
He might not be the most well-liked player in the league, and it's been well documented that he's yet to win an NBA title. That doesn't change the fact that LeBron James is an absolutely fantastic basketball player with plenty of time to become even better.
If you needed to make a big shot to win a game tonight, you probably wouldn't pick LeBron, but you might not have picked Kobe at the age of 27 either.
James has already won two NBA MVP awards. He's been first-team all-NBA five times and all-defense first-team three times.
James' game is as versatile as almost any in league history. James can run the point from the small forward position; he can jump out of the gym; he can rebound, defend and has added some impressive back-to-the-basket moves as well.
His outside shooting hasn't become automatic yet, and at times he settles for jumpers when he might be better served driving to the basket, but James is a dominant player who is positioned to become better.
James is an outstanding player who would succeed in almost any era. An NBA title for James is a matter of "when" and not "if."
James has earned himself plenty of detractors over the years, but he's still one of the best players in the league. He's also one of the best since Jordan left the league as well.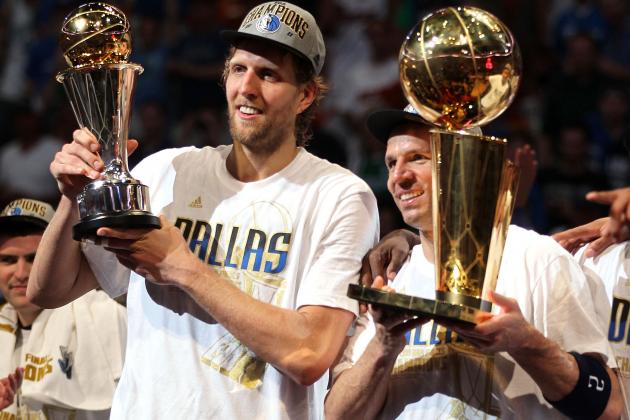 Mike Ehrmann/Getty Images
Dirk was nearly unstoppable in the 2011 NBA Playoffs when he led his team to a title.
Over the course of his NBA career, Dirk Nowitzki has scored more points than Larry Bird, Clyde Drexler or Elgin Baylor.
There's more to his place on this list than that, though.
A lot of it has to do with the run the Dallas Mavericks made last spring in the NBA playoffs. Winning of course always helps. So does shooting and Dirk is one of the great shooters and scorers in NBA history.
Nowitzki has averaged over 22 points per game along with eight rebounds per game. He has shot an impressive .877 from the free-throw line.
The Mavericks were one of the Lakers' toughest rivals in the late '80s when players such as Derek Harper, Rolando Blackman, Mark Aguirre and Roy Tarpley were all in their primes. Once they left, the team went into a prolonged tailspin.
That ended when Nowitzki was drafted by Milwaukee with the ninth pick of the 1998 NBA draft. He was immediately traded to Dallas for Robert "Tractor" Traylor in a thoroughly regrettable deal for the Bucks.
It took Dirk about two years to hit his stride, and then he ran off 11 consecutive seasons in which he averaged over 20 points per game. Dirk won the 2006-2007 NBA MVP award when he averaged almost 25 ppg and nine boards per game.
He's a four-time, first-team all-NBA player, and last year he hoisted the Dallas Mavericks on his shoulders and led them to their first NBA title.
That run was punctuated by a series of big shots in clutch spots. Dirk's 2011 NBA Finals MVP award cemented his place on this list as one of the league's best in the post-Jordan era.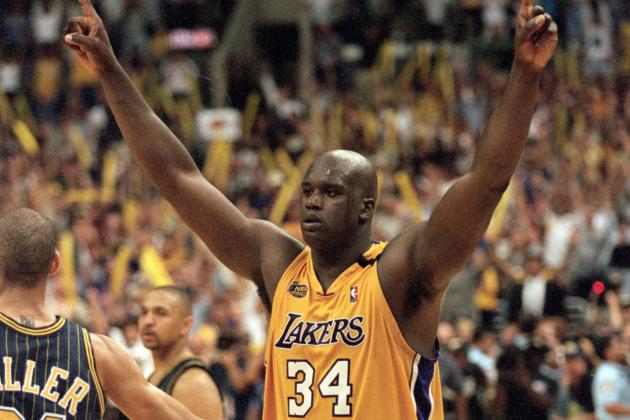 Jed Jacobsohn/Getty Images
Shaq was totally dominant in leading the Lakers to three titles at the turn of the century.
The recently retired Shaquille O'Neal played a good portion of his career while Michael Jordan was still at the top of the league.
His best basketball was played after Jordan's run of dominance was over, though. It was Shaq who was swept out of the NBA finals by the Houston Rockets and Hakeem Olajuwon in the 1995 NBA Finals. It took Shaq a few years to return the the finals, but when he did he was a force to be reckoned with.
Shaq amassed four rings in the period following Jordan's 1998 finals victory over the Utah Jazz.
Seven times since 1998 he led the NBA in field-goal percentage. In the 1999-2000 season, he averaged almost 30 points per game and 13.6 rebounds per game.
He saved some of his best for the postseason, though. Shaq won four rings and won three finals MVP awards in those four finals trips. In the 2000 NBA Finals, he averaged 45 minutes a game, 38 points and 17 rebounds. Those are dominant numbers.
That 2000 finals was against the Indiana Pacers, who didn't have anyone that could match up with Shaq. In 2001 he squared off against the Sixers, who featured arguably the best defensive big man of his era, Dikembe Mutombo.
How did Mutombo fare against Shaq? In Game 1 Shaq had 44 points and 20 rebounds. He followed that up with a Game 2 performance in which he had 28 points, 20 rebounds, nine assists and eight blocks. That's nearly a quadruple-double in an NBA finals game against a Hall of Fame-caliber defender.
Shaq had 30 points, 12 rebounds and four blocks in Game 3 and continued to dominate throughout the series which lasted only five games.
When Shaq left Los Angeles, it was a major blow to the franchise. They had to start over with a new player leading the way. That would eventually work out fine, but in that first season following Shaq's departure, the Lakers went from a 57-win team to a 34-win team. Meanwhile, the Miami Heat, the team that acquired Shaq, went from 42 wins to 59 wins.
That same Miami Heat team would go one to win an NBA title the next season, and while Shaq's most dominant years were then in the past, his presence on the team was a key to the title.
Where Shaq ranks on a list of all-time big men or NBA players in general is debatable. In the post-Jordan era, he's among the very best and that's not debatable.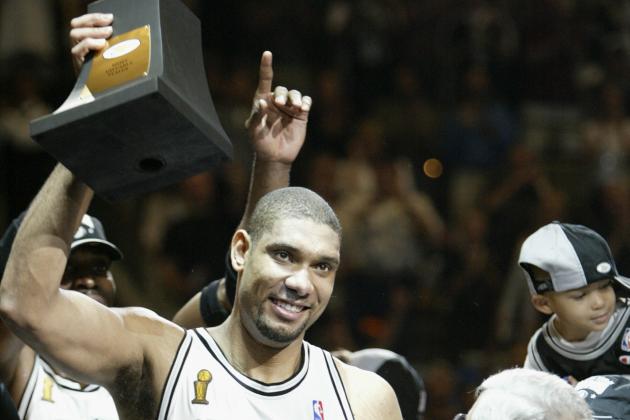 Ezra Shaw/Getty Images
Tim Duncan hoists the 2003 NBA Finals Trophy.
How good is Tim Duncan?
Duncan might be the best power forward ever. A devastating mix of low-post scoring prowess, tough defense and consistency.
A player who has won four rings, two league MVPs and three finals MVP awards. For 10 straight seasons he averaged almost 20 points per game, over 10 rebounds and over two blocks per game.
Look at a list of players with three or more rings. ( Duncan has four.) Most of the players have at least one other Hall of Fame lock in their prime playing alongside them.
Duncan had David Robinson, a Hall of Fame player for sure. Yet, he had him in the waning years of his career. Robinson's 1999 and 2003 seasons were not seasons in which he was at his prime.
Duncan also played alongside Manu Ginobli and Tony Parker, neither of which are Hall of Fame-caliber players. They're very good players, but not Hall of Fame players.
Compare that to Jordan playing alongside Scottie Pippen, or Shaq with Kobe, or Magic with Worthy and Kareem, or Bird with McHale or Parish and Dennis Johnson.
Duncan has somehow quietly put together not just one of the best post-Jordan careers, but one of the all- time great NBA careers, period.
Duncan can face the basket or operate with his back to it. He can rebound, block shots and pass out of the post. If he's not the best power forward of all time, then he's clearly in the discussion.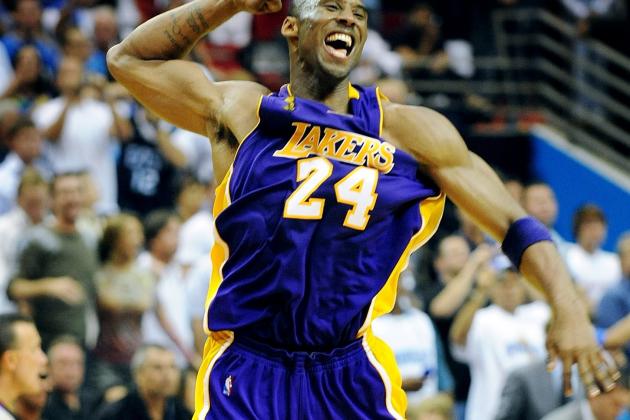 Ronald Martinez/Getty Images
Kobe Bryant celebrates winning the 2009 NBA Finals.
Kobe Bryant is no Michael Jordan, but he has done one thing that Michael Jordan never did.
He changed his on-court role.
From day one of his Chicago Bulls career, Michael Jordan was "the man." He wasn't really given a choice seeing as how the Bulls were a terrible team that desperately needed someone to assume control on the court and begin the process of turning the franchise around.
Jordan did that and then some.
Bryant was different.
Kobe Bryant arrived in the NBA at the age of just 18. He and Shaquille O'Neal both became Lakers in advance of the 1996-1997 season. Shaq was already a dominant force in the NBA. Kobe was a young man with limitless potential but lots of learning to do both on and off the court.
To Kobe's credit, he did it.
It wasn't always the smoothest ride, but growing up almost never is. Kobe was the No. 2 player on the Laker teams that won NBA titles in 2000, 2001 and 2002.
Shaq was the go-to, the primary option on offense. The offense ran through Shaq, and Kobe was the guy who was the No. 1 complement to Shaq's dominance.
It wasn't always harmonious, though, and eventually the egos of both Shaq and Kobe became too large to exist on one court.
The Lakers knew that with Bryant's youth if they had to make a choice between the two players, Kobe was the smart choice. So at the age of 26, Kobe went from being the second option on a great team to " the man."
Initially, he struggled. Kobe had to figure out how to balance his talent and superior basketball ability while still allowing his teammates to flourish. The Lakers and Kobe went through some growing pains. The team missed the playoffs in 2004-2005. They suffered playoff exits the next two seasons before finally reaching the NBA finals in June of 2008.
The 2008 finals were a tough loss for the Los Angeles Lakers who would lose in six games to their hated rivals, the Boston Celtics, and the team, Kobe included, had an embarrassing Game 6 performance in which they were blown out on the road.
Kobe soldiered on, though. He continued to improve his all-around game and his on-court leadership. He didn't wilt following the loss to Boston. He returned stronger and with a greater intensity the next season. The Lakers won the 2009 NBA Finals and then came back the next season to beat the Celtics in seven games.
Back-to-back NBA titles and Kobe was the MVP of both NBA finals. Bryant has won one league MVP award as well. Most impressively though, has been the transformation of Kobe.
Has any NBA superstar ever made such a transition? Pippen was never able to assume the role of a "No. 1" on a team following the breakup of the Bulls, and in the two seasons in which Jordan was absent during the '90s, the Bulls failed to make the finals both years.
NBA fans that are old enough to remember when Kobe arrived in the league may love or hate him, but one thing they can't deny is that he's truly developed as a player.
Kobe has been the young guy that needed to learn how to play in the league; he's been the second option on a dynasty behind one of the league's dominant big men. He's been the primary option while that same franchise rebuilt its team, and then he's been the primary option on a team that advanced to three consecutive NBA finals in which they won two of them.
Through it all of course, Kobe produced. He's now the fifth-leading scorer in NBA history. Only Kareem Abdul-Jabbar, Karl Malone, Michael Jordan and Wilt Chamberlain are ahead of him.
Over the next three seasons, Kobe could pass both Wilt and Jordan on the all-time scoring list. He could also end up matching or even exceeding Jordan's six titles.
That wouldn't automatically make him better than Jordan, but a few things are certain. Kobe Bryant is one of the greatest players to ever play in the NBA, and he's definitely the best player since the era of Michael Jordan's dominance came to an end.