FC Barcelona vs. Valencia: How Barca Can Win the Copa Del Rey
February 8, 2012

David Ramos/Getty Images
FC Barcelona will soon face Valencia CF in the next Copa Del Rey. The road to glory in the Copa Del Rey has not been an easy one for Barca after the matches against Real Madrid, Valencia and Villareal.
The match is expected to take place at Camp Nou in Barcelona, which in theory would give La Blaugrana an advantage. In practice, though, it would not be wise for Barca to rest on its laurels simply  because the match is held at their home stadium.
Barca can not rely on Sergio Busquets after his knee injury. La Blaugrana can not depend on David Villa, Andres Iniesta and Pedro for similar reasons, although their problems are different from Busquets.
What Is the Solution for La Blaugrana?
According to Goal, Pep Guardiola may use the 4-3-3 formation with Jose Manuel Pinto as the goal keeper. The idea is a great one and has delivered excellent results since Pinto does not concede as many goals or as much space as Victor Valdes.
The next proposal would be for La Blaugrana to treat this match as a very important one. Barca was too lenient in their last encounter with Valencia and Villareal.
La Blaugrana have to strengthen their defense with the 4-3-3 formation while going on the attack. Leo Messi will be instrumental in the match, as well as Abidal and Masceherano.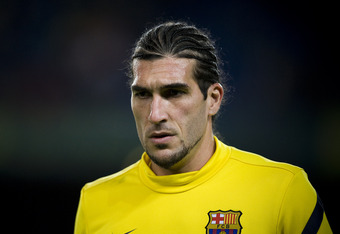 David Ramos/Getty Images
Prediction
I predict that FC Barcelona will defeat Valencia CF by one point. Of course, it remains to be seen what will transpire.