San Francisco 49ers: 5 Players Who Will Benefit from Full Offseason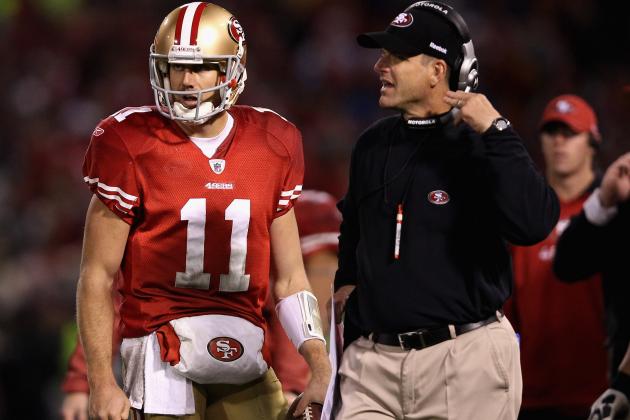 Ezra Shaw/Getty Images

Despite failing to attain the ultimate goal, the 2011 season was one to remember for the San Francisco 49ers.
And to think it almost never happened.
Luckily for the NFL and fans alike, the 132-day stalemate known as the NFL lockout came to an abrupt halt—and the 49ers' return to relevancy ensued shortly thereafter.
But it wasn't just that the 49ers found success in 2011 that caught so many off guard. The confidence and dedication exerted by 49ers' management in the hiring of coveted head coach Jim Harbaugh hinted that a turnaround was on its way.
But so soon?
Not even the craziest members of the 49ers faithful could've imagined so much success in so little time. Heck, if any team was to get the short end of the stick from the lockout-shortened offseason, it was this squad.
So the 49ers can march into the 2012 season with their heads held high. Their first-year head coach and his staff have provided a talent-laden franchise with a stable environment for years to come.
But San Francisco certainly can't afford to reflect on the 2011 season for long. The defending NFC West champions have some serious challenges awaiting in the future.
The rest of the division looks to hunt down the 49ers in 2012, and road matchups against the Packers, Patriots and Saints give the impression that San Fran will need to make the most of its first full offseason under Harbaugh's leadership.
But which players will benefit most from the extra tutelage?
Let's look at five 49ers who may shine through in 2012 with the added time to be polished.
Begin Slideshow

»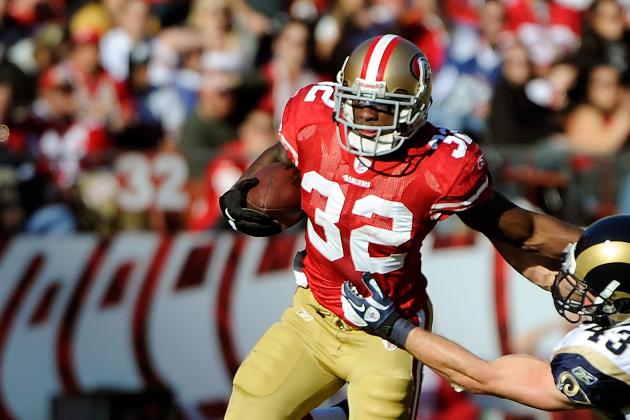 Thearon W. Henderson/Getty Images
A full training camp could lead to a breakout campaign for Hunter in 2012.
With all the attention on Aldon Smith for his rookie contributions, it's somewhat easy to overlook how important Kendall Hunter was to the team's offense in his first season.
The Oklahoma State running back was snagged in Round 4 of last year's draft, and Hunter certainly made good on the opportunity.
Despite assumptions that the lockout would be especially tough on the rookies, Hunter became a key contributor on offense as early as Week 3 against Cincinnati, and quickly earned a spot as the backup behind star running back, Frank Gore.
The elusiveness of the 5'7", 199-pound back allowed Hunter to amass a total of 473 rushing yards on just 112 carries in his first season, going for an average of 4.2 yards per rush. In the last two games of the season he went for 149 yards on just 28 carries, while the 49ers rested Gore for the future playoff run.
It should also be stated that Hunter is an intriguing threat in the passing game, proving so with 16 receptions for 195 yards out of the backfield.
Perhaps what deserves the highest notice, however, was the rookie's amazing ability to secure the pigskin, never once losing a fumble in 128 total touches during the season.
With a full offseason ahead—and plenty of time to learn the intricacies of the offensive game—there is no reason to think Hunter won't flourish in his second season with the team.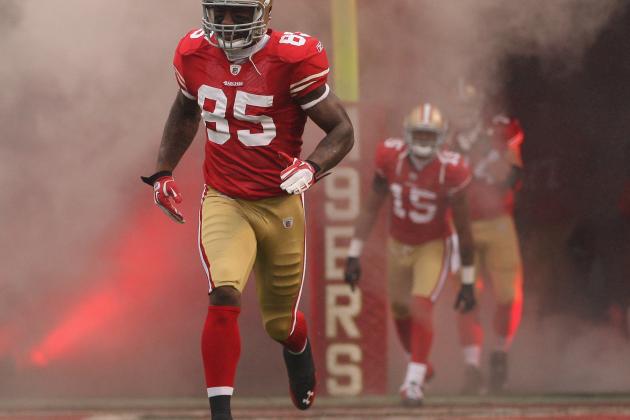 Ezra Shaw/Getty Images
Will the confidence gained in the playoffs lead to a breakout season for Vernon Davis?
Soon entering his seventh NFL season for the 49ers, Davis is one of many talented first-round picks paying dividends for the franchise.
That wasn't always the case for the tight end, who's been through his fair share of rough patches during his career. Early on, he went though multiple disappointing seasons from a statistical standpoint.
Then there was the famed clash with coach Mike Singletary in 2008, which seemingly brought Davis' lack of dedication and ever-lasting immaturity to its pinnacle.
It was then that Davis decided to put the team's needs before his own, and a true leader emerged.
Despite a sub-par statistical performance during the 2011 season, I believe it was by far his best year to date. The lack of a proper offseason caused Harbaugh and his staff to rely heavily on the running game the first half of the year, and Davis' targets in the passing game suffered as a result.
But the lack of balls being thrown his way provided a chance for his versatility to shine. Davis has improved each year as a blocker, and was a key factor in the 49ers' eighth-ranked rushing attack this season.
Instead of growing impatient and again being a focus of the media, Vernon took his previous experiences to heart and bought into Harbaugh's system, contributing in any way necessary.
The 2012 NFL playoffs were a prime example of that patience paying off for the star tight end, and the cohesion currently being developed between Davis and quarterback Alex Smith would hold irreplaceable value heading into the future.
What can Davis accomplish with his new-found leadership and continued dedication to his franchise?
Only time will truly tell, but I believe his first 1,000-yard season may soon be on its way.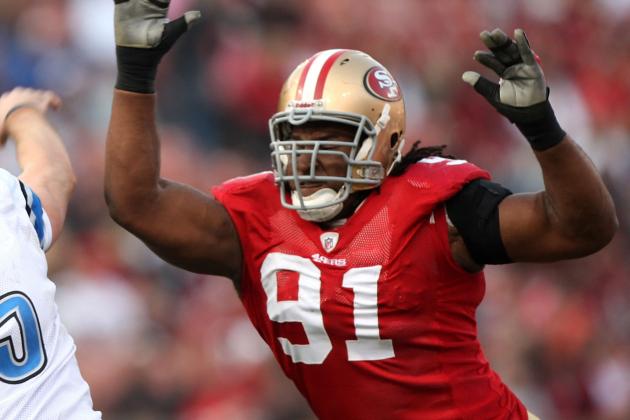 Jed Jacobsohn/Getty Images
The 49ers defensive end made good on his first opportunity as a starter.
The 2011 season provided a special opportunity for McDonald. It was his fifth season with the 49ers, but first chance to be a full-time starter at defensive end.
While we can't say he out-performed his counterpart Justin Smith, it can be said that McDonald was yet another driving force in the 49ers' relentless defensive attack during the '11 season.
A key contributor in what was the league's top-ranked run defense, he also tallied 5.5 sacks despite dealing with a hamstring pull for part of the year.
Given a full offseason to add to an impressive first audition as a starter, McDonald could end up as one of the more affordable and underrated ends in the NFL.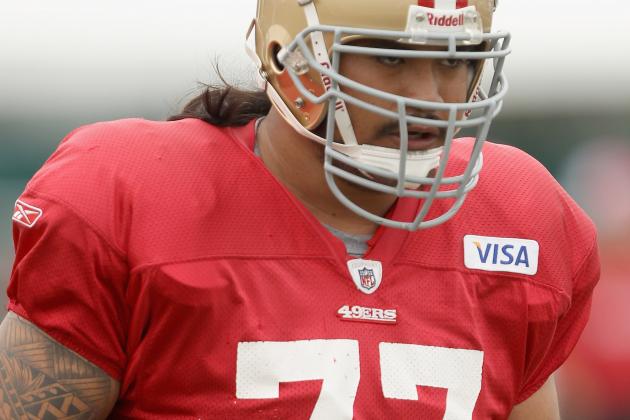 Ezra Shaw/Getty Images
Iupati played relatively well in 2011, but will need to show continued improvement next year.
The offensive line will certainly be an area to watch for San Francisco as they move forward.
With that said, many of those eyes will be directed toward Iupati as he enters his third season at left guard.
Yet another early first-round pick, the 6'5", 331-pound lineman is entering his third season in the NFL, all as a starter. He performed respectably in 2011, especially late in the season.
However, the road-grader from the University of Idaho has unlimited potential, and will need a full offseason to continue to climb.
Outside of quarterback, I can't imagine a position in need of a full training camp more than the offensive line. The extra time should bode well for a unit that struggled to co-exist early in 2011, and Iupati, as well as other youngsters like Anthony Davis, are expected to make the most of it.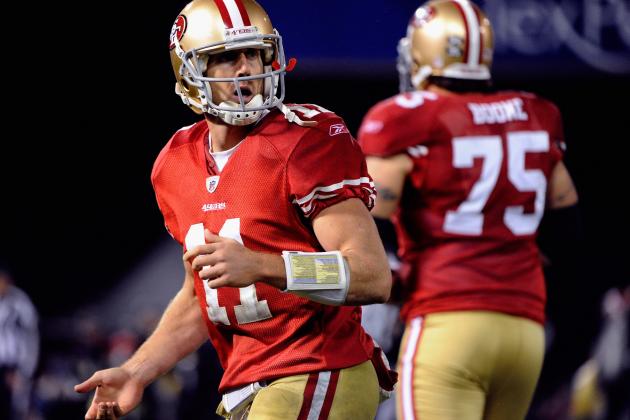 Thearon W. Henderson/Getty Images
All signs point to Alex Smith returning under center for San Francisco in 2012.
The ultimate redemption.
With fans, critics, and even his own family telling him it was best to start over, it was Smith's utter determination—and Harbaugh's signal-calling experience—that kept Smith by the bay.
The formula worked, and the 49ers' quarterback finally prospered under the right tutelage and system. While it's not a guarantee he'll be back in 2012, all signs are pointing to it.
Perhaps there was no greater sign of improvement on Smith's part than his dedication and leadership exerted throughout the past year. He constructed and ran the team's offseason workouts, feeding members of the offense as much of Harbaugh's playbook as they could digest.
Every bit of that leadership translated to the field in 2011.
Despite many breakdowns up front, Smith handled opposing pressure with a new level a poise previously unseen. He took sacks in situations where he may have typically forced a play, leading to a turnover. He simply learned how to relax and let the game come to him.
Sure, he wasn't one of multiple passers to accrue over 4,000 yards passing in 2011. Most of his numbers weren't impressive at all actually. But the meaningful statistics were just where they needed to be.
Smith's 90.7 QB rating was good for ninth-best in the league, and his league-low 10 turnovers among starting quarterbacks in 2011 was one of the biggest factors in the team's 13-3 record.
Needless to say, his playoff performances were exhilarating. Harbaugh knows what he has in Smith as a quarterback, and he wants him to stay.
As long as Smith has mutual feelings, as expected, the long-criticized signal-caller would continue to reap the benefits of working with Harbaugh—a coach who finally knows how to maximize his long-lost potential.