Super Bowl 2012: MVP Eli Manning Leads Giants to Victory
February 6, 2012

Ezra Shaw/Getty Images
Hate to say I told you so, but I felt comfortable in writing the New Giants would win the Super Bowl on Saturday.  On Sunday, they proved it on the field by beating the New England Patriots 21-17.  As a result, they woke up on Monday as Super Bowl champions.
After starting the regular season 7-4 the Giants suddenly lost their groove, losing three straight games.  They found themselves at 7-7, with slim chances of making the playoffs. 
Then, it literally appeared that the team flipped a switch into high-gear.  The Giants ended the season strong, winning their final two games and the division.  They stayed hot during the playoffs and ultimately won the Super Bowl.
I guess it doesn't matter how you start, it's about how you finish that matters most.
Super Bowl MVP Eli Manning cemented his elite-quarterback status by marching his team to victory late in the fourth quarter.  He completed 30-of-40 passes 296 yards, one touchdown and no interceptions.
Manning displayed what I call the three C's during the fourth quarter: He was calm, cool and confident.
Manning has always displayed a calm demeanor when the chips are down.  He never wavered in marching the Giants down the field—he was clutch.
Manning was also very cool.  He displayed total command of the offense.  It was Manning, not Tom Brady, who pulled out the victory when the chips were down with just under 4:00 remaining in the fourth quarter.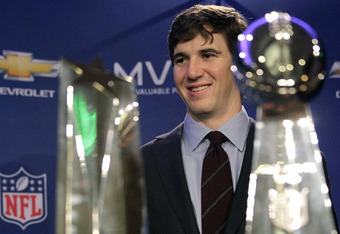 Handout/Getty Images
Lastly, Manning displayed confidence.  To achieve, you must believe. In order to truly believe, one must be confident.  Manning was very confident in the moments that mattered most yesterday.  He never wavered, trusted his teammates and made the critical throws at key moments. 
Manning's father, Archie Manning, has witnessed his son's growth in confidence over the years. 
"He's become confident over time; kind of grew into it,"  Manning said. "I always felt like you have to experience those situations before you become confident. He's certainly had his share."
Without question, Manning has proven he is an elite quarterback.  At the postgame press conference, head coach Tom Coughlin backed up Archie Manning's assessment of what type of quarterback he has leading his team. 
Earlier this season, Manning suggested he, like Brady, is an "elite quarterback" Coughlin stated his elite level can no longer be questioned: "That question has come and gone.  I don't think we will hear about that again."
Meanwhile, the once mighty New England Patriots lost their second Super Bowl to the team that also beat them during the regular season.  As I stated on Saturday, Manning has the Patriots' number and he proved it yesterday.
Backup running back Brandon Jacobs suggested the dynasty the New England Patriots were seeking to build upon was derailed.  Jacobs stated, "We decapitated them," he said. "They can't wear that crown no more."
As Manning makes his rounds at Disney World today, the rest of his teammates are headed back to New York to finish celebrating winning their second Super Bowl title in five years. 
Congrats to the New York Giants—a job well done in becoming the first 9-7 team to win a Super Bowl title. 
Just goes to show you, it doesn't matter how you start, it's about how you finish.
Email Dexter directly:  drttcd@gmail.com

Follow Dexter on Twitter: @DextersVPoint

Watch Dexter's Joe Gilliam Movie Trailer