Patriots vs. Giants: 3 Players Who Gained Most Stock from Super Bowl XLVI
February 6, 2012

Rob Carr/Getty Images
The New York Giants saw their overall stock rise after their solid contributions to the team's win in Super Bowl XLVI. 
Yes, Eli Manning is one of them. 
There's no question he's elite after winning his second Super Bowl MVP and after that ridiculous toss he made to Mario Manningham on the game-winning drive. 
Let's take a look at three, more unheralded guys that gained the most from Super Bowl XLVI. 
Chase Blackburn, LB, Giants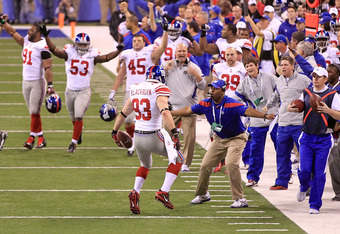 Chris Trotman/Getty Images
Blackburn ended the game with six tackles and, most notably, a huge interception in the fourth quarter. The 6'3'', 247-pound linebacker actually boxed out Rob Gronkowski. He's now a free agent and should garner more attention around the league.
This Akron product isn't tremendous in any one aspect of the game, but he played fantastic down the stretch. He was supposed to be a situational guy in 2011, but was forced into a starting role and played extremely well.  
Mario Manningham, WR, Giants 
Manning had been deservedly overshadowed by the emerging duo of big-time wideout teammates Hakeem Nicks and Victor Cruz.
No one ever looked at Manningham as a bad player, but he certainly receives the least amount of notoriety. 
After his Super Bowl XLVI effort, more specifically the plays he made during the game-winning drive, it will undoubtedly have a positive effect on his stock. 
His 38-yard sideline grab was the play of the game for the Giants, and he reeled in two more passes for 18 yards en route to the go-ahead score. 
He has cemented himself as a reliable, go-to slot receiver that can come up large in the biggest games. Like Blackburn, Manningham is a free agent this year. 
Ahmad Bradshaw, RB, Giants 
Bradshaw is the most recognizable name of this group, but his Super Bowl performance cannot be ignored.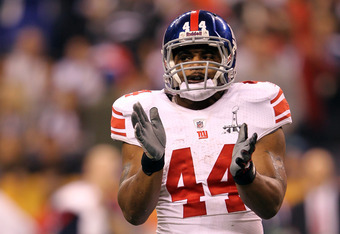 Jamie Squire/Getty Images
He carried the ball 17 times for 72 hard-earned yards and scored the game-winner. He also added two catches for 19 yards. 
Bradshaw, although small and compact, once again displayed his profound tenacity, toughness and ability to succeed. 
I don't see him leaving the G-Men, and people still won't put him in the the league's top running back discussion, but his resiliency and clutch performances make him a back I'd love to have on my team.