Super Bowl 2012: Why This Patriots Loss Is Unbelievably Painful
February 6, 2012

The pain is intense, and it goes much deeper than just the loss. In many ways, it feels like a dream. It feels like we haven't played yet, and today's the real game.
Could we really lose the same way to the same team? The question nagged at us for the last two weeks. It was a tight rope walk between the impossible and the possible.  
There was a nagging suspicion in all of us that this might happen. The suspicion was there because of the rematch from earlier this season; the Patriots failed to fix the mistakes they made in Super Bowl XLII. The game was a carbon copy of our most horrible loss. Surely, this could not happen three times in a row. Twice, maybe. But three? Wait, why did it even happen twice?
We had reason to be confident. This Patriots team was special. But deep down, Patriot Nation suspected this could be coming. At the same time, though, it seemed so impossible. Three straight games? Three straight losses to the same team? Three straight struggles with zero adjustments? Three straight failures to protect Tom Brady? Three straight low-scoring games?
The 2011 season was magical. In many ways, it was more magical than 2007. Sure, 2007 had the perfect streak going, but who cares about a perfect season? Championships matter more than anything, and this year felt like the year. Nothing beats the sight of your favorite players hoisting the Lombardi Trophy, and this season just felt good in all the right ways.
MHK really had a special meaning for us this season. We all felt it. There was something very, very special about our boys this year. We wanted this badly for Mr. Kraft, and for Brady too.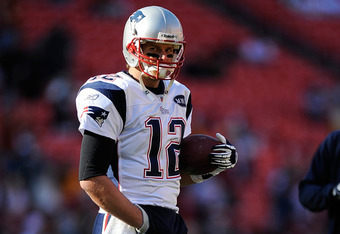 It's difficult to process all the things that went wrong in this game. But at the same time, none of it was surprising; we saw it against the Giants earlier this season. The same mistakes were made. How many times can you watch the same game before you start to feel like you're watching the same movie over and over?
This one hurts.
It was painful to see Bill Belichick at a loss for this Giants team. Let's be honest, that's really what happened here. Coach Belichick was out of ideas. It's not an accusation, it's the cold hard truth. The man was just out of ideas in the face of a better team. Having two big games on film didn't do anything to spark a new game plan. Same game plan, same results. It makes you yearn for the glory days when Ernie Adams and Bill Belichick were in total control, and Tom Brady was simply fearless.
This one hurts. We wanted to see Tom Brady jump past Joe Montana in the history books. This win would've done that; it would've solved the great quarterback debate for good. And the worst part is that it seemed over in the first quarter. Once again, the Patriots never looked like they were dictating the flow of how the Giants played. The lower the score remained, the bleaker it all seemed. 
Even when we scored, it seemed empty. If we didn't rack up enough points, we knew what Eli Manning would do. We just knew. When the game ended, there was no surprise. There was nothing.
I have some friends who are Giants fans, and I spoke to them after the game. None of them seemed overly excited by this win. It seems that they felt a lot of the same things as us. They weren't surprised that the score was so low, and they weren't surprised by Manning's heroics. All around, it was a flat feeling for everyone. It was like watching the same game all over again.
We place Brady up in the rafters with Bobby Orr and Bill Russell, but we do it because we're Patriots fans. This win really would've made it official. We would've had our core trio locked down forever. Is Brady still up there? Of course he is. But damn, this stings.
Patriot Nation, you aren't alone. Most of the country may have been rooting against the Patriots, but there are a lot of people out there who share your pain. This is a rough situation. It's a tough way to end a truly wonderful season.