12 Players Responsible for the Success of the New York Giants' Dynasty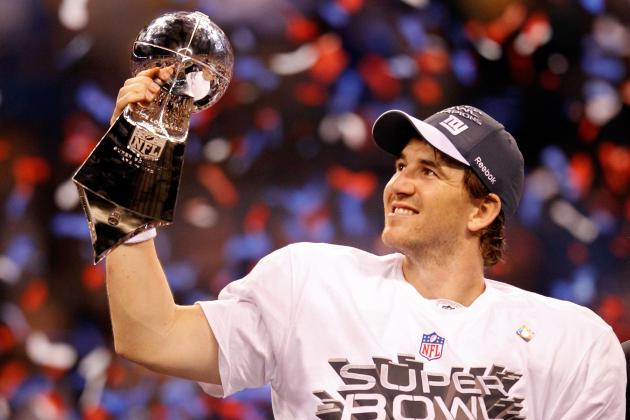 Rob Carr/Getty Images

"The city that never sleeps" was just given another reason to avoid hitting the hay.
Against all odds, the New York Giants are Super Bowl champions.
On Sunday, the G-Men survived Tom Brady's formidable aerial attack, a surprisingly sturdy Patriots defense, and a truly eccentric halftime show, emerging with their second title in four years. Eli Manning silenced his critics once again, Tom Coughlin polished his Canton resume, and Big Blue solidified its status as a dynasty in professional sports.
True, the Giants are a testament to the power of team chemistry, but the past five years have been dominated by a select few individuals who continue to engrave their names in Big Apple history. The Giants appear to have de-throned the Patriots, the Steelers, the Packers, and the rest of the league's juggernauts thanks to a few superstars as well as some unsung heroes.
In honor of their victory in Super Bowl XLVI, let's take a look at a dozen players who have contributed to the Giants' successful regime.
Begin Slideshow

»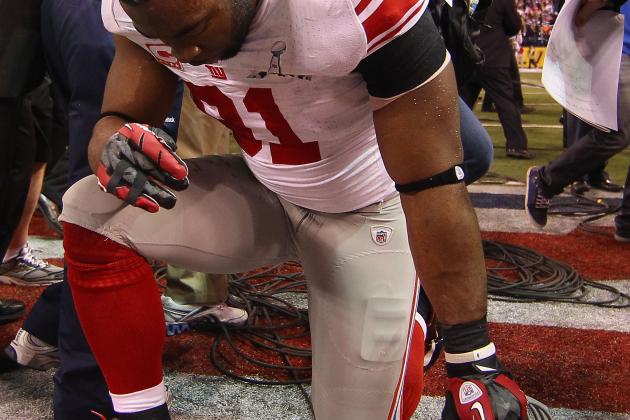 Ezra Shaw/Getty Images

It's almost shamelessly cliché, but it still rings true: defense wins championships.
Perhaps the Giants have re-written this common football adage. "Defensive lines win championships" would be more fitting.
Justin Tuck has anchored Big Blue's ferocious pass rush for half a decade now. His performance in Super Bowl XLII garnered some serious acclaim—he tallied two sacks, a forced fumble, and a good amount of game MVP consideration.
Tuck was vital in transitioning New York's defense in the post-Strahan era. A viable captain, an electrifying fan favorite, and a prime-time clutch performer, Tuck has averaged 8.9 sacks and 3.4 forced fumbles per season since 2007, the year this Big Blue dynasty was formed.
Moreover, his postseason play has been spectacular. In 2011-12's NFC Championship game, Tuck had 1.5 sacks. On Super Sunday, he added two more.
Without Tuck's stand-out abilities on the line, it's hard to imagine Coughlin and company leading a Manhattan parade this week.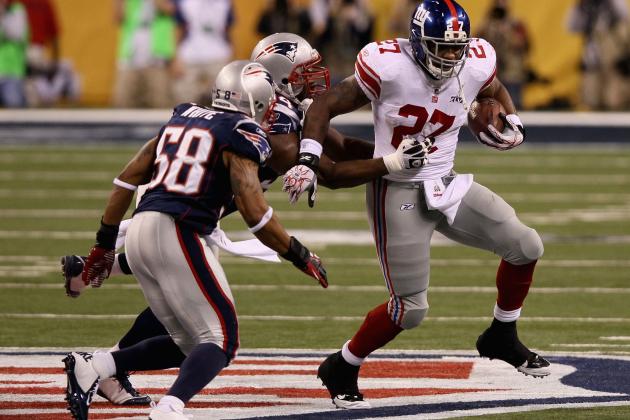 Win McNamee/Getty Images

New York's bruising back has had trouble holding back his opinions with opposing players and the local press.
Luckily for the Giants faithful, he's had no trouble holding back on the gridiron either.
Though he's made a few negative headlines in recent years, Jacobs has still developed a reputation around the league for his physical, fearless style of play. The seven-year pro has averaged at least five yards per carry in three of the last five seasons.
Furthermore, his undeniable nose for the end zone has stabilized New York's offense and has fostered the development of quarterback Eli Manning.
Dynasties are built when successful teams establish sustainability. Like Tuck, Jacobs played a pivotal role in transitioning the G-Men after the loss of a marquee starter, this time with Tiki Barber. Following the retirement of the franchise's all-time leading rusher, Jacobs ensured New York's success for future years with a dominant ground game.
With an expiring contract in 2012, New York will likely look to re-sign Jacobs and keep him shaking tacklers at MetLife Stadium for the rest of his career.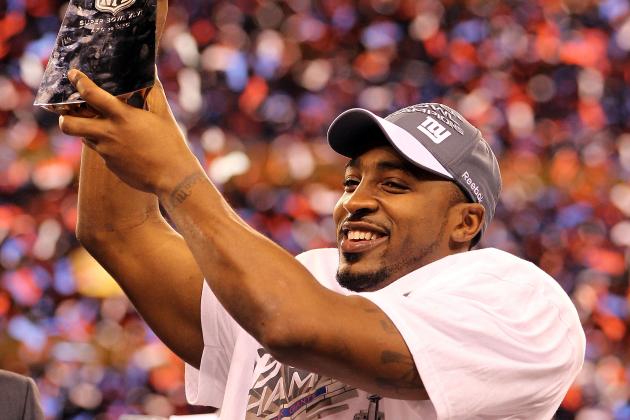 Jamie Squire/Getty Images

Wideout Amani Toomer was a model of consistency and versatility at the position for well over a decade. With his departure from the team in 2008, fans and team personnel alike thought that his presence would be dearly missed.
That spring, the Giants selected Hakeem Nicks with their 29th overall selection in the NFL Draft. Just a few months later, Toomer all but faded from memory.
Nicks has surprisingly intertwined vertical abilities with consistent mid-route play, becoming a top receiver in the league after just a few seasons. The former UNC Tarheel has hauled in eighteen scores in two years, amassing over 75 receptions in both of those campaigns.
On Sunday, he torched New England's unstable secondary for 10 receptions and 109 yards, a key factor in New York's hoisting of the Lombardi Trophy.
Nicks is a physical freak who's become a safety blanket of sorts for Eli Manning. He gives Big Blue's offense an added dimension, and at age 24, he has immense promise for the future.
Time and time again, teams fail because of deficiencies along the offensive line. It seems that every Super Bowl winner possesses a veteran blocker who guides his quarterback to glory.
Chris Snee is that blocker for the G-Men.
Snee has become a staple in New York's protection scheme, and has been a model of reliability at the guard position. Snee has started all 118 games in his eight-year career, and was a three-time All-Pro from 2008-2010, a core portion of this dynasty.
Eli Manning is constantly lauded for his consecutive starts streak. Yet a lot of credit belongs to Snee and the rest of the Giants' O-line.
Snee came up in the clutch on Super Sunday. Manning was only sacked three times, and Snee's primary assignment, Vince Wilfork, was kept out of the backfield for much of the game. He's been a cornerstone in East Rutherford for seasons on end, and will go down as one of the best linemen in franchise history.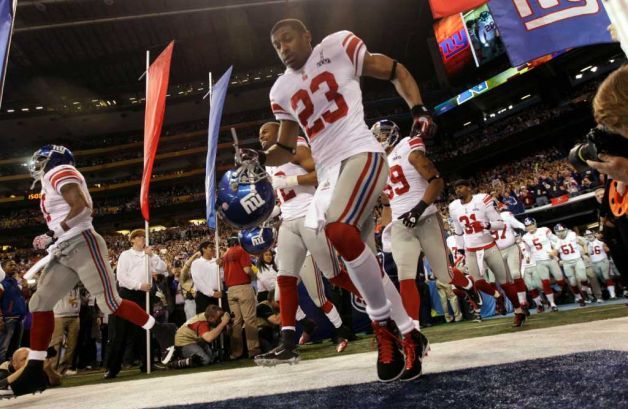 After Sunday, "Revis Island" might not be the only Big Apple hotspot for lockdown cornerback play.
CB Corey Webster has been a bona-fide stud for years now, anchoring a New York secondary that has been pivotal to the team's success. Webster has a knack for coming up big when it matters most, and his overtime interception of Brett Favre in 2008's NFC title game remains to be one of the most memorable moments in this dynasty's gradual development.
Webster's ability to jump routes and out-muscle opposing wideouts has been tragically overlooked around the NFL. He held New England dynamo Wes Welker to just 60 receiving yards in Indianapolis, and has taken augmented responsibilities in recent seasons as Aaron Ross struggled with injuries.
His six interceptions and 16 pass deflections this year helped redeem a horrid Big Blue coverage unit. Without Webster's spectacular performances against Roddy White, Greg Jennings and a multitude of other stars this postseason, the Giants' illustrious journey through the playoffs would likely have hit a flat before reaching the Super Bowl.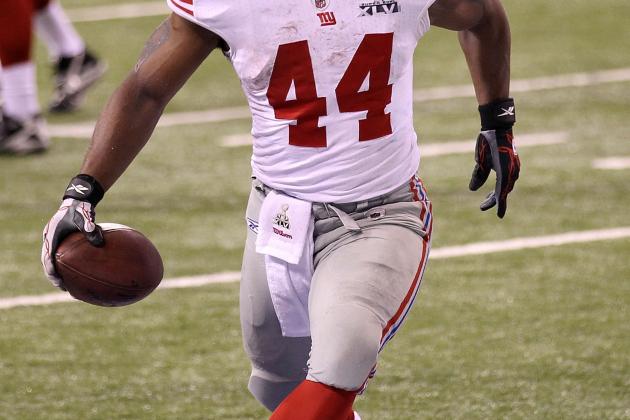 Andy Lyons/Getty Images

Mainstream media loves a dynamic duo. Mario and Luigi, Batman and Robin, even Beavis and Butthead have captured the hearts of millions of across the nation.
New York football fans love a dynamic duo as well.
Jacobs and Ahmad Bradshaw have powered the G-Men to two Super Bowl victories now, and while the former is praised for the punishment he administers to would-be tacklers, Bradshaw's speed and downfield abilities have made him a star in the Empire State too.
Bradshaw has quickly become the feature 'back in New York. With the exception of 2011-12, he's averaged over 4.5 yards per attempt in every season of his young career. He's also reached the end zone 24 times over the past three years.
Bradshaw's position in this evolving dynasty was solidified with Sunday's game-winning touchdown. A seventh-round draft pick in 2007, he's been a key piece to the puzzle for the past half-decade and should continue to lead the Giants' rushing attack for years to come.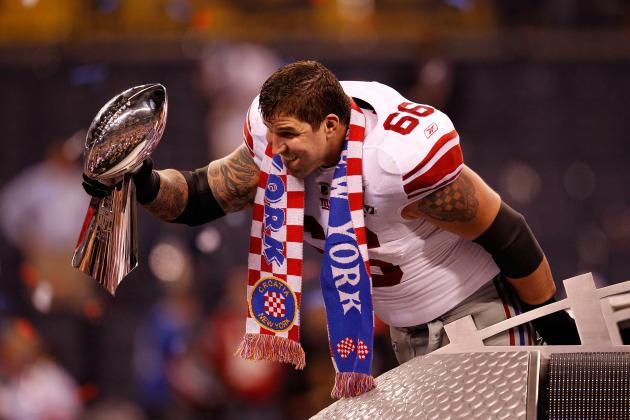 Rob Carr/Getty Images

It seems like David Diehl changes positions along the offensive line as often as New Yorkers change subway lines.
Diehl has been a lifesaver for the Giants, and his phenomenal play in a multitude of different roles has propelled this current Big Blue dynasty to where it is today. The ninth-year pro has started at both tackle positions and left guard, and has been crucial to Eli Manning's health and development at quarterback.
Sadly, Diehl has been sorely under-appreciated for much of his career. Without his flexibility and raw talent, New York would reluctantly boast a weaker running game, a QB at risk of injury, and a few more playoff losses.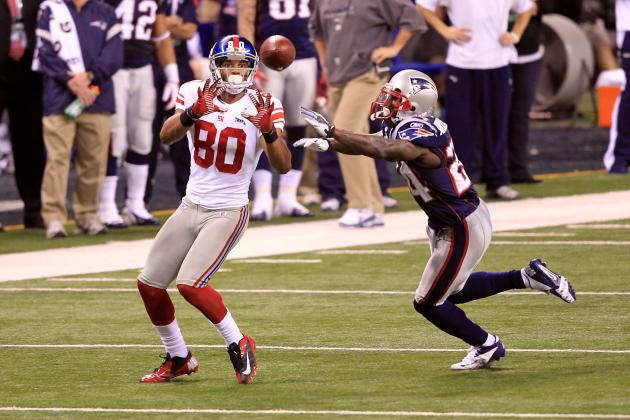 Chris Trotman/Getty Images

In just one year, Victor Cruz has asserted himself as a leader in the Giants' organization, a tested superstar on the field, and a marketable figure in mass media. Not bad for an undrafted free agent.
Yes, Eli Manning enjoyed a career year in 2011-12, but without Victor Cruz's big-play ability, Manning could very well have seen a complete about-face in his production. Cruz averaged over 18 yards per reception this season, and came up with huge catch-and-run scores in vital late-season contests.
Cruz is just the type of offensive threat and prime-time personality that franchises build around.
His Super Bowl touchdown was simply the exclamation mark on a marvelous season. Like many others on this list, Cruz's youth acts as a spring-board for this dynasty's potential. He should continue to elicit those deep, bellowing "Cruuuuuz!" chants for a very long time.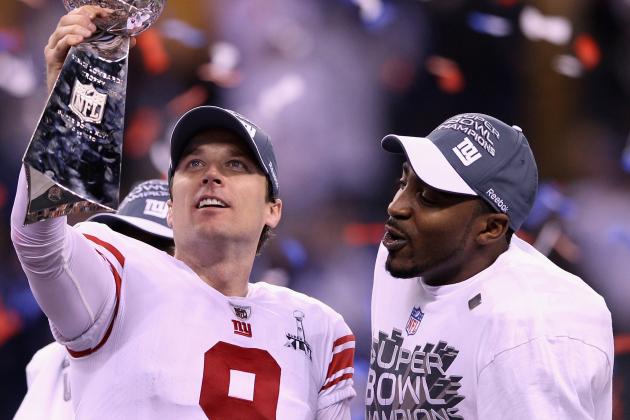 Elsa/Getty Images

A kicker often leads a sad NFL life. He's painted as a villain for his mistakes, yet his accomplishments are normally transferred to his team's offensive stars. And most of all, he's rarely even acknowledged for a considerable amount of hard work.
Yet in many ways, Lawrence Tynes' performance in Super Bowl XLVI was a microcosm of his consistency and dependability, making two important field goals and plaguing New England with poor starting field position on kickoffs.
Tynes booted this dynasty to its first Super Bowl victory with a game-winning field goal in the 2007-08 NFC Championship. And he sent this dynasty to its second Super Bowl victory with his dramatics in San Francisco.
He's hardly a glorified star like other members of this list, but Tynes has stabilized New York's special teams unit, and in the process, has helped charter an NFL dynasty.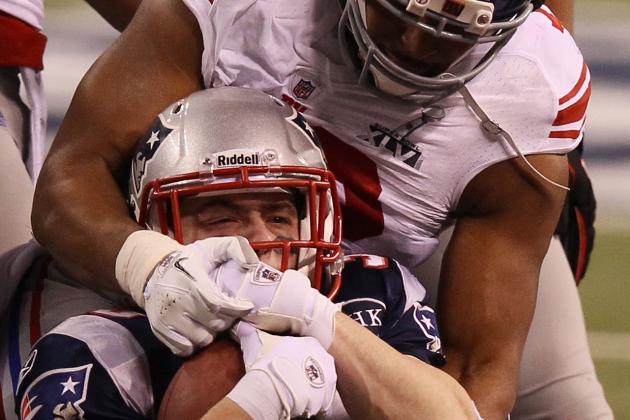 Win McNamee/Getty Images

2011's summer contract disputes jeopardized more than just Osi Umenyiora's career in Giant blue. It put the progression of the entire franchise on the line.
Many fans originally latched onto Umenyiora because of his unusual name. That name is now frequented in conversations around the league.
Umenyiora recorded nine sacks in just nine games this season. And since 2007, he's notched at least 25 tackles, seven sacks and two forced fumbles per year.
Quite frankly, every key player on Big Blue's defense can attribute some of his success to Osi. Umenyiora consistently generates turnovers, forces opposing quarterbacks to make poor decisions, and has even played a huge role in run defense. He's New York's renaissance man, and without him, the Giants could plummet into a dark age.
Ezra Shaw/Getty Images

True, Jerry Reese doesn't suit up in pads and a jersey every Sunday, but he, Tom Coughlin, and the rest of the Giants' staff deserve a spot on this list.
Reese took New York's front office by storm in 2007, succeeding the legendary Ernie Accorsi as general manager. Today's roster is practically Reese's resume, a reminder of just how many spectacular signings, trades, and draft picks he's administered thus far.
In fact, several of the players on this list, including Hakeem Nicks, Victor Cruz, and Ahmad Bradshaw, were drafted under Reese's reign. He's built a dynasty based on the principle of finding the best talent available; by doing so, he's stockpiled studs along the defensive line and in the receiving core, arguably the two strongest aspects of the team.
He may not wear a helmet on game day, but Jerry Reese is as vital to this dynasty as any other person on the planet.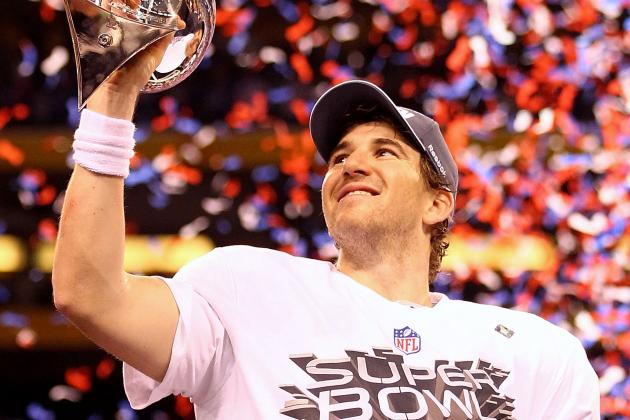 Al Bello/Getty Images

Ultimately, a dynasty is defined by the man under center. The sporting world's fascination with a triumphant, commanding quarterback dates back to the days of Unitas, Starr and Namath.
Today, Eli Manning is the face of football's reigning dynasty.
The earliest stages of Eli's career were encompassed by ubiquitous criticism of his integrity, desire, and even his abilities as a signal caller. Yet Eli has shattered these criticisms, emerging as the face of a franchise already rich in tradition and success.
Manning has bested future Hall of Famer Tom Brady on the world's biggest stage in consecutive efforts. He's already earned one more ring than his brother and contemporary, Peyton Manning. And he did it with a stagnant running game and an inconsistent defense. No dynasty is formed by one singular player, but Eli Manning is the undoubted leader and most valuable asset of the current NFL champions.
After turning in three straight seasons of 4,000+ passing yards, the sky's the limit for Eli Manning. And with each stride towards the top, Eli takes his career, his loyal fans, and the New York Giants' dynasty with him.