Super Bowl 2012: 6 Things the Detroit Lions Can Learn from the New York Giants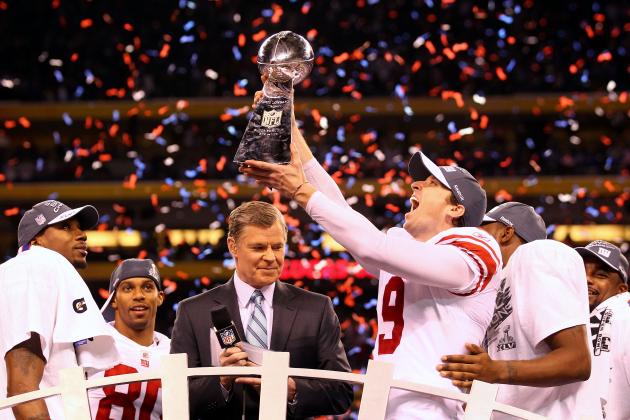 Al Bello/Getty Images

It's hard to imagine an NFL season this great was threatened by an ongoing lockout barely six months ago.
But after everything, this is how it ends. The New York Giants sneak into the playoffs and knock off pretty much every Super Bowl favorite on the way to winning the game on an Ahmad Bradshaw touchdown that was never supposed to happen.
Unbelievable.
But now it's time to look forward to next season, and if the Detroit Lions have their way, it will be them lifting the Lombardi Trophy in February of 2013 for the first time in franchise history.
Sound like a long shot? Of course it's a long shot; I mean, mathematically, they have a 1-in-32 shot, and realistically, it's a lot further than that. But this is the first time in about two decades that the mere suggestion of the Lions in the Super Bowl isn't a punchline.
So congratulations to the Super Bowl champion New York Giants. Now let's see what lessons the Lions can learn from this team about how to win a Super Bowl.
Begin Slideshow

»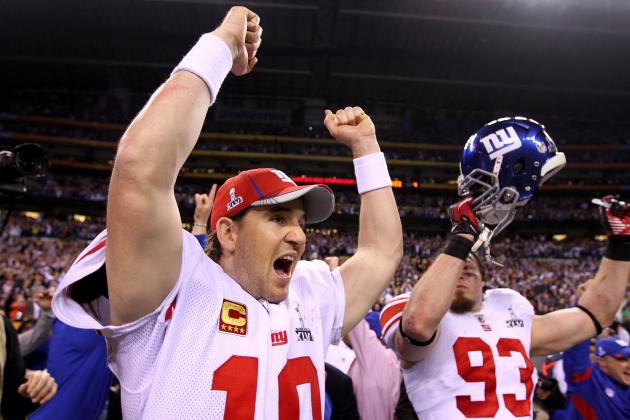 Al Bello/Getty Images

Records? Seeds? Bye weeks? Irrelevant.
The New York Giants played more playoff games than anyone this year, because they started with a Week 17 play-in game with the Dallas Cowboys, which basically acted as their first playoff game of the season.
Then, as the NFC playoff team with the worst record (9-7), they beat the 10-6 Atlanta Falcons, the 15-1 Green Bay Packers, the 13-3 San Francisco 49ers and finally the 13-3 New England Patriots.
That's the top seed from both conferences, a No. 2 and a No. 5.
And this from a team that was 6-6 heading into the final stretch of the season. They lost games to the Seahawks and Eagles. They got swept on the season by the Redskins. They didn't start 5-0; they started 5-3. Even after the Super Bowl, they finished their seasons with fewer total wins than the Packers this season and a worse overall record than the Patriots.
And they are Super Bowl champions, because they fought tooth and nail against teams that were supposed to destroy them each week. They didn't start hot, they got hot late, kept getting hotter, and now they have a long offseason to cool off in style.
The Lions got off to a hot start this year, and it's not as though there's anything wrong with that, but I would have greatly preferred a blazing finish like this.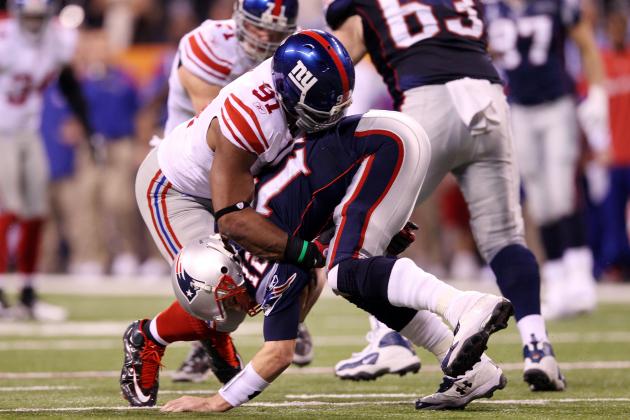 Elsa/Getty Images

I have a challenge for you. Name a Giants' defensive lineman.
Justin Tuck? Jason Pierre-Paul? Osi Umenyiora? Easy stuff.
Now name a player in the Giants' back seven.
Did you come up with Prince Amukamara? And isn't that just because every Lions fan said his name 55 times a day during last year's draft?
Who else? Maybe you came up with Michael Boley or Chase Blackburn or Antrel Rolle or Kenny Phillips—maybe not. Point is, these aren't exactly perennial All-Pro players the Giants are fielding. Good ones, not great ones. But they have more stars in the front four than they can even put on the field at one time.
Sound familiar? Now, the Giants played some excellent coverage in this game, so I probably ought to give more credit to those Giants' role players. But they are role players, not consistent stars. And when done correctly, that's obviously not a bad way to build a defense.
Remember that when the Lions are in free agency this year and not signing the big stars you expect.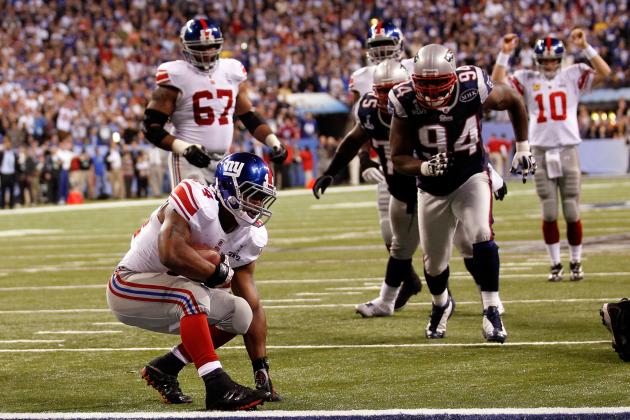 Rob Carr/Getty Images

Eli Manning may have been the MVP, but make no mistake, the Giants won this game because they were able to run the ball.
Between Ahmad Bradshaw and Brandon Jacobs, they had just 109 yards on the ground. But they came on 26 carries for an average of 4.2 yards per carry. The run game wasn't explosive, but it was effective. Perhaps more importantly, it was effective in late-game, time-sensitive situations.
The Giants needed a first down in short yardage? Run it. Trying to run the clock late in the game? Run it. The Patriots know you're trying to run it? Run it anyway.
It wasn't flashy, but it was effective enough today.
Which ties in directly with my next point...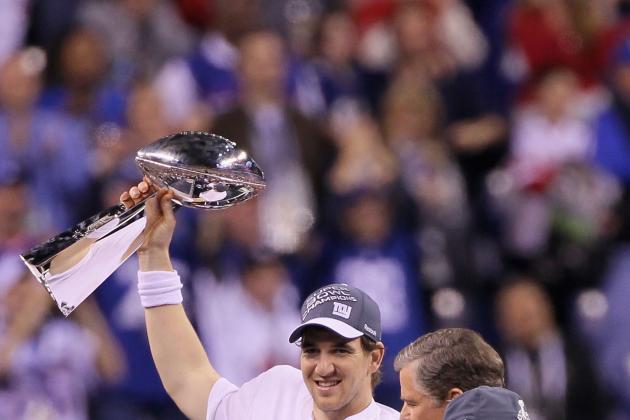 Jeff Gross/Getty Images

Frankly, I still don't think Eli Manning is a top-five quarterback if we're going by the eye test.
But hey, he's got to be doing something right.
I don't know that Manning is ever going to lay siege to any passing records, but a bunch of guys did that this year alone, and none of them just won a Super Bowl.
Manning was 30-of-40 passing for 296 yards and one touchdown in this game. That's not that special, considering some of the video game numbers we've seen this season, but it was obviously effective enough.
Manning didn't turn the ball over, he didn't make any game-changing mistakes, and he didn't do anything particularly flashy.
Except win a Super Bowl, of course.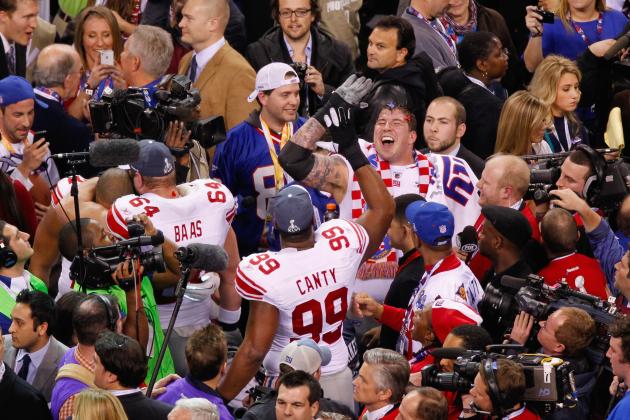 Gregory Shamus/Getty Images

The Detroit Lions (or at least their fans) gave a lot of credence to what the media said about their team this season.
They're good, they're bad. They're elite, they're done. They're tough, they're dirty. Coverage on the Lions jumped to extremes all year.
But as bad as the Lions' coverage may have been, look at the Giants.
The Giants, who needed to fire Tom Coughlin. The Giants, who were destined to suffer yet another December letdown. The Giants, who had no receivers and a running back who wanted out of town at all costs. The Giants, who got swept by the Washington Redskins.
The Giants, who just won their second Super Bowl in four years.
Had the Giants listened to those overreactive types in the media, Tom Coughlin would be somebody's coordinator, Manning would probably be in Miami, and the Giants would have been in the Suck for Luck sweepstakes, instead of flying home with the Lombardi Trophy.
And the Lions would have given up on Jim Schwartz and Matthew Stafford halfway through 2010.
So a note to the Lions (not that Jim Schwartz needs it): Forget what the media says about you. Play your game the way you play it. The rest will come.
Joe Robbins/Getty Images

I know what I just said about not listening to the media, but you know what stat nobody is going to talk about for this game?
Penalties. You know why? Because there barely were any.
The Giants finished the game with four penalties for 24 yards. The most glaring of them was a borderline holding call that wiped out a first down on 3rd-and-1, and even that was questionable.
No pass interference, no personal fouls. Nobody got yanked off the field and screamed at for terrible judgement at the worst possible time.
On either team, actually. Look, I love the way the Lions played this season. They absolutely needed to send the message that they were no longer the rollover easy win. They were going to hit you, and it was going to hurt, flags or no. That was fine for this season.
But now it's time for the next step. Winning football teams know how to keep that stuff under their helmets when it matters, and the two teams that played this game were the ones that beat themselves the least.
It's time for the Lions to become that team. The 2011 season was like a rebellious adolescence, where they storm around the league trying to prove that they belong with the big boys. They don't need to listen to you, they can take care of themselves.
But that's just a phase; they'll grow out of it. Teenagers grow out of their phase on their way to adulthood, and the Lions will have to grow out of theirs on their way to playing football in Super Bowl XLVII.