Super Bowl 2012: 5 Matchups That Will Decide the Outcome for Patriots-Giants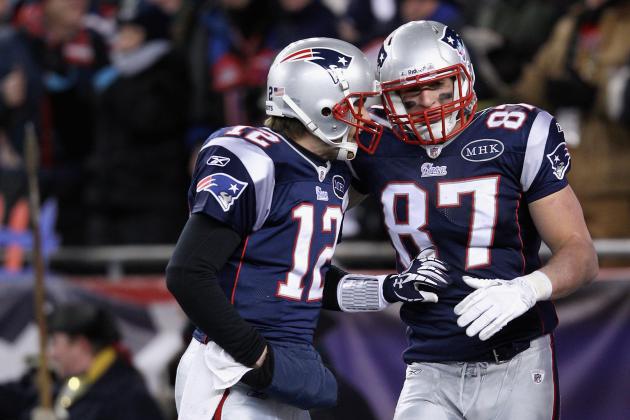 Elsa/Getty Images

It's the 5th of February 2012 and Super Bowl XLVI is finally here as the New York Giants face off against the New England Patriots in Indianapolis tonight. For fans of all kinds across the globe this is a huge game.
Whether you are a fan of the Giants, a fan of the Patriots, a fan of the odd wager or just a fan of an excuse for a party, tonight's game will be consuming all of your concentration tonight. For me, tonight's game has been consuming my concentration for a long time.
Having followed both teams to this point all season, here are the five matchups which I believe will determine the outcome of tonight's game.
Begin Slideshow

»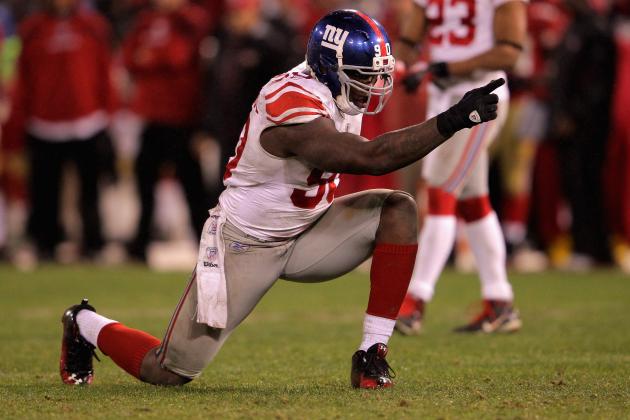 Doug Pensinger/Getty Images

Jason Pierre-Paul is a vital cog in the Giants defense. Outside of just getting to the quarterback, it is the ways and means that Pierre-Paul disrupts offenses that makes him a special player. With the Giants talent on the defensive line, defensive coordinator Perry Fewell has used Pierre-Paul in multiple ways.
While Justin Tuck generally sticks to the left-hand-side of the line, Pierre-Paul often rotates with Umenyiora on the right. Even though he vacates his spot to allow Umenyiora on the field, he doesn't sit on the sideline too often.
Because of his physical talents, and versatile arsenal of moves, the man known as JPP moves to defensive tackle in obvious passing situations.
He should be able to get the best of Matt Light outside, because of his sheer pace and quickness against the older tackle, but holding up against the bulk of Logan Mankins in tighter space will do a lot to determine whether the New England Patriots can call the plays that they want.
If Pierre-Paul can't set himself inside and hold his run responsibilities, the Patriots won't be scared to check out of the pass and run for first downs, if Pierre-Paul can earn the respect of Brady as a run stuffer, then he can look to pin his ears back and beat Mankins with his lengthy arms.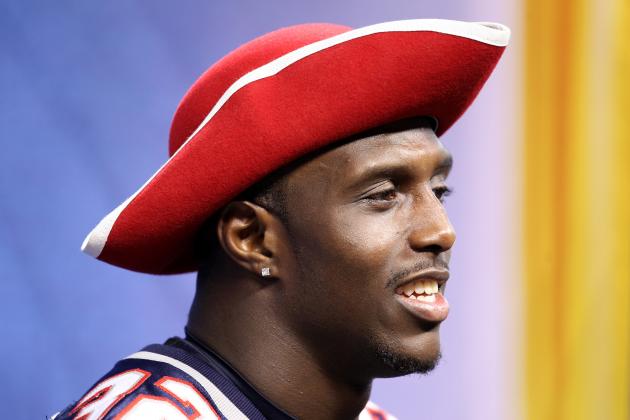 Andy Lyons/Getty Images

The Patriots secondary has been a major issue all season long. Devin McCourty started the season as a first year all-pro, in reality he never was on that level as a rookie but he was a good corner, this year his play has been so bad that he has moved to safety as of late.
Wherever McCourty lines up on the field, the Giants will be hoping that they can get Hakeem Nicks in the vicinity. Nicks is the exact type of receiver who dominates McCoury. He has struggled to handle bigger bodies all season with guys like Vincent Jackson, Brandon Marhsall and Steve Johnson all having big days against him.
Nicks may not have the biggest upper body, but he is very tall and has been huge for the Giants during the playoffs.
While many eyes are on the storybook Victor Cruz, it is Nicks who is the team's most talented receiver and who enters the game on a hot streak. Because of Kyle Arrington's height, or lack thereof, Antwaun Molden will probably slide over to "cover" Nicks. That is a huge ask of the inexperienced defensive back.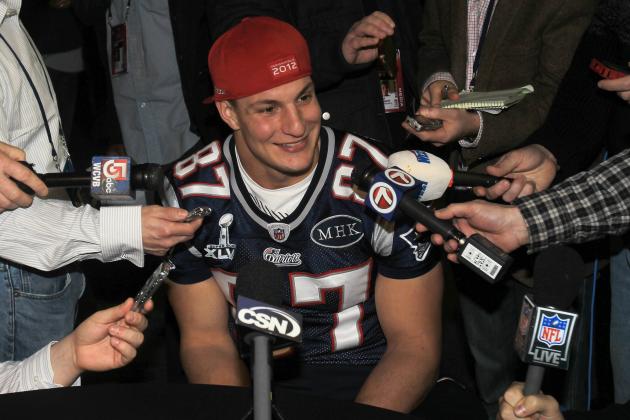 Scott Halleran/Getty Images

Whether Rob Gronkowski is fully healthy or not is completely undetermined as we approach the big game. It wouldn't be a surprise to anyone if Bill Belichick has blatantly lied and put on a show to fool the Giants. However it also wouldn't surprise us if Gronkowski is reduced to a decoy role from the off.
If he is indeed fully healthy, the Giants will have to make defensive adjustments to account for the team's most dangerous receiver. However, if he is limited expect Kenny Phillips to look to take him out of the game on his own.
Phillips is a huge safety capable of sticking with the better tight ends in the NFL. For more on this matchup, and more about the Patriots' tight ends and Giants' safeties, click here.
Scott Halleran/Getty Images

I was one of the few, probably very few, people that didn't take issue with Eli Manning calling himself an elite quarterback prior to the season. While I didn't necessarily believe he was as good as Brady, I didn't have any issue with Manning expelling that kind of confidence and belief in himself.
It is that confidence and belief that has allowed him to carry his team to the Super Bowl this year. While Manning was more of a passenger than driver in 2008, although he did make many big plays, this year he was the biggest offensive weapon that the Giants have had.
While Victor Cruz and his other receivers receive a lot of the recognition, Manning's leadership, quality and drive have been evident all season long. What is often overlooked in the Victor Cruz story this year, is the fact that Cruz has been learning on the field.
He and Manning have had repeated breakdowns in communication and misunderstandings on the field that Manning has had to correct as the season has gone on. Giants fans will remember many occasions when the veteran quarterback was explaining and teaching his young receiver after a failed play.
Needless to say, Tom Brady exhibits all of those aspects in his play also.
There is a very fine line between the two time Super Bowl MVP and unanimous league MVP from last season, and Manning. Brady may have better and more consistent accuracy in the short and intermediate parts of the playbook, but Manning isn't asked to make the same throws that Brady is.
Both team's offenses are perfectly built to their respective skill sets. The minor differences are unable to really separate them in this game. While Brady won't be asked to extend plays, Manning won't be asked to repeatedly complete throws of three to seven yards.
This matchup is more about who can get the most out of the offense around them opposed to their individual abilities. It's not like they'll actually be on the field at the same time.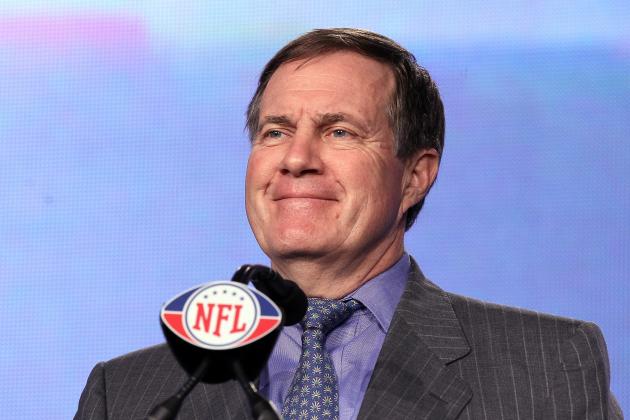 Elsa/Getty Images

One's job is repeatedly under threat, the other's seat is made of ice. However, there is very little seemingly between both of these coaches as they approach the Super Bowl this year. At different times of the season, both sides faced a substantial amount of doubt about their team's abilities to even reach the big game.
Coughlin has overcome the loss of key offensive pieces and a slew of injuries to his defense to win the NFC championship, while Belichick's roster has looked like a game of sunday football each week when you don't know who is going to turn up or not.
Initially, Coughlin lost Terrell Thomas, Kevin Boss, Steve Smith and Prince Amukamara, while Belichick decided to let go of Ty Warren, Leigh Bodden, James Sanders Brandon Meriweather and, to a lesser extent, Albert Haynesworth.
Belichick has instead got the best out of the poor defensive talent at his disposal while relying heavily on his offense to carry the team. It isn't just having Brady and Gronkowski on the field however, Belichick along with Bill O'Brien have expertly put in place their matchup based offense that is unbelievably difficult to match up with.
How he handles the Rob Gronkowski situation this weekend could prove to be the deciding factor in adding to his Super Bowl collection.
For Coughlin, he has had to rebuild more than redirect as the offensive line has continually been in flux and his young receivers have taken time to gel after the loss of Smith and Boss. Jake Ballard was promoted internally to replace Boss while everyone can see the success that Cruz has had in place of Smith.
Defensively is where Coughlin will need to separate himself today however. Getting the most out of the talent available to him has been the staple of Coughlin and Perry Fewell's defense this year. They overcame the loss of Terrell Thomas and Prince Amukamara early in the season by relying on their depth at safety.
While Amukamara is back now, it will be interesting to see how the team uses their three safeties to alter the defensive packages on the field.
Instead of getting rid of Osi Umenyiora, Coughlin assured the defensive end and installed the three defensive end front while also moving Mathias Kiwanuka to linebacker permanently prior to the season. Instead of starting lesser talents, Coughlin's ability to incorporate talent on his defense has been a major asset so far this season.
Whether that talent can stand up to the Patriots' offense tonight will largely be determined on how Bill Belichick approaches the game.
If Belichick is handcuffed by a crocked Gronkowski, then the advantage falls into Coughlin's hands, however without Gronkowski, even Bill Belichick may not be able to make his offense function with the talent available to him.
Cian Fahey is a professional blogger for Irishcentral who also tweets @Cianaf