Super Bowl Prediction: Who's Winning the Rematch?
February 5, 2012

It's almost here.
Super Bowl Sunday is less than 24 hours away. The rematch that everybody has been talking about for weeks is finally going to take place. All the hype and trash talk will be over. This game has the makings of a great game. Tom Brady vs. Eli Manning. Bill Belichick vs. Tom Coughlin. It's going to be a fun game.
Here's my preview and prediction of the game:
Eli Manning and Tom Brady are both having MVP seasons. Brady struggled against the Ravens in the AFC Championship and will face a similar pass rush by the Giants' scary defensive line. The Giants defense has stepped up significantly during the playoffs. They stopped the high-powered offenses of the Falcons and Packers and only gave up 17 points to the 49ers.
Eli Manning won't be facing the same type of defense he faced during the NFC Championship against the 49ers, when he was sacked six times. The Patriots' defense has improved during the playoffs, but they haven't seen an offense like the Giants.
The Giants also have an advantage at wide receiver with Victor Cruz, Hakeem Nicks and Mario Manningham. The question is who is Julian Edelman going to cover?
Whoever Edelman covers, the Giants will attack. How can the Patriots expect a wide receiver/special teamer to cover an explosive receiver?
The Patriots can't stop all three receivers so one of them will step up and have a huge game. I think it will be Nicks. Nicks did not even play the last time these teams met, which the Giants won in Week 9.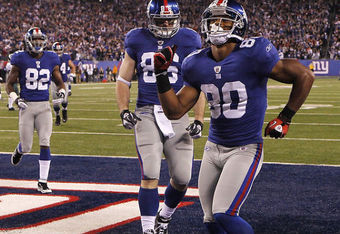 The Patriots offense revolves around their strong tight ends. Rob Gronkowski and Aaron Hernandez had great seasons, but Gronkowski has a high ankle sprain and who knows how well he will be able to play. They also have speedy wide receivers Wes Welker and Deion Branch.
Welker will be very tough to stop. Welker had nine catches for 139 yards in Week 9. With Gronkowski less than 100 percent, the Pats will have to rely on Welker, Branch and Hernandez.
Neither running game has done well this year, but the Giants have a big edge there as well. Ahmad Bradshaw and Brandon Jacobs are more explosive than BenJarvis Green-Ellis, Danny Woodhead and Stevan Ridley. Both teams will have to run the ball in order to keep defenses honest, but I don't see either team having a big day running the ball. These are two throwing teams.
The Giants' defensive line features three studs in Jason Pierre-Paul, Osi Umenyiora and Justin Tuck. These three will make it tough for Brady to have a big game. They will bring constant pressure on him and try to "rattle" him as Pierre-Paul said earlier this week. Chris Canty and LinVal Joseph will also be tough to stop. The only player on the Patriots' defensive line that scares anybody is Vince Wilfork. Wilfork took over the game against the Ravens and was stuffing Ray Rice almost every play. If he has a game like that again, the Giants will struggle to move the ball.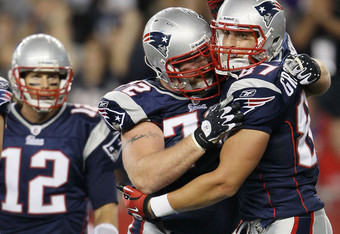 Neither team has a great linebacker core, but the Giants have a slight advantage.
Mathias Kiwanuka. He's the best linebacker on either team. He's basically like a defensive end but plays linebacker. He's very explosive so Brady will have to watch out for him as well. Chase Blackburn is a veteran who has had a solid season since he's been back in the NFL.
Michael Boley will also play a big role. Rob Ninkovich, Brandon Spikes and Jerod Mayo will have a tough task trying to stop the Giants offense. Ninkovich is the best of this group and will have to have a big game for them to win this game.
The Giants' secondary also has an edge over the Patriots'. Corey Webster is having a great season and is the Giants' best cover corner. He will try to take away Welker, while Aaron Ross will try to stop Deion Branch, but he's always hit or miss. Antrel Rolle and Kenny Phillips are playmakers who will play big roles in trying to stop the Patriots' offensive attack.
They will have to stop Gronkowski, Hernandez, Welker or Branch if they get into the open field. That will be a tall task, but they can get the job done. The Patriots' secondary has been the weak link for the team all year. Devin McCourty is their best corner, but he has struggled this year. Kyle Arrington is decent, but he will be targeted often. Patrick Chung has helped the defense turn it around in the postseason, but can he help stop the explosiveness of the Giants? Julian Edelman will be attacked often and won't be able to stop whoever he's covering.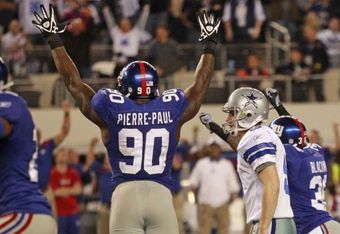 The Patriots have a huge advantage on special teams. Stephen Gostowski is having another great season as their kicker, and Lawrence Tynes has struggled once again. Tynes is at least having a good postseason, but he's shaky at best. Giants' punter Steve Weatherford is having a great season for the Giants and will have to have a big game for them to stop the Patriots' offensive attack.
Both coaches have won Super Bowls and have had great seasons. If Coughlin wins another Super Bowl, he might be Hall of Fame bound. Remember when Giants fans wanted him fired before their great run to end the season? It's safe to say that he has bought himself a few more years if he wants to stay. Belichick is a genius and a master at game planning. He's has two weeks to prepare for the Giants. He will have something up his sleeve to stop the Giants offense.
Who will win the game? Both teams are evenly matched, but the Giants defense is the difference. Gronkowski's injury is also a big deal, and he has to have a big game for the Patriots to win.
The Giants win a close won: Giants 27 Patriots 24
Super Bowl MVP: Jason Pierre-Paul